I lay down in my usual spot on the bow of the Espanola - the 47ft yacht I was calling home this week. The breeze gently rustled my hair as the midday Croatian sun beat down. Tiny villages of red-roofed houses came and went, as we sailed the turquoise waters of the Adriatic.
This may sound like the ultimate luxury holiday, but it turns out you don't need Simon Cowell's millions to afford it. With just over £500 in your holiday fund, you too could be living the high life.
In July, I spent a week sailing around Croatia with MedSailors. We travelled the Discovery Route
- a loop, starting just outside Split and taking us around the picturesque islands of Solta, Vis, Korcula, Hvar and Brac. Each day we had breakfast and lunch on board our yacht, enjoyed a few swimming and paddle boarding stops, and wind permitting, did some sailing! Our afternoons and evenings were free to explore pretty Croatian towns, sample the local cuisine, and let our hair down.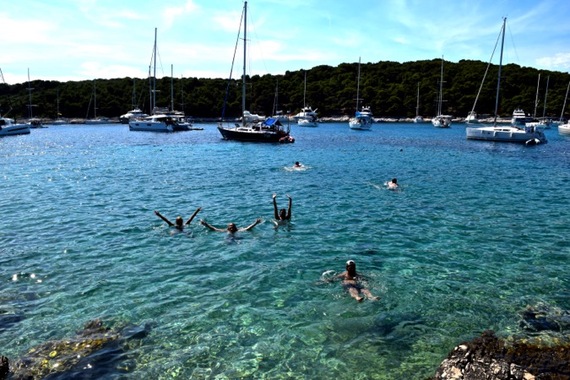 As with many companies offering sailing tours, MedSailors cater for the youth market (20-35). However, they offer a sophisticated approach with an emphasis on good food and company (they match people with similar interests on the boats). This isn't to say, there is no drinking or partying - it's still a holiday for young people... and we certainly had a few boozy nights, enjoying all that the islands had to offer!
Davide was our skipper for the week - a friendly Italian, who over the course of 7 days taught us the basics of sailing, looked after us, and cooked up some incredible meals. And what about our new home? Well, the Espanola was comfortable, clean, and came complete with a full kitchen, 2 bathrooms and a top-notch sound system.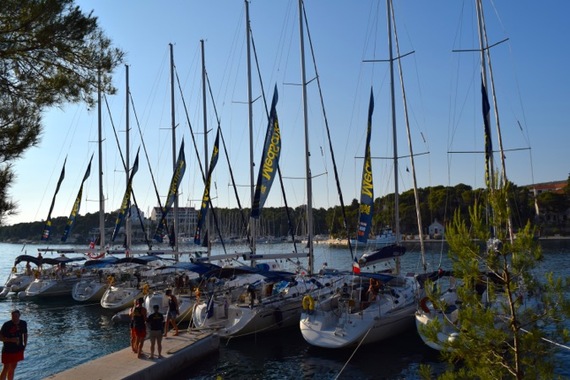 I travelled with a friend, but many booked solo, as the trip is a great way to meet people. Our 4 shipmates were in their late 20s/early 30s and like us, enjoyed chilled daytimes, a bit of exploration in each town, and a good meal and conversation in the evening. Some groups from the flotilla ventured to rent scooters and bikes, some went straight to find a beach, while others found the bar! It was a lovely unpressured way of travelling.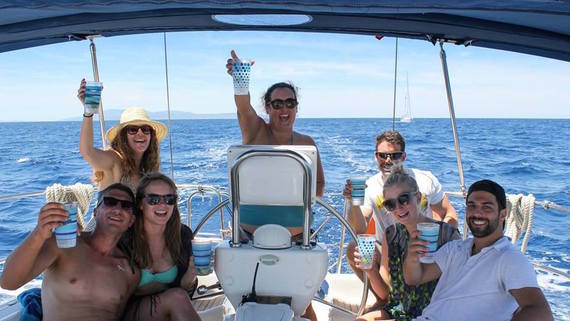 One of my highlights was a special dinner and wine tasting at Hora vineyard in Stari Grad. What a place! We arrived in the most magical light, just as the sun was starting to set. 2 whites, 2 reds and a rose later, we were served the traditional Croatian dish "Peka". It was similar to a stew, with lamb, veal, pork, potatoes and peppers - oh and it was absolutely delicious!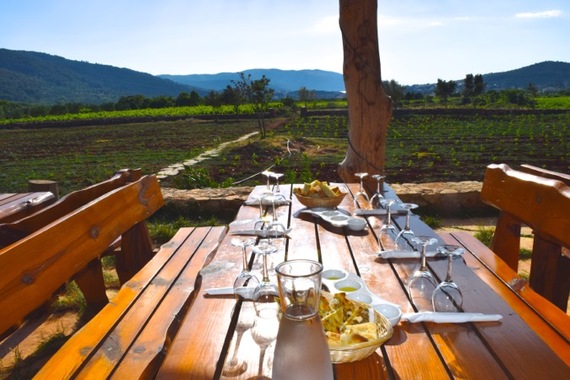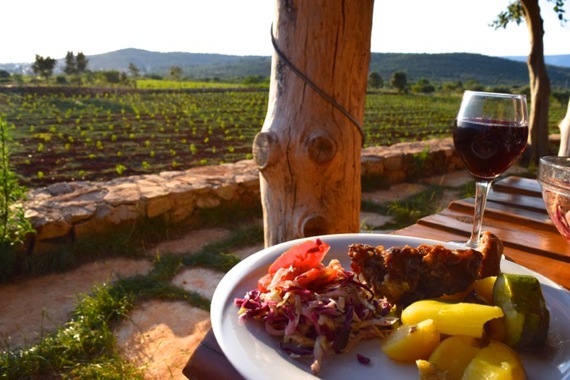 Also while moored in Stari Grad, we enjoyed a walk up to the cross on Glavica Hill. The view looking down onto the old town was absolutely magical.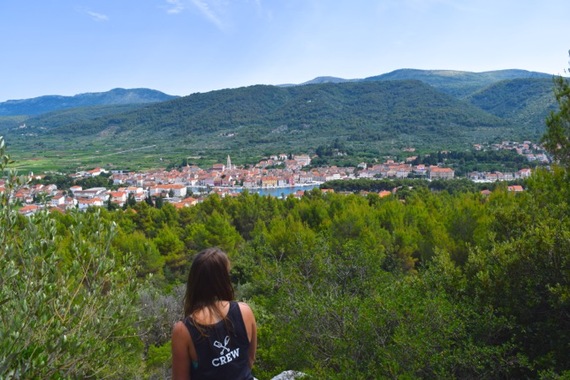 Korcula Town was another highlight. Dating back to the 14th Century, it could be described as Venice without the canals (it was once a part of the Venetian Republic). The streets were narrow, beautiful, and had intricate balconies and walkways. I didn't think it could get more picturesque until we visited Massimos - a fort-turned-cocktail bar where we watched the sunset. As I sipped on a mojito with my new friends, life seemed pretty perfect!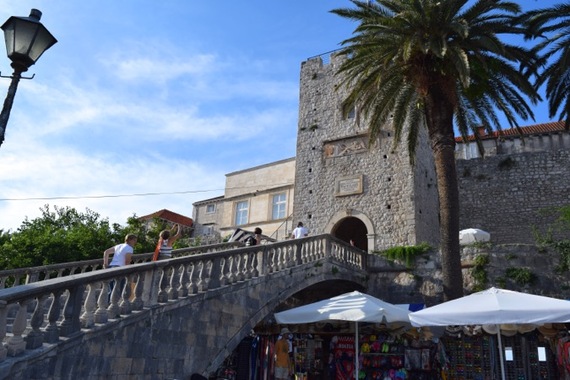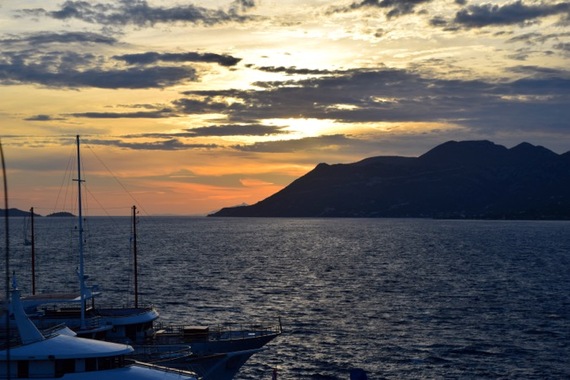 Another highlight came mid-trip in Hvar Town. We booked a table for dinner at seafood restaurant Marineros where we sat outside in a buzzy square. We tucked into enormous seafood platters, mussels and sea bass, all washed down with an excellent bottle of dry Croatian white wine.
The island of Hvar is famous for its nightlife, and by this point in the trip we were ready to let off some steam. We moved to Kiva Bar just a street away. Over the next hour, the bar filled up and the party emptied out into the street. The music cranked up, cocktails flowed, and I almost missed the last water taxi back to our yacht! Some opted to venture to Carpe Diem - also known as Party Island where you can dance the night away until the sun starts to rise.
I've travelled a lot, particularly over the last year, but Croatia is definitely one of the prettiest countries I've visited. There was something enchanting about drifting past beautiful villages nestled on rocky shores, stacked with traditional red-roofed houses and a pretty marina full of boats.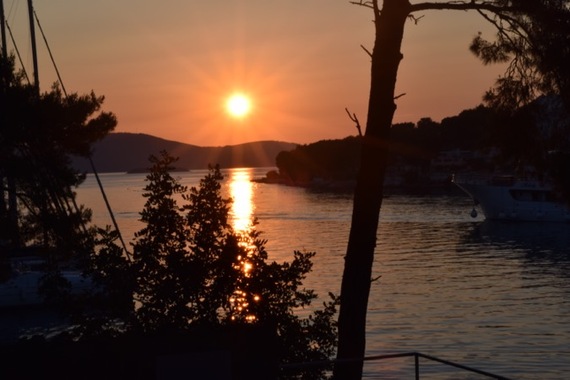 1200 photos later, it was time to say goodbye to my amazing group of new friends, and get used to life back on dry land. It took a few days for my body to adjust to the change, but I've found Croatia has stayed with me in other ways. Let's just say I'll definitely be back to see another sunset in the not too distant future...
Find out more about MedSailors here and follow Chloe's travels and adventures at wanderlustchloe.com