Dusty, hot, chaotic, overwhelming and unfriendly. That's what I was expecting Morocco's 'red city' Marrakech to be like. From descriptions by friends, I didn't think I would like it, but hey - it would be an 'experience'.
I'm pleased to say, my expectations were wrong. What I found was a beautifully exotic city that I couldn't help feel had been misrepresented. It wasn't the frantic city I'd heard friends and travel guides describe it as. Yes, it was bustling, but in a good way. There was plenty of beautiful architecture, history, lush gardens, art, gourmet food and more. It had real heart and soul. Passionate people entertained us and cooked for us, and while I didn't wander around on my own at night, I did during the day, and never felt unsafe. For me, Marrakech is the closest place you can fly to from the UK and feel like you've really left your everyday life behind.
I enjoyed visit one so much that I recently headed back for some winter sun (yes - it's the perfect break when temperatures are rather cool in the UK). So if you're planning a trip, here's a quick guide the city...
Jemaa el-Fna Square
Jemaa el-Fna Square is worth seeing both at day and night. During the day it feels vast and empty! A few street performers, vendors selling fresh orange juice and spices, and some henna artists... But as soon as the sunset call to prayer echoes around the city, the vibe changes. I wandered from belly dancers, to snake charmers to something I would describe as 'Moroccan fight club'. Food stalls served everything from grilled meats, to exotic seafood and tagines - and wow did it smell good!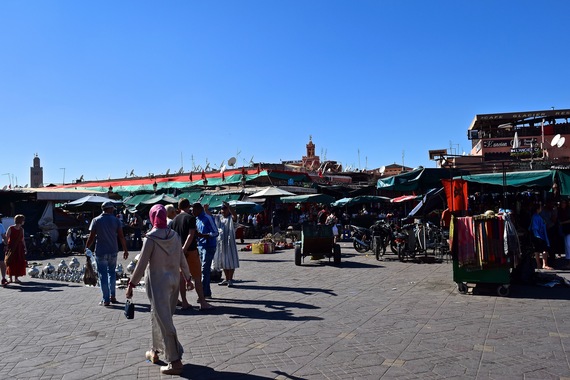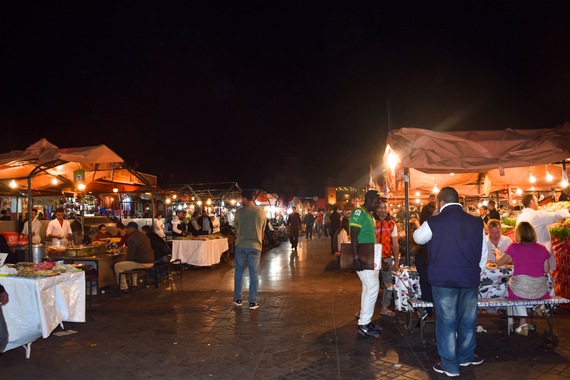 Marrakech Medina
Jemaa el-Fna Square provides the entrance to Marrakech's famous labyrinth of markets. Whether you're looking for argan oil, olives, spices, silk scarves, Moroccan tea sets or leather slippers, you'll find it all here - along with designer knock offs! While I'd been warned it was notoriously easy to get lost, I managed to navigate my way around without too much trouble.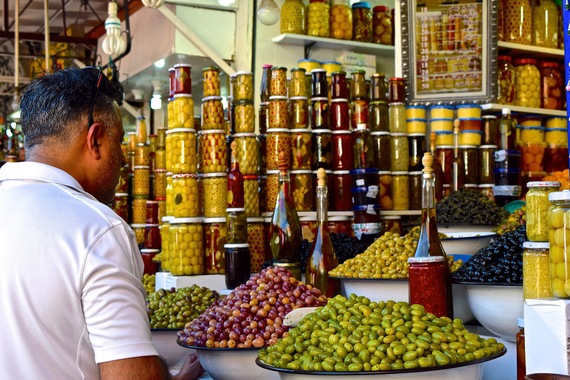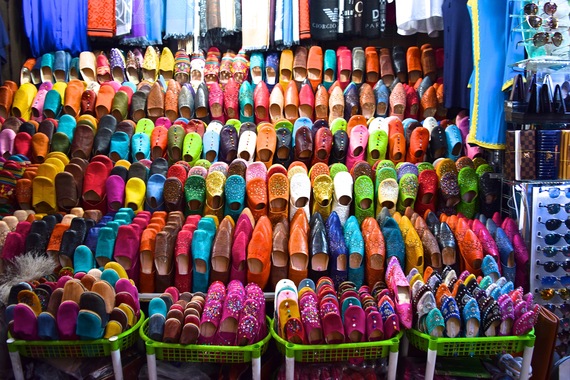 Koutoubia Mosque
The largest Mosque in the city is famed for its towering minaret. While it's pretty during the day, it's even more striking when it's lit up at night. As a non-Muslim, I wasn't permitted to enter, but for me, it was great to look up and take in the beautiful architecture.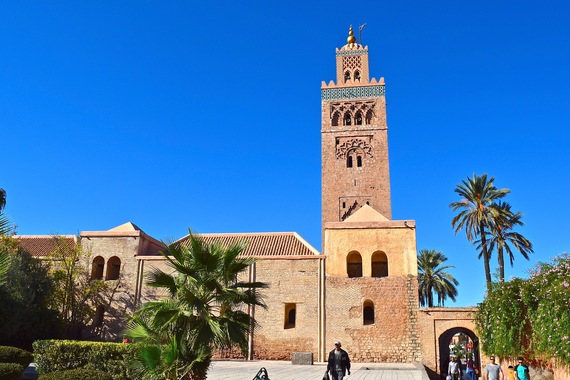 El Badi Palace
Marrakech is a city packed with history, so be sure to find time to visit the impressive crumbling ruins of the 16th century sultan's palace. While the gold and marble was pillaged way back, the opulent retreat once featured sunken gardens, over 300 rooms and a vast courtyard.
Jardin Majorelle
If you are finding Marrakech a little overwhelming, then these lush twelve-acre gardens are like a magical sanctuary. Designed by French artist James Majorelle, they are home to over 300 plant species from five continents, including multi-colored bougainvillea and several impressive cacti! Fashion designer Yves Saint Laurent bought the gardens in 1980, and there's a small exhibition of his prints in one of the art deco buildings. I loved the colours - with the Berber Art Museum a vision in Majorelle blue, and several brightly coloured pots, urns and tiles around the gardens.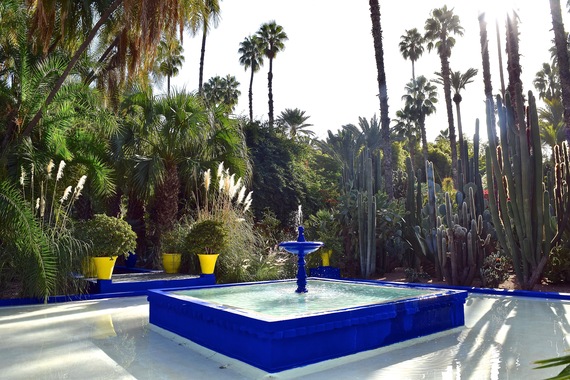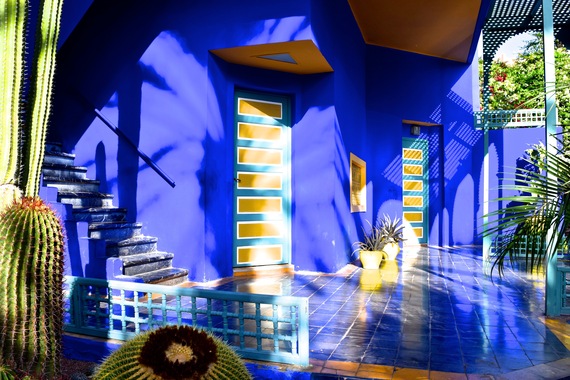 Food
Whether you're looking for a traditional tagine, top seafood or international cuisine, you certainly won't go hungry in Marrakech! For tasty Moroccan food with a French twist, head to Fouquet's. Hot new opening Buddha-Bar Marrakech is the city's top Asian fusion restaurant. With a team of expert mixologists creating delicious and photogenic cocktails, and a gastronomic menu of thai prawns, black cod and tempura chicken, this was one of my favourite dining experiences in the city. Plus, their sushi was totally picturesque! Also, don't miss the chance to try some of the sizzling street food on offer in Jemaa el-Fna Square.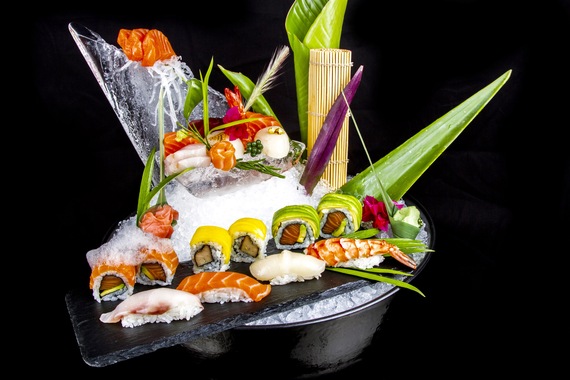 Accommodation
From 6-star luxury and gourmet dining to homestays, hostels and characterful riads, accommodation options in Marrakech are many and varied. For high-end luxury, 6-star Royal Palm provides an escape from the city with its huge golf course, spa, and exclusive private villas booked by the likes of Leonardo Di Caprio.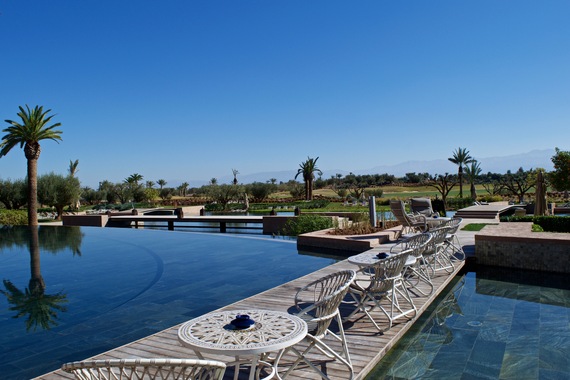 Es Saadi Gardens and Resort in upmarket Hivernage is home to an award-winning spa, centred around an ancient eucalyptus tree. Super chic Riad El Fenn occupies a cool spot in the city, and has a great roof terrace with views of the mosque.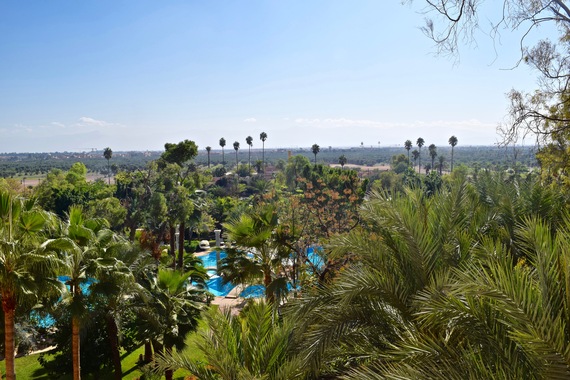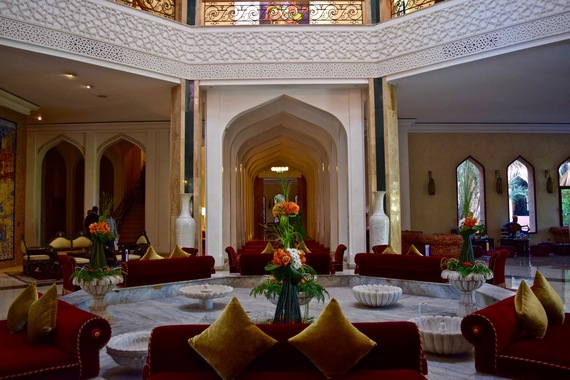 Before my visits, I felt Marrakech had quite a negative reputation. For some, perhaps it is too hectic and culturally different, but for me it provided everything I look for in a city break. Warm weather, culture, history, great food and some luxury too. Check out the video of my luxury weekend in Morocco now and find out more about my time in Marrakech here.
Read more of Chloe's travels and adventures here.