When you think of Camden what springs to mind? Banksy knock offs at the market? Goths? Amy Winehouse tribute acts? Dawdling groups of Spanish tourists? The stench of overcooked sweet and sour chicken? Drunk teenagers throwing up at 2am?
I used to live in Paddington, just around the corner from Hyde Park. I loved it there. I was in my early twenties and felt like I was living the London dream. Oxford Street was moments away, and my work commute took just fifteen minutes. We had sushi places, Indian restaurants, the best late night kebab shops, old fashioned pubs and more. But did anyone really live here? As I walked down Sussex Gardens I seemed to be the only person not dragging a suitcase. Where were the 'locals'? Who were they?
Our landlord decided to renovate (and triple the rent) so the search began for somewhere new. I was settled in that part of London and couldn't imagine moving far. Maida Vale was pretty but felt a bit quiet. Lancaster Gate was expensive. As for Notting Hill, all I could afford there was a shoebox living with a 47 year old man who wanted favours rather than rent (shudder).
So I ventured to look around a place in Camden. I hadn't been to the area since I was 11 years old. My Dad moved to Primrose Hill for a short time and took me to the market one day. It was intimidating, claustrophobic and I eventually freaked out after seeing a man having a fit next to one of the Chinese take away stalls. 15 years later, here I was again. I looked around a few houses and found the one - a beautiful three-storey town house on a quiet street set back from the chaos of the market and the nightlife. I'd never imagined myself living in Camden, but I moved in and couldn't believe what I'd been missing.
When I tell people I live in Camden, it's usually met with negativity. "Why would anyone want to live in Camden?"... "It's too busy"... "What's there apart from the market?"... "The tourists drive me mad"... "It's ok for a night out once in a while, but I couldn't hack living there..." I spent my time justifying it, and trying to dispel this reputation. To me it's an area full of character! It's got a buzzing music scene, great pubs, restaurants, shopping, parks and at every turn there's something to see.
It may take a while for others to realise what they're missing, but if you fancy taking the plunge, here are my top picks...
Best Places To Go In Camden
The Colonel Fawcett - The best local pub in London (in my opinion). Consistently high quality food, great atmosphere, stylish décor and lots of outside space for sunny days. I've been there on a quiet Monday night, got rowdy watching an England World Cup game, been on a date, spent a leisurely Sunday afternoon playing board games, had my birthday lunch here and even danced until the early hours.
Primrose Hill - Just a short walk away are the cute villagey streets of Primrose Hill. Stop by Greenberry Cafe for a healthy smoothie, then pick up a box of salted caramel cupcakes from Sweet Things, and march to the top of Primrose Hill for one of the best views of London.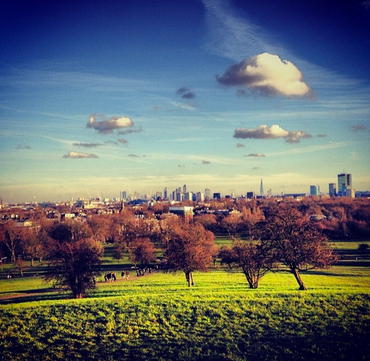 View from Primrose Hill - Spring 2014
The Blues Kitchen - It's Sunday, 10.45am, and the only way I can even contemplate leaving the house, is if it involves gorging on an enormous plate of delicious food. This is the place to go. Service is always hit-or-miss (I usually get the impression the staff are more hungover than the customers) but the food never disappoints.
Roundhouse - The main venue in Camden for live music and performance art, plus for a foodie like me there's a very nice restaurant attached (Made In Camden). I've seen everything here from experimental circus, to rock bands, to the biggest DJs in the world.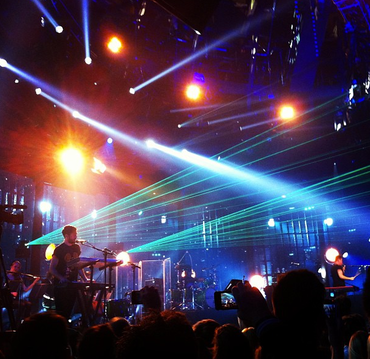 Bastille at the Roundhouse - iTunes Festival 2013
Regent's Park - I was always of the opinion that Hyde Park was the best park in London, but Regents Park might actually beat it. It's got more to offer - perfectly manicured gardens, playgrounds, canal paths, open air theatre, zoo, tennis courts, boating lake and more. Where else in London can you wave at the penguins on your morning run?
Fifty Five - Legendary happy hours, just don't expect to remember much the next day!
Leya's - Simply the best coffee in Camden.
The Canal - Take a walk from Camden down to Regent's Park, or wander towards King's Cross and hang out in Granary Square. Just mind the cyclists...
Gilgamesh - Delicious dim sum, cocktails and a great place to let your hair down at the weekend.
Camden Collective - A hub for local designers to sell their handmade products. Always a great place to find gifts.
Prince Albert - Lovely gastropub with good food and a small garden to relax in.
Arancini - Worth the few minutes walk towards Kentish Town to sample the delicious deep-fried risotto balls.
So it turns out there's plenty to enjoy in Camden without trekking with the tourists to the market. Plus, it's one of the best-connected places in London, so I guess if you don't like it, you can always get out quickly...