Over the past week I've discovered three amazing places to eat in Central London, without spending a fortune. The key to all of them - they all serve street food and are great options as the sun starts to make a regular appearance.
I discovered this street food market at the top of Rupert Street last Friday, and it had certainly pulled in the crowds. Lots of hungry media-types, ventured out of their trendy Soho offices, to pick up a cheap and tasty lunch. With choices ranging from seriously stacked up burgers, to flavour-packed curries, to the largest pans of paella I've ever seen... there really was something for everyone!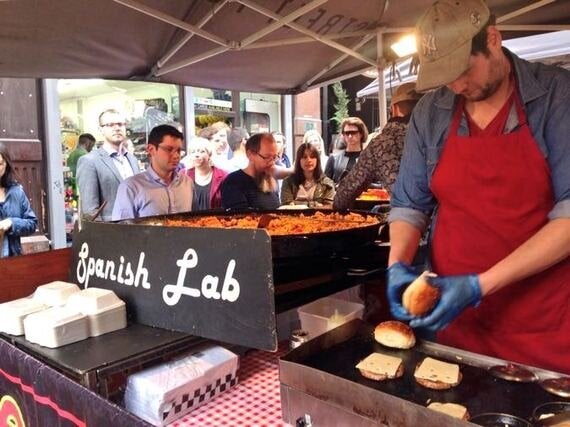 Perhaps I was already in the zone for my upcoming travels to Turkey, but once I spotted (and smelled) the lamb koftes, there was no going back! Spicy and full of herbs, they really packed a punch. They were served in a wrap with garlic, chilli, hummus and salad. It was delicious, and at £6.50 it was good value!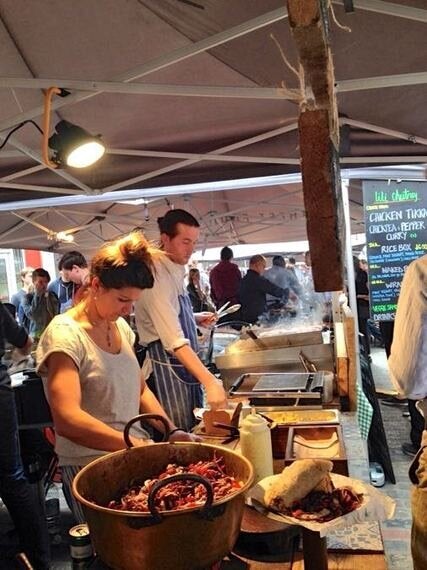 Startisans isn't quite a street food market... as it's actually located inside a Covent Garden store. According to their self-penned definition a Startisan is "an individual or group of individuals that have created a start up business specialising in artisan food".
I visited on two different days and was greeted by a room full of stall-holders cooking and displaying their culinary creations. They ranged from beautiful filo pastry pies and quiches (so picturesque I found myself taking multiple pictures), to an Indian stall with large vats of tasty curries, to a table filled with Argentine empanadas, to one dedicated to the Paleo diet! There was also an amazing stall filled with cakes and treats. When I returned the next day, there was a Brazillian truffle stall in its place.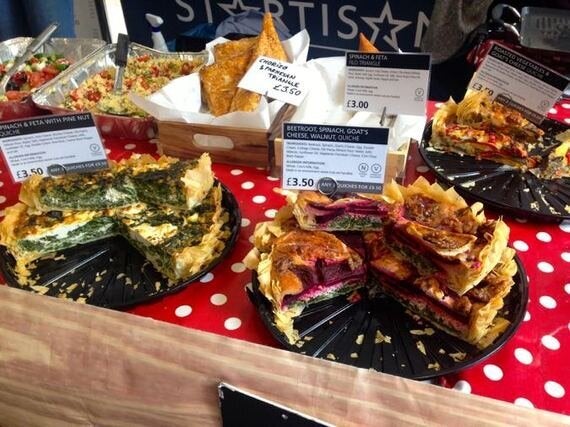 On the first day I sampled the udon noodles with torpedo prawns - a tasty dish for £6 (around £4 less than you'd pay in Wagamama for something similar). It was very filling, in fact I struggled to find space for dinner in the evening!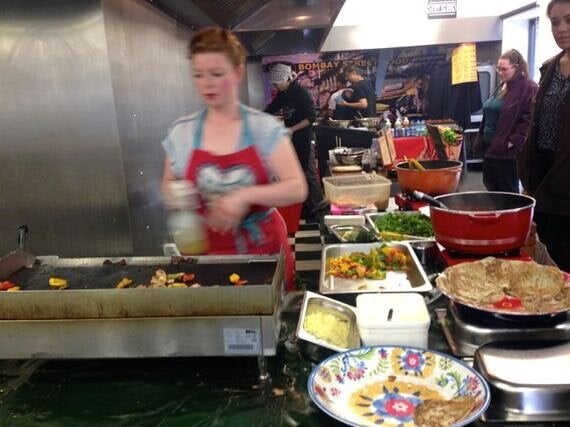 On the second day I couldn't resist the filo stall! I went for a courgette, feta and spinach pie, accompanied by Greek and couscous salads. The pie was enormous, and very tasty. Again, it was more than I could manage, so I wrapped up half of the pie and took it home! The enormous tray of food was a bargain at only £4.50.
Anyone familiar with the South Bank area of London will know there's often a food market outside the Royal Festival Hall. However you may not be aware that it's changed. It is no longer run by the Real Food Market, instead, the Southbank Centre have set up their own.
I checked it out on a sunny Saturday afternoon. The whole area was buzzing with people enjoying the first warm weekend of the year. The market has a great variety of stalls - everything from Moroccan harissa chicken, to Spanish chorizo, to Thai curry, to Portuguese custard tarts.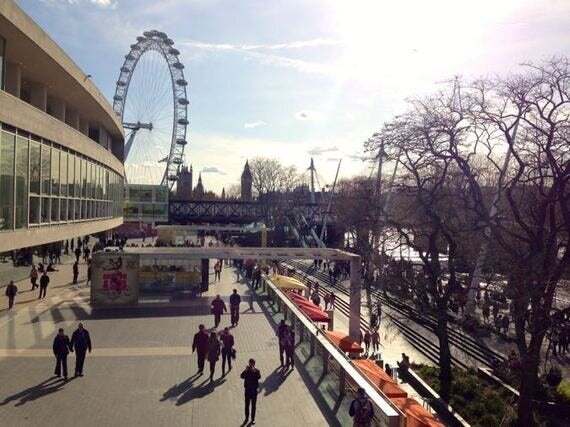 I tucked into a Moroccan Harissa chicken wrap (one free sample of the spicy chicken and I was sold). It was beautifully seasoned with a balance of flavour and spice.
Craving something sweet, I just had to venture to the cookie stall. Hundreds of perfectly-baked cookies were stacked up on the table in a variety of different flavours and colours. Four for £5 seemed like a good deal, so I picked up a toffee and pecan, triple chocolate, white chocolate and cranberry and the inspired 'red velvet' cookie. I've tried many red velvet cupcakes but this was a delicious reworking of the classic! They were all tasty, sweet, and perfectly chewy in the middle.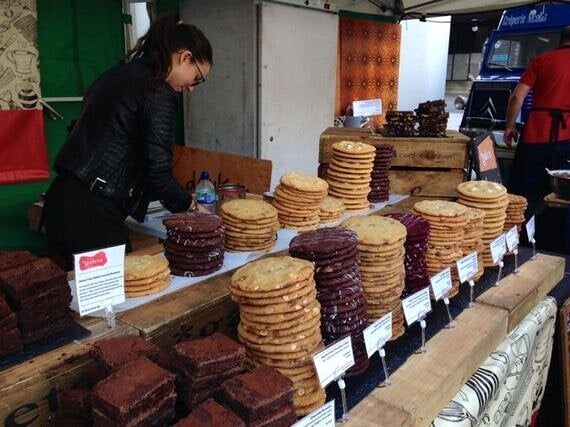 The market runs every Friday, Saturday and Sunday. Check the website for more details.