New Orleans has something for everyone, if you want to party head to Bourbon Street and get wild after drinking a hurricane or two. Walking through the French Quarter is like sticking your iPod on shuffle, with music and culture oozing out of every building and on every street corner; this city has Jazz in it's soul. However, one of New Orleans greatest assets is its food scene. Full of legendary dishes, there's more to cajun cuisine than meets the eye, or should I say mouth. Over 48 hours I found myself dining like a king, eating so much food that it took about a week for me to be hungry again. Having worked alongside Heston Blumenthal and the team at the Fat Duck, I've been lucky enough to experience some amazing meals, but in all honesty, a weekend of dining in New Orleans was one of the best eating experiences of my life. From classic white table cloth institutions, to homely living room dining full of seafood and cocktails, follow this plan for the best 48 hours of eating yourself silly.
After a swift, professional and neighbourly airport pick up from the New Orleans Car Service in the sort of fancy SUV that makes you feel like you're in the presidents motorcade, our driver Joe welcomed us to the Big Easy with such warmth that I was reminded why using a car service like this beats Uber any day. We checked in at the Loews Hotel and instantly went for searching for food.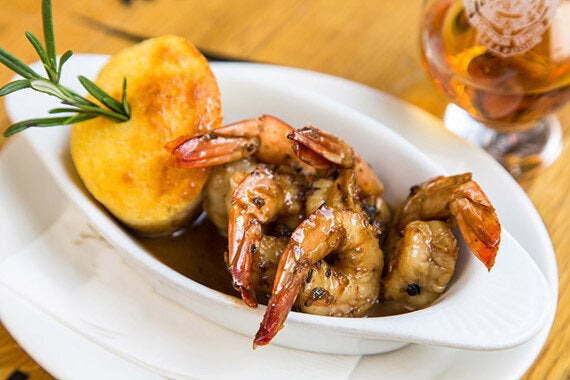 It's all about local seafood and bourbon here, the clue is in the name. A lively atmosphere fills the large dining rooms with tables crammed together for the swathes of people coming into this French Quarter establishment. Make a reservation to avoid the lines and you'll find yourself quickly seated, try a uniquely New Orleans Sazerac cocktail or if you feel like stumbling home get the bourbon flight to go with your meal. You can try the grilled or raw local oysters for a quick lunch but we grabbed three courses and enjoyed jumbo shrimp in bourbon glaze with a strong rosemary hit alongside the sweet flesh, the huge and juicy blackened gulf fish with sweetcorn relish instantly awoke our taste buds as an introduction to cajun cooking, and the banana bread chocolate cake covered in bourbon sauce gave us the sugar hit we needed to get on with the afternoon.
After walking some of the food off round the French Quarter jump on an afternoon cruise on the Steamboat Natchez; an original paddle steamer that slowly cruises you up and down the mighty Mississippi. It'll give you a chance to chill before working up your appetite and getting out of the French Quarter. With so much to do it's easy to spend all your time there but the best advice anyone can give about New Orleans is to get out of the French Quarter. Get out of it! Got the message yet? Good, on to dinner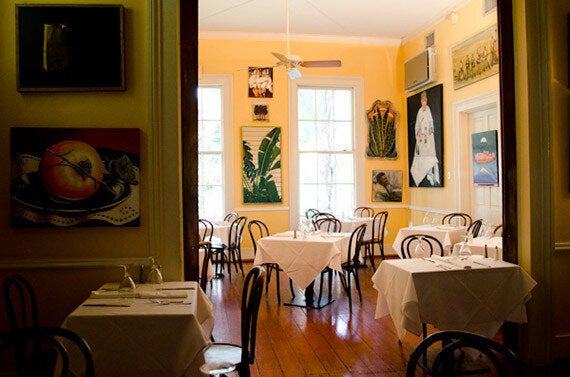 Jump on the St. Charles Avenue streetcar and admire the gorgeous mansions of this historical, green, lush beautiful neighbourhood along the way before arriving at Upperline. Instantly making you feel welcome owner JoAnn Clevenger is a tourist attraction in her own right. This lady of New Orleans shares her love and passion through the food she serves up and the art collection she displays in the dining rooms of this converted 1877 family home. Every table feels special and the curly moustached serving staff follow JoAnn's philosophy of a relaxed and easy service style just like you'd have at home. Full of foodies and those in the know it's more than a place to eat, it's a comforting and homely haven where you'd be a fool to not go for the taste of New Orleans tasting menu which at $48 is the bargain of the century.
The triple first course of Gumbo, Turtle Soup and Duck Étouffée showcases the best of Louisiana dining, the richness of the duck offset by a sweet jelly. JoAnn comes round the tables, chatting to guests like old friends, offering advice and giving a personalised list of off the beaten track things to see and do in NOLA. The mains swiftly follow including tasting portions of Fried Green Tomatoes, a slow roasted duckling, and spicy shrimp with cornbread kept our taste buds salivating as we gazed through the porch windows to see the trolleys rolling down St. Charles, with the flavours, smells and views it was clear there is nowhere else in the world we could be in other than New Orleans; and at this point, there was nowhere else we'd rather be. There was a sadness to us as we got up to leave JoAnn and Upperline, we felt privileged to spend some time in her company eating her amazing food, but the music of the Quarter and Frenchman St was calling.
Established in 1961 this intimate acoustic Jazz venue plays host to the great of greats. With shows at 8, 9 and 10 every night and a tiny capacity it's best to book in advance to avoid the lines. Then you will be in for 45 minutes of Jazz, which even for me, someone who doesn't really like jazz, was bloody incredible. It felt so special to be in that room, soaking up the history, hearing those musicians and feeling like New Orleans is creeping into my soul. What a way to end your night.
Popular in the Community