Over the last few years playwright Simon Stephens has become one of Britain's great success stories. Having taught on the Young Writers Programme at the Royal Court Theatre, he went on to become Artistic Associate at the Lyric Theatre, Hammersmith and now finds himself with a revival of his 2002 play 'Port' being performed at the National Theatre and his lauded adaptation of Mark Haddon's 'The Curious Incident Of The Dog In The Night-Time' opening at the Apollo Theatre in the West End.
'The Curious Incident Of The Dog In The Night-Time' was without doubt my favourite new play of 2012. A tour de force of theatrical brilliance, as stunning, imaginative and exciting as theatre gets. For those like me, who loved the book, it is a lovingly faithful and heartwarming adaptation and for audiences new to the story it consistently delights. It is the first play since 'Jerusalem' that I will be sending everyone I know to see.
I caught up with Simon to talk about the upcoming transfer of 'Curious Incident.' We met just down the road from the show's new home at the Apollo Theatre on Shaftesbury Avenue - yet despite it being minutes away Simon hadn't gone to look at the marquee which had just gone up. I wondered why?
SS: "It's because it's not been a dream of mine to have a show on in the West End."
CC: Do you feel like a bit of a cheat for being nonplussed by what for many people is the pinnacle of their career?
SS: "I feel a bit churlish but not like I've cheated anybody, it's not cynical. My ambition is to keep writing plays and having them produced. London has theatre steeped in the metabolism of the city, it's how the city has defined its sense of self and I love being a part of that. For me though the end game of writing my plays is to simply write the best that I can. It's not for them to appear on the West End. Of course I'm excited, but I think I'm just coming at it differently."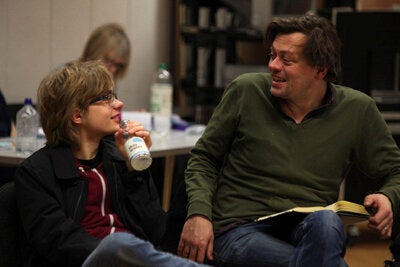 Simon Stephens watching rehearsals with his son Oscar. Photo by Ellie Kurttz
CC: How did your adaptation come about?
SS: "Writing it wasn't a commission, it was an experiment. I made friends with Mark Haddon at the National Studio; he rang me out of the blue and asked me to do it. I'd read the book for research when I was writing 'Motortown' but when I wrote the adaptation all I was thinking about was how to make it work on stage. I had an idea that Marianne Elliott would be a director who could do this because she is innately democratic in everything she does. I'd met Frantic Assembly just before writing it and thought it'd be interesting to collaborate with them because I had an instinctive sense that one of the ways to dramatise [the protagonist] Christopher's remarkable mind, although this is a betrayal to the Christopher in Mark's book, would be to equip him with a remarkable physicality."
CC: Who were you writing the play for, you a fan of the book or Mark Haddon the original author?
SS: "I was kind of writing it for both of us but most importantly for my children. I wanted to write something uplifting that they could see because if I tried to generate something from my own imagination for my children it would just become perverse. The reason I did it is because I love the book and I love Christopher's mind. When you look at it that book was the forerunner of the subsequent decade of geek chic, Matt Smith as Dr Who, Benedict Cumberbatch as Sherlock Holmes, that celebration of intelligence and the mathematical mind.
CC: It's such a theatrical show, there is so much thrown at it in terms of design, how exciting was it watching the rehearsal process?
SS: "It's completely thrilling. It's total theatre. Everyone working on it has hit their A game. I think it's because everyone who worked on the show loved the book, which was nerve wracking. Until '50 Shades of Grey' came out it was the nation's favourite book. There was no ego in the room because there was something bigger than all of us, which was Mark's book. The new design for the proscenium arch is just incredible, I don't want to give anything away but when the model box of the set came out on the first day of rehearsals everybody gave it a spontaneous round of applause."
CC: With so much thrown at the production were you ever worried that the words might be lost?
SS: "I was a little bit, I'd be on Marianne's back about that. I never think of my job as someone who is concerned with language, I'm a behaviour designer. I'm not a writer I'm a wroughter. It's about shaping and making as a playwright. One of Mark's observations about the difference between playwriting and writing the novel is that for the playwright, the most powerful line, the one that makes you laugh or cry, can be one word long. With 'Curious Incident' it's true. The biggest laugh comes from the line 'Okay.' My daughter could write that, it's not a linguistic achievement, but it's distilling the behaviour to that point where the craft comes in."
CC: There's a point in the show, near the end where Christopher is given a gift. I won't mention it specifically for fear of spoiling the show, but many critics picked up on it as hugely manipulative. This annoyed me. Surely all theatre, be it a prop or someone crying on stage is there to manipulate the audience. How did you feel about it?
SS: "It's not just the critics involved in that, Sean Holmes the artistic director of the Lyric at that moment loudly exclaimed "Shameless!" My wife sat with me at a preview and punched me really hard. It's complicated though. It's a loyal adaptation of the novel and that's what happens in the novel; perhaps the entire novel is built around that moment. You could cut it but it'd be awful. I think it's one moment, and I've stolen this wording from my wife, but it's the one moment where the audience and Christopher experience the same emotional condition. They see one thing in the world the same way at the same time, it's euphoric. That's what it's like being him and it really bridges you to the ending and the special post script."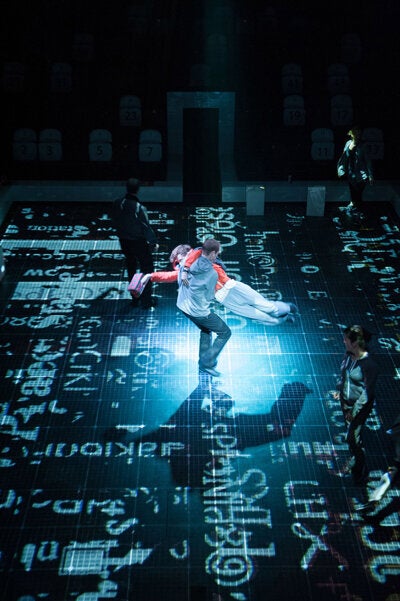 Luke Treadaway & the cast by Manuel Harlan
CC: The post script is a wonderful treat for those who stay in the theatre at the end, and the ending really is uplifting isn't it, you leave with such a smile on your face because you believe Christopher can do anything.
SS: "That's interesting, is it right? In my first conversation with Mark about adapting the book, I raised the observation that I wasn't sure the ending was as uplifting as a lot of people made it out to be. I put it to him and he thought I was right. So when Christopher says he can do anything on stage, it is a deliberate decision of mine to frame that as a question and one which we refuse to answer What's weird about this is the question I get asked very often about my plays is, "What happens to the characters at the end?" I find it a ridiculous question, the play ends, they don't exist anymore, they are the actors, and the characters are done. But weirdly I have found myself asking that question with 'Curious Incident'. I've bought into that and want to know what the future holds for Christopher."
Related