Nestled in the Arabian desert are two small cities, you might have heard of them, Dubai and its smaller neighbour Abu Dhabi? I mean, of course you've heard of them, these megacities aren't shy about shouting how great they are, and that's even true when it comes to thrill rides and waterparks.
Holiday destinations in their own rights, but also some of the busiest transit airports in the world, both Dubai and Abu Dhabi have enough to occupy you for a week's holiday. But even if you're there for a day you can get some truly adventurous adrenaline packed thrills in Ferrari World Theme Park in Abu Dhabi and Wild Wadi Waterpark in Dubai.
Whilst performing in 'Impossible' at Dubai Opera, myself and my magical chums used our time off to get some thrills and it's now time for me to share my knowledge with you on how to make the most out of visiting these parks, especially if you've not much time.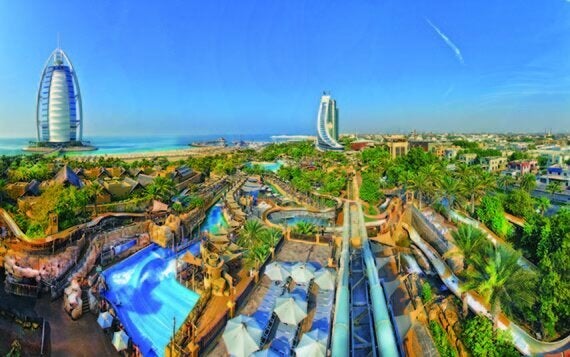 Wild Wadi, Opened in 1999 when Dubai was starting to become a tourist destination in it's own right. The original Dubai water park is nestled between the Burj Al Arab and Jumeirah Beach Hotel overlooking the Persian Gulf.
Arriving shortly after the park opened meant that we found ourselves being able to enjoy its 30 rides and attractions before the sun got too oppressive and before the lines got too long. By the time the lines got crazy we'd already been on all the big slides and were ready for round 2.
You don't have to worry about carrying cash by loading up a waterproof wristband with money which you can use to buy anything in the park and gain access to a locker. Although one of the safest places in the world I doubt that anything left at your sunbed will go missing, but just in case you can rent a locker. If there's a few of you go for one big one and shove all your stuff in it, it'll be cheaper than getting smaller ones.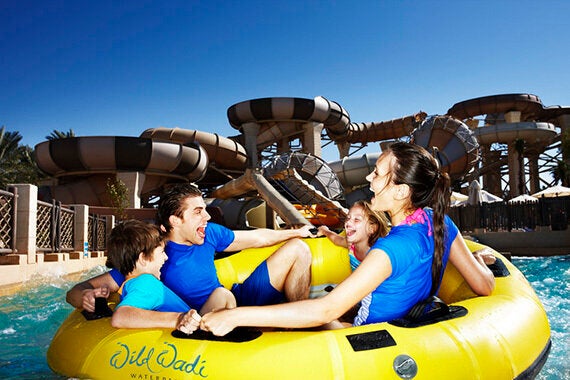 Wild Wadi has a load of interconnected slides, meaning you jump into a rubber ring at the bottom of one before being pushed up the slide by jets of water and arriving in a pool which then connects you to your next slide and so on. The great thing about this is you can find yourself spending 30 minutes on various slides after only lining up once and you never even have to get off since they're all linked together. One ride literally leads to another.
The most thrilling ride is the Jumeirah Sceirah. The tallest slide in the park where you enter a capsule above the slide, the door closes, a countdown begins and before you know it the floor has dropped from under you and you scream down the 120 metre slide at 80km/h. However the most fun to be had is on Burk Surj and Tantrum Alley where you and three friends get in a large rubber tube and woosh down near vertical drops and back up the other side, spinning, soaking and screaming your head off. The joy of watching your friends faces as they drop and climb the slide is pure delight.
If you want to stay dry with your thrills then Ferrari World in Abu Dhabi is the place for you. Around 80 minutes in a cab from Dubai (at the cost of about £40) you'll find yourself of Yas Island home to park and in it the world's fastest rollercoaster.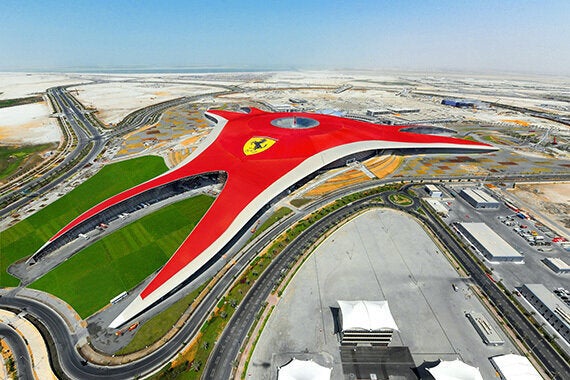 I only had a half day to visit the park before having to get back to read minds in Dubai so here are some tips to making the most of a half day in Ferrari World.
To get round the park in half a day it's worth investing in a Gold ticket giving you unlimited fast passes. Suddenly the 90 minute line for the Formula Rossa (the fastest coaster in the world) became 10 mins and it meant we did every ride in under 3 hours! This will be especially useful over the next few months when three huge new rollercoasters will open.
When you arrive head straight for the Karting Academy and pick a time slot to come back later and have a go whizzing round the track in an electric go-kart. They provide boiler suits and helmets all you have to provide is some driving skills and channel your inner Lewis Hamilton.
Truth be told this park is all about Formula Rossa and Flying Aces, their two signature world record beating roller coasters. In a country that doesn't do anything by halves this park hasn't shied away from breaking records. So get on them before you do anything else
Formula Rossa, the fastest rollercoaster in the world, will launch you from 0 - 149mph in 4 seconds. It's fast, obviously. It's violently fast in fact. So fast that they make you wear special goggles. After that launch you zoom round the desert heat at huge speeds through banked turns and finally onto the brakes. It was totally exhilarating but the type of ride you need a little sit down after riding!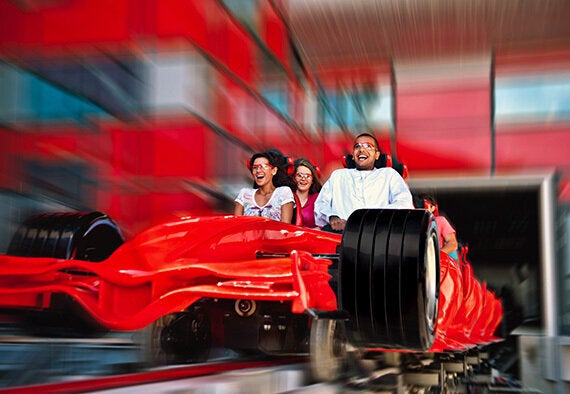 Most of the park is in airconditioned glory indoors so the new Flying Aces coaster brings about a shock as the train leaves the building and suddenly you see what you've let yourselves in for as you climb the steep hill to the top of the 63 metre drop. You then descend into the highest loop on the planet as the plane themed ride leaves you smoothly soaring over the edge of the track while performing acrobatic maneuvers. All I could say after this was, 'Shall we go on again?!'
So there you have it, even if you've only a day in Dubai or Abu Dhabi there's no reason to not get your adrenaline pumping and take advantage of some world class rides.
Related