Back in 1972 Stephen Schwartz, the man behind every teenage girl's musical delight Wicked, teamed up with Bob Fosse to create Pippin, a show that ran for just under 2000 performances. Cabaret, Grease and A Chorus Line were around at the same time and have recently had hugely successful revivals, but till now Pippin has been pretty much lost.
However, Mitch Sebastian and the team at the intimate Menier Chocolate Factory have now grabbed Pippin and pulled it through into the 21st Century with a completely re-imagined production taking the coming of age tale and placing it slap bang in the middle of a computer game. It's less XBox Live, more XBox Live on stage with songs and dance.
It is a bizarre, charming yet ultimately satisfying show with an infectious cast and incredible production design. On an intellectual level Pippin is nothing but stuff and nonsense, but if that's your worry then you are very much missing the point. The eyes dazzle as we are transported with our hero into a game which grows and glows around us as he takes on his quests for an extraordinary life.
Harry Hepple as the title character is young and enthusiastic, Matt Rawle as the narrator captivates and delights from the get go, and Carley Bawdens, Catherine brings a subtle warmth to the piece. However it's Gay Soper as Berthe and Frances Ruffelle as Fastrada who manage to steal the show and bring the production to life.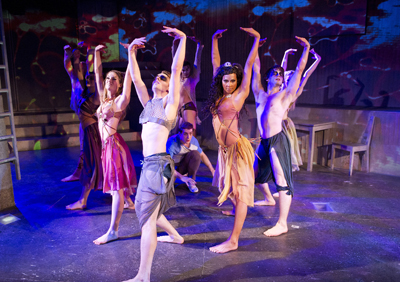 The Fosse choreography mixes wonderfully with the design to create a truly unique show with a couple of stand out numbers. Pippin is strange and outlandish production, one which is a fun delight from beginning to end. It's not been seen for over 30 years and it's easy to understand why why. It's not a classic by any stretch of the imagination, but the Chocolate Factory's production will provide a real treat for musical theatre fans giving your imagination a work out and a tune to hum on your way home. And let's be honest, that's all you ever want from a musical.
Pippin runs until 25 February at the Menier Chocolate Factory.