I hate feeling like I'm missing out on something, especially if it's something from a world that I love. In this case it's the world of musical theatre and I seem to be missing out on the biggest musical comedy sensation for years, The Book Of Mormon, and I'm missing it out of my own free will.
I love musical theatre, I simply adore it. I'm never happier than when I'm sat in the theatre watching something with everyone experiencing the same emotions and feelings at the same time. If you look at my iPod it is full of musical theatre soundtracks but The Book Of Mormon is missing.
This incredible multi Tony award winning show created by the guys behind South Park and Avenue Q is perfect for me. A musical, which is funny and satirises religion. Yes please. A friend of mine, whose name I'm going to drop now, Penn (from & Teller fame) saw it in New York and said it was the best thing he had ever seen. It is so popular that it sells tickets at more than double the face price to keep up with demand. I so very much want to see it. So why am I avoiding what I would obviously love?
For a start I've not been to New York since it opened, but that shouldn't matter as there is YouTube and a soundtrack that I could enjoy. Instead I have purposely buried my head in the sand and avoided everything I could because I knew one day it would come to London and I knew it would be so much better seeing it all for the first time. And it is.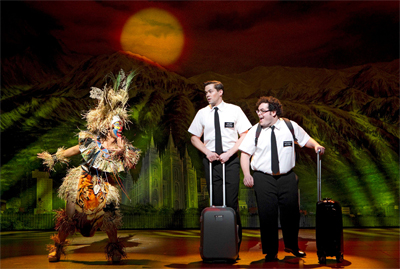 Photo of the original Broadway cast by Joan Marcus.
Opening in February 2013 The Book Of Mormon has finally announced its West End transfer and I simply can not wait. I know nothing of the story, the script, the jokes or the songs. I have done everything I can to make sure that I am kept in the dark, so the first time I see it, it's not jokes I know, or songs I love, it is as fresh and new as it can be.
I'm a sucker for seeing shows again and again, for consuming their soundtracks before I go but in this instance I have a feeling that it will be all the better for seeing it for the first time. However there is a problem. With a massive marketing campaign waiting in the wings it will become harder and harder for me to avoid The Book Of Mormon ahead of its London opening but if I can, I suspect I will be the happiest, most enthusiastic, giddiest person in the audience come opening night.
What about you? Do you watch and hear all you can about a show before seeing it, or do you want it to be a surprise to you?