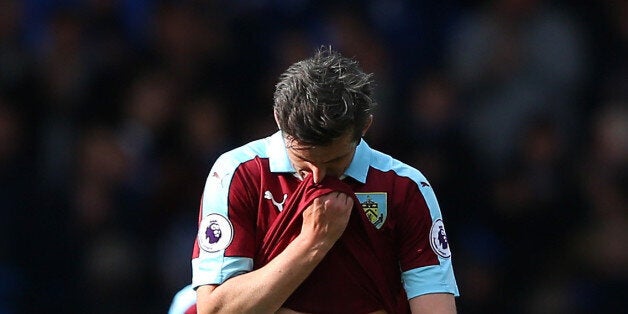 ​It's been a weird old season, this. Not as weird as last season, obviously, what with Leicester being Leicester and Tim Sherwood's continued existence as a human being and - god! - remember that Brendan Rodgers was still in English football last season?
Anyway, we've done the whole standard end-of-season awards; best player, best goal, all that stuff, but a weird and wacky season deserves a look at some of the smaller details. The overlooked moments of brilliance. The... well, these bits!
Worth 1,000 words and all that (although you try submitting a selfie and a couple of paragraphs for a piece with a 1,200 word limit and see how far that gets you), this picture from Manchester City's 4-0 win over Bournemouth back in September tells quite its own tale.
Photographer Paul Ellis perfectly captures the moment when Andrew Surman, Simon Francis and co find their arms momentarily hoisted skywards by their invisible puppeteer as Raheem Sterling waltzes in on goal.
Joey Barton Memorial Award for Most Dislikable Player of the Season
Brexit Award for Worst Decision-Maker of the Season
There are two things, and only two things, notable about the playing style of Adama Traore.
1) He's faster than a greased salmon. That's been shot out of a cannon. By Usain Bolt. On fire. With go-faster stripes painted down the sides in Tipp-Ex.
2) He got that pace by trading his brain to a wizard in exchange for a 10.9second 100m pace.
A player of his pace and dribbling quality should have half a dozen goals a season to go with an assists tally easily in double figures, but Traore ended this season without a single goal, and with one solitary assist. Because he is profoundly thick.
Ashley Young Award for Dive of the Season
It's nice to see a club culture being passed on from senior players to the youngsters, isn't it? Marcus Rashford's spectacular (and somehow, successful) attempt to win a penalty against Swansea in Manchester United's 1-1 draw was right out of the Young playbook.
Leroy Sane did pull off an even more impressive dive on the very same day to win City a point against Middlesbrough, but...well, English players have always gotten a pretty easy time when it comes to diving. Let's go the opposite way for once.
Simple enough - it's Ross Barkley's perfectly timed slide in on Jordan Henderson in the last Merseyside derby of 2016.
Well, no. Obviously not. But if we call it foul of the year, it sounds like an endorsement of that kind of thing.
Twitter Account of the Season
It's ​@ftbllrswanimals, of course. It does what it says on the tin, more or less - footballers, with animals. Of all shapes and sizes.
The animals, that is. Not the footballers.
Ashley Young Award II for Bird-Related Incident of the Season
It's a little bit nicer than that infamous Ashley Young incident (you know that one (and if you don't, Google it)), and...y'know, who doesn't like animals on football pitches?
Literally the only bit of saving any Watford player did on the final day of the season (eh? eh?! yeah! Because they played really badly!) came from M'Baye Niang, who reacted swiftly and dove into the fray when a small bird ended up on the pitch.
He'll have no regrets about his actions, swallowing his nerves and not worrying about taking his tern to be a hero. n. Heron. That's a type of bird, see.