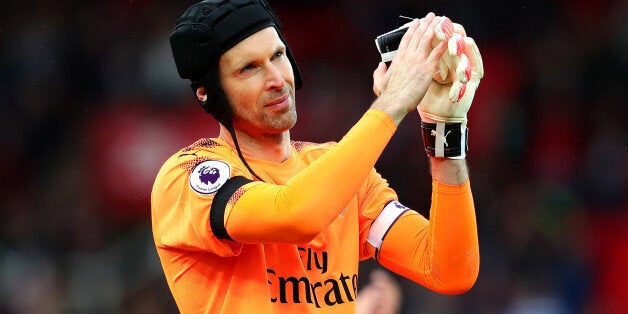 Hi, everyone. Arsenal have done a stupid thing again. Let's talk about that, shall we?
It's not the failure to tie two of their best players down to long-term contracts, and it's not playing Hector Bellerin as a weird kind of inside-left forward against Stoke. It's not even the continued presence of Francis Coquelin, who by rights should have swarms of killer bees set on him the second he approaches a football pitch.
It's...look, Petr Cech shouldn't be Arsenal's starting goalkeeper, okay? Okay. Let's run through this.
It seems odd to say that about a goalkeeper who has been in the top two in the league for save percentage in each of the last two seasons (first in 2015/16, second behind Hugo Lloris in 2016/17, via WhoScored) but Cech is one of Arsenal's few genuine weak links this season.
The game against Leicester was 90 minutes of absolute horrible-ness from the Czech stopper. More painful on the eyes than that sentence, even.
The Foxes' first goal was a defensive calamity on a number of levels, but Cech's contribution was comfortably the single most catastrophic. When Danny Drinkwater swung a cross way beyond his back post, he went wandering off after it like a three-year-old chasing a butterfly.
If it was any other Leicester player who was dead set, start to finish, to beat Cech to the ball then he could've claimed that he didn't see him. He could've convincingly made the case that he thought he had a clear line to the ball, even if he was always a yard or two short of getting to it.
But it was Harry Maguire. He is a monster truck that moves like a man. He is un-unseeable. By the time his flick back across the goal came off Shinji Okazaki, Cech was still standing outside the line of his far post, and the Japanese forward had the easiest of finishes.
The second goal was a similar story after Granit Xhaka gave the ball away - a cross in from the left, Cech drawn to a ball like a virgin to a slogan t-shirt, the realisation that he was never going to get within a yard of it, the frantic attempted recovery, the finish into a more or less unguarded goal.
The third? Caught in no-man's land from a corner he could've punched away, he hopped to the left as Vardy's header passed him on the right.
None of this is to say he's an irredeemably bad keeper. An excellent run at the end of last season saw him almost single-handedly save the Arsenal three-at-the-back experiment. The Gunners conceded three goals from open play in the eight league games that they used the system, but xG stats suggest they should've conceded more than three times that number.
Even with that exceptional run though, Cech's save percentage clearly declined - down to 74.7% from 78.3% the year before. As a single season blip it's not fatal, but this is a 35-year-old goalkeeper who is now starting to be a liability from anything put into the box from the flanks. It's not a good look.
The problem for Arsenal is that there aren't many better options out there. The bigger problem is that they had one of those better options in their hands - and then sold him to Juventus this summer, when he wanted to stay, having been one of Roma's standout players last season.
Wojciech Szczesny had a better save percentage than Cech last season. He looked more assured under the ball. He's eight years younger. A season under the tutelage of one of the most experienced goalkeepers in the world - with twice as many Premier League winners medals as any other active stopper - could have sanded the last of the rough edges off him and left the Gunners with one of the country's leading goalkeepers.
Instead, David Ospina and his brainless positioning, dreadful shot-stopping and general, all-round pillockery is the cup and backup goalkeeper. The man is a clown and, now, the immediate future of Arsenal's goalkeeping. Giving him gloves and putting him in goal is like putting the Christmas turkey on the worktop and locking the dog in the kitchen with it. You're going to have a fat dog and mum's going to cry and you'll fill up on sprouts and it's all your fault, because you were a silly prick who handed responsibility to something pathologically incapable of dealing with it.
As for solutions? There probably isn't one, short-term. The Szczesny bridge is burned, there's not really anybody worthwhile available on the market for the price that Arsenal can or will pay, and...well, they've blown it, basically.
Have a good season, lads.