There was a time, in the not too distant past, when most British holidaymakers could think of nothing worse than spending an extended period of time with their family confined to what could only be described as a box on wheels. However, the caravan holiday has experienced an amazing resurgence in the last few of years and after a weekend that brought us the hottest day of the year; there are likely to be a lot more people planning on dusting off their two wheeled friend and towing them to one of Britain's many caravan and camping sites for a good old family holiday.
So what's changed? Why has the caravan gone from zero to hero in a relatively short space of time? And will this inspire you to stay at home this summer and enjoy a Great British staycation?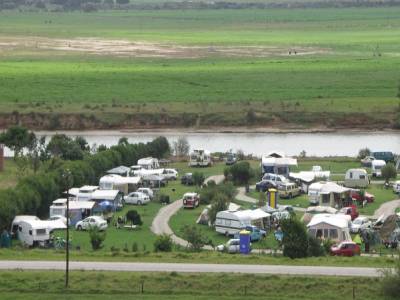 The Accommodation -
As I mentioned before; one of the put-offs about caravanning used to be the fact that you were forced to share a small space with the exact same people that you would usually use a holiday to get away from, whilst having to make sure that you didn't all stand down one end at the same time unless you wanted to see if the caravan would look better standing on its nose.
However, the accommodation offered in the caravan sites around the country today is far more advanced and much more modern. The latest mod-cons are usually present and the décor in most cases has changed from drab white-wash walls to vintage chic in a variety of colours.
And you don't even have to stay in a caravan. There are luxury log cabins available as well as state of the art camping pods that mean you don't have to brave the elements if the summer turns sour once again.
The Entertainment -
Previously the only escape from your caravan-shaped prison would have been to walk down to the onsite club house and join in with whatever entertainment they decided to put on for everyone. Sadly this usually consisted of the odd bingo night, the same people murdering the same karaoke tracks and a magician whose tricks were about as obvious as the fact that nobody was enjoying his act. Nowadays though there is far better entertainment on offer and not just in the evenings either.
With competition from places such as Center Parcs; holiday camps have upped their game in the entertainment stakes and they now provide exciting activities for children of all ages to do through the whole day. No longer do you have to listen to the resident MC make the same outdated jokes every day as you can be off enjoying quad biking, archery or an evening variety show that includes a host of famous faces.
The Attitude Of Holidaymakers -
Perhaps the biggest change that has contributed to the resurgence of the caravan is the recession. British holidaymakers now have less of a budget available for their summer getaways and this has led to more and more people choosing to stay on home turf and enjoy the sun. In turn this has meant that people's attitudes to caravan holidays have softened and there is no longer a negative stigma attached to this pastime in the way that there maybe was before.
Whereas before it could be seen as a sign that someone couldn't afford to jet off to exotic climes for a couple of weeks; it is now much more of a popular and accepted thing to do. And surely there's nothing negative or 'inferior' about wanting to explore what the UK has to offer rather than going abroad. The British Isles have many a great destination for the perfect summer holiday and it seems that the change in the economy has encouraged a lot more people to realise this.