In the late nineties girl power was all the rage and with the help of the pop group The Spice Girls, women and girls everywhere felt they had some role models to look up to and follow in the footsteps of. However, it isn't until recently that this has been reflected on the sports field and it now seems that the women's side of sports such as football, cricket and rugby are really starting to flourish.
There is obviously still a gap in participation and media coverage between women's and men's sport but after the last few years, and a great Olympics from a women's point of view, this is getting smaller.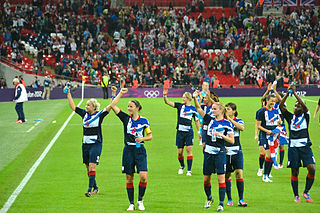 2012: A Monumental Year
Last year wasn't just great from a British perspective but also for sportswomen all over the world. For the first time in modern Olympics history, women were included in every countries team and women from Saudi Arabia, Brunei and Qatar even represented their country for the first time ever at an Olympics. This is remarkable as just 16 years ago a staggering 26 countries entered an all-male squad into the competition.
The reasons to celebrate don't stop there though as a whopping 36% of all team GB's medals were won by women and both the USA and China achieved similarly encouraging figures. This is also great for something that was mentioned many times prior to and during the Olympics; the Olympic legacy. Practically all sports in which women did well i.e. cycling, rowing, athletics, etc. have seen a great increase in participation since July last year and this has led to increased funding being put aside for women's sport.
Viewing Opportunities
If you go back just a few years; you would struggle to find any evidence that women's sport even exists when looking through the major sporting channels and reading the appropriate media. However recent developments and achievements in the women's game have prompted them to sit and up and take notice of women's sport and we are now seeing more women role models appearing in the public eye.
Throughout the Olympics inspirational figures such as Jessica Ennis and Victoria Pendleton graced our front and back pages and sporting channels such as Sky Sports have finally realised that the lure of women's sport can indeed bring in big audiences. The cricket and football world cups have both been shown in prime time slots in recent years and they have even started covering sports such as volleyball and netball.
The Next Generation
For these developments to continue and for women to carry on closing the gap between them and the men, there needs to be a new generation of sportswomen coming through. The great news that funding has been increased is a good start but women still need to be encouraged to take up sport in the first place. In the UK, girls football classes are a great way of doing this and as women's football has come on in leaps and bounds it seems it is a growing sport. Coaching facilities have improved greatly and more and more clubs are opening their doors to girls as well as boys.
Girls football classes offer young sportswomen the chance to get involved from an early age and develop their sporting and life skills under the watchful eye of qualified coaches. Leading an active life early on is a great way of getting young people into the routine of looking after their bodies and sport is a great way of doing this. Girls football classes are not just moulding the sportswomen of the future but the women of tomorrow as well.