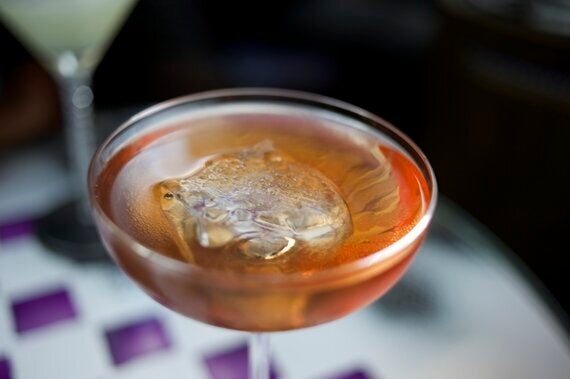 Photography by Chris Osburn © 2015
London has been a great place to drink for many a year. This year, for me, it seemed even better than before. My favourite watering holes continued to please while a handful of bars and pubs new or otherwise previously unknown to me caught my attention with great service, comfy digs and - most importantly - quality quaffs.
Please note, this list merely reflects how I chose to spend my time during the year and is comprised of well established and brand new venues as well as businesses that are somehow related to where work and play took me. The list is in alphabetical order (bars first, then pubs) and is one of a series of other "best of" posts published on my blog including Best London Restaurants, Best Restaurants (Excluding London), Best Hotels, and more. To check out all my lists in the series go to tikichris.com/category/best-of-2015.
The Langham, Portland Place, W1B 1JA
Somewhere that actually lives up - and actually exceeds - the hype, Artesian at the Langham deserves every award and accolade received. For an expertly crafted cocktail that's as sophisticated as it is playful, Artesian beckons and continues to reign supreme not only among London bars but across the globe.
33 Catherine Street, WC2B 5JT
An uncomplicated menu of pronounced northern Italy flavour; an equally concise and decidedly Italian list of wine and drinks; a stylish wood and copper bar that's as cosy as it is elegant - there's a lot to love about Augustus Harris, a Venetian inspired bàcaro conveniently set within the heart of Theatreland.
7 Old Compton Street, W1D 5JE
Whether you're passing near Old Compton Street in the early morning in need of a quick shot of espresso (for a mere quid) or you're looking for a cosy place to sip sophisticated cocktails well into the night - with a delectable assortment of other reasons to drop by stretching across the rest of the day - this tiny (seats 25) bar brought to you by cocktail mastermind Tony Conigliaro (of The Bar with No Name fame) and extreme espresso geek Marco Arrigo (Head of Quality at illy Coffee) is an ideal setting.
43 Lower Clapton Road, E5 0NS
With its massive candelabra glued to its statement piece bar by a mountain of wax, a downstairs dry-ice machine spraying ambient mist as an ethereal soundtrack emits eerie music to ensure every neophyte imbiber proclaims "you must see the toilets" upon returning from the loo, there's a rather spooky and somewhat kooky vibe to barman RuairiGilles' Frenchy Clapton boozer. Go for the absinthe, stay for whatever your absinthe induced mood suggests next.
140 Portobello Road, W11 2DZ
This stylish Notting Hill wine bar places emphasis "promoting the excellence of food and wine of North East of Italy," and rightly so as it's hard to beat a glass of too often overlookedFruilano or a hearty Alpine dish such as frico
Tottenham Hale? Hell yeah! A outdoor brick pizza oven and a wobbly statue of Charon, the ghastly ferryman of the River Styx are the first sights you encounter at this post-industrial parlour of curated performance, music, workshops and theatre area made possible through partnership with Mill Co Project and Haringey Council.
100 Clapham Park Road, SW4 7BZ
Down to earth South London pub with a knack for finding some of the city's best street food traders to takeover its kitchen to the delight of its patrons. The selection of craft beer demands deep admiration and respect.
99 Fleet Street, EC4Y 1DE
This historic City tavern has a singular air about it. There's gorgeous natural light streaming in from a glass ceiling in the main bar area, a working fireplace, and original features from 1897 such as marble bar, dark oak paneling, and a series of original Punch and Judy themed paintings. Craft beer menu and ginormous gin list both get big thumbs up as does the mighty menu of savoury homemade pies.
31-35 Coate Street, E2 9AG
Laidback atmosphere; phenomenal craft beer selection; an awesome menu of "low and slow BBQ cooked meat served fresh and fast in delicious buns" coming out of its "Bunsmiths" kitchen; and a well established music venue downstairs - this pub is a fine setting for a drink and is now all the more with the awesome food.
The original version of this post was published at tikichris.com.