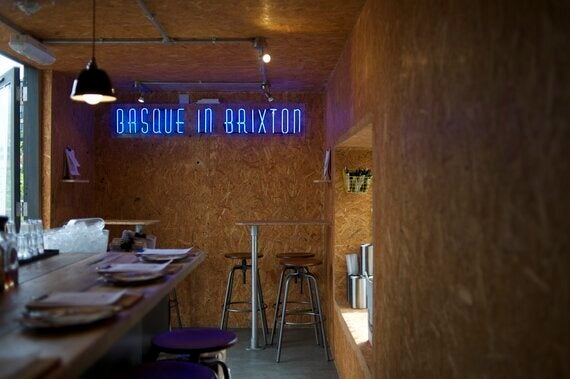 Photography by Chris Osburn © 2015
London's best restaurants of 2015? Here's a list of seven that did the trick for me.
I kinda hate to say it - if only for my own gluttonously self-centred reasons - but as 2015 comes to an end I find myself wondering if the London dining scene has plateaued. I saw a lot more of replication, style over substance, and high prices for the sake of high prices (or paying rent that squeezes out independent mom 'n pop traders) than I recollect from recent years past. And too many people in general still seemed too obsessed with building a better burger and smashing avocados.
Nevertheless, there were standout restaurants scattered around town where I had exceptionally memorable meals worth mentioning in a 'best of' roundup. They came in all shapes and sizes ... and in a variety of less than typical situations (cargo container? driving range?) from fancy schmancy to stripped down and plain - but in every circumstance the food was the star.
Please note, this list merely reflects how I chose to spend my time during the year and is comprised of well established and brand new venues as well as businesses that are somehow related to where work and play took me. The list is in alphabetical order and is one of a series of other "best of" posts published on my blog including Best Restaurants (Excluding London), Best London Bars, and more. To check out all my lists in the series go to tikichris.com/category/best-of-2015.
53 Lexington Street, W1F 9AS
Bao with respect to the master of Taiwanese street food treats! Dining at the bar of this frisky and flavoursome Soho restaurant is the recommended way to go for added fun and a touch of kitchen theatre. Don't be put off obligatory queue of avid foodies keen to get that's almost always lined up outside the door. It tends to move fast and the food is worth the wait.
Pop Brixton, 49 Brixton Station Road, SW9 8PQ
Scaled back to clapboard basics with fierce focus on the menu, this eatery at container village, Pop Brixton, yields a savoury cargo for Spanish food lover's and offers a more than decent spot for a quick drink, light bite or full on Basque feast.
Sourcing its fish Flying Fish Seafoods in Cornwall which uses small fisheries to line catch fish sustainably and responsibly, the menu at Hook Camden Town is catch of the day, everyday - and only ever just that. Such a fresh approach means a rotating menu of more than 50 different fish and chips varieties to offer (depending on what the boats brought in) alongside dozens of different homemade sauces (garlic truffle mayo is but one excellent example) as well as the restaurant's own seasoned salts, sides, and desserts. Hook's seaweed-soaked chips are particularly scrumptious, especially after receiving a spritz or two of sherry vinegar spray.
252 High Holborn, WC1V 7EN
Impeccably curated by Rosewood London's Executive Chef Amandine Chaignot and hosted in conjunction with the hotel's own Slow Food & Living Market, Sunday brunch in the Rosewood's Mirror Room is an absolute delight for all the senses and offers one of London's most indulgent reasons to get out of bed on Sunday (but don't worry about being too much of an early bird; brunch is served until 3.3opm).
Satisfying dishes made fresh and presented alongside a warm reception and competent service means this cosy Spitalfields restaurant is the place to go for top notch Italian comfort food.
InterContinental London Park Lane, at One Hamilton Place, W1J 7QY
2015 is the second year in a row that Theo Randall has made the 'best of' list. Set inside the luxurious Intercontinental London Park Lane, the restaurant remains the top choice to head to for an upscale dinner of authentic and seasonal Italian dishes coupled with one of London's smartest selection of wines.
Peninsular Golf Range, Tunnel Avenue, SE10 0QE
Sophisticated Spanish dishes and an aim to promote "pretty, unusual and iconic" wines add up to a stroke of culinary genius at this amazing restaurant and bar set inside the Peninsular Golf Range in North Greenwich.
The original version of this post was published at tikichris.com.