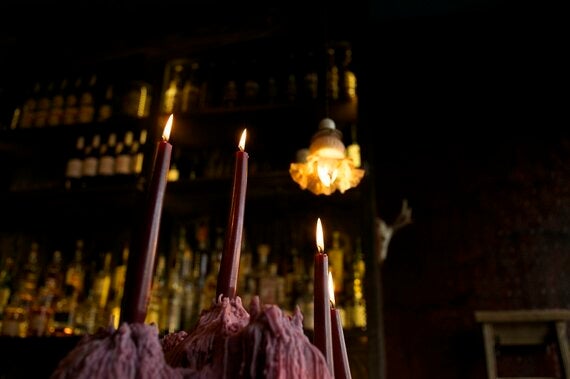 Photography by Chris Osburn © 2015
One of my favourite London bars continues to impress as I was delighted to realise during a recent absinthe-minded elbow bending session at The Bonneville in Clapham.
With its massive candelabra glued to its statement piece bar by a mountain of wax, a downstairs dry-ice machine spraying ambient mist as an ethereal soundtrack emits eerie music to ensure every neophyte imbiber proclaims "you must see the toilets" upon returning from the loo, there's a rather spooky and somewhat kooky vibe to this hardly year old Hackney haunt that adds up to an ideal setting for exploring owner/head barman Ruairi Gilles' menu of absinthe-based cocktails.
However you like your absinthe served (or if you even known whether or not you actually like absinthe at all), The Bonneville is a smart place to have at it in London. The selection is broad compared to most bars (in London or anywhere for that matter) but still just that - discerningly selective.
Like with gin, different botanicals are used to create subtle yet distinctive flavour profiles for absinthe (although wormwood, anise and fennel are the dominant ingredients), and Gilles posits that such flavours can only be appreciated when drunk correctly. While I partook in a round of cocktail and straight absinthe sampling, I especially enjoyed sipping the spicy and complex French distilled Nouvelle Orleans' Absinthe Superieure and marveled at all the other bottles of absinthe behind the bar (no, I wasn't seeing double).
Gilles' sazerac - that classic New Orleans mix of absinthe and whiskey - was among the best I've tasted in town while his milky, almond-rich Absinthe Suissesse ranked among the more intriguing (and refreshing) drinks I've had in quite some while.
Gilles, whose love of absinthe stems from his obsession with all things Belle Époque, believes any decent bar should have at least one bottle of absinthe behind it. What sets The Bonneville's collection apart from others, "regardless of the variety" is, according Gilles, "what we do with it."
At The Bonneville, absinthe is showcased as it was meant to be drunk, "with sugar and water or as the main ingredient in a cocktail," says Gilles who reckons, "absinthe is an ideal drink known as much for its complexity as its versatility."
Beyond the exceptional range of complex and versatile absinthe, there's an solidly backed bar of all sorts of other top quality spirits (I was ogling the whiskies all night) complemented by a barman's love of properly mixed drink. No matter your preferred poison, it'll be poured capably with a sense craft and pride (Scotch lovers would be wise to request a glass of "penicillin").
Beyond the well-crafted liquid pleasure, I've found during prior visits that The Bonneville serves up more than decent French fare along the lines of Chateaubriand, moules frites and bouillabaisse. And you could do a lot worse than making your gourmand way through Bonneville's especially French cheeseboard no matter what you happen to be drinking. But key to my jouissance is what's doing behind the bar.
The Bonneville is located at 43 Lower Clapton Road, E5 0NS. Find out more at thebonneville.co.uk.
The original version of this review was published at tikichris.com.