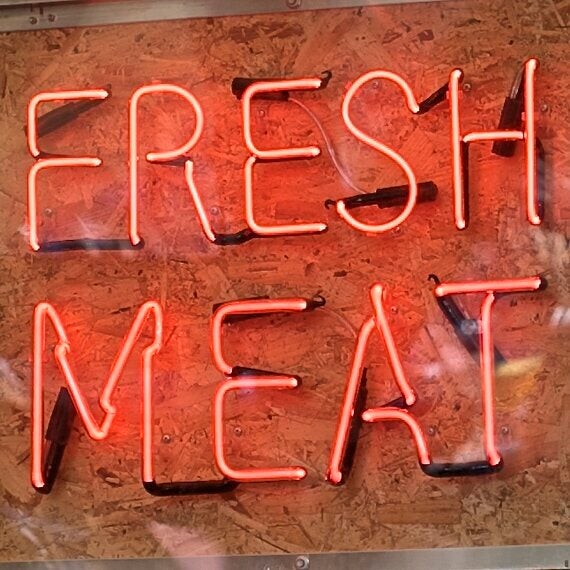 Photography by Chris Osburn © 2015
So, I was all sorts of messed up this weekend. Not because of the beer (although I had access to copious amounts of it). Or the whiskey (similarly ample volumes were at my disposal). Or the meat (there were mounds of epic proportion). But because, as a judge at the Grillstock BBQ festival in Walthamstow, wave after wave of out-of-context familiarity kept slapping me silly with wafts of hickory smoke, the lilting plink of a banjo here and there, and the sight of thousands of folks come together to celebrate their love of slow and low cooked meat.
In its first London incarnation (though with well established roots in Bristol), Grillstock invited attendees to "think locally, act hillbilly" over a weekend loaded with live music (Fun Loving' Criminals and Razorlight were the headliners), fierce cooking competitions, barbequing and grilling demos, and myriad opportunities to chow down on "the very best BBQ and street food this side of Kansas City."
Act hillbilly? As a long gone expat from the American Deep South now actually living just down the road from where the festival was held, it seemed like a rich request. Raised working class and Southern Baptist on the top of a wooded ridge diminutively set in the shadow of the age-old Appalachian mountain range straddling the border between Georgia and Tennessee, I'm about as hillbilly as it gets. And with hardly more than five minutes' meander time between my home today and the Chestnuts Showground site of the festival, if I had wanted to think any more locally, I would have just stayed in bed or maybe arranged to have hosted my own back garden BBQ. By the way, I strongly felt the urge to type "backyard" in that last sentence.
For the triple whammy, the Grillstock invite I had received not only offered a chance to revel in this British take on redneck-ery as most guests but to do so as one of a select number of "king of the grill" judges. As a North Georgia cracker cum Walthamstow-away who's been known to write about food on occasion, such a meaty weekend had the makings of a match made in heaven.
Of course I might should add that while strolling through the festival grounds and taking in its carnal atmosphere with me Sunday evening, my pescaterian girlfriend wondered if she had actually entered one of the lesser rings of Hell and tried to count out how many of the seven deadly sins she could see being committed. Gluttony was in full display for sure - and maybe a little lust as well - but that was about it.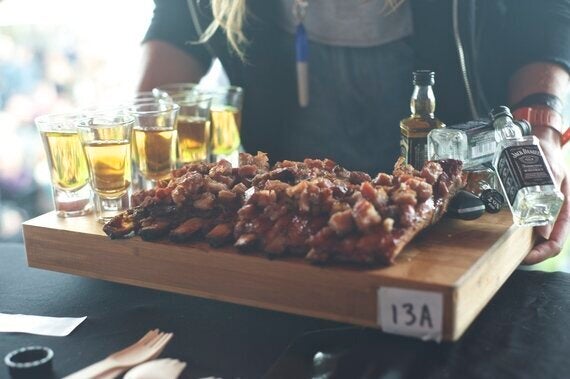 Photography by Chris Osburn © 2015
Heaven, Hell or some piggy Purgatory in between - wherever it was fate had cast me this past weekend, I loved it. I sat in on four rounds of judging: the Chef's Choice, the best burger, and the best hot wings competitions on Saturday afternoon, and the ultra serious official Kansas City Barbeque Society competition on Sunday.
Saturday afternoon's judging was a hoot with a raucous hoedown feel to it. The beer and whiskey flowed freely, judges were encouraged to speak out, cut up, and toss spare samples out from the stage where we presided to the rowdy audience below.
Chef's Choice was my favourite gig. The imagination, the effort, and the one-upmanship of that round blew me away. And I genuinely was impressed how inventively (and often prominently) Jack was used as a feature ingredient. As for the hot wings, I was certainly glad to eat much of what was brought my way, but found too many of the entries erred too often on the mild side of the heat equation. And, I hate to say it but none of Saturday's burger entries did it for me - at all. I've long held that burgers are better fried than grilled, and I reckon Saturday's session proved case in point.
Sunday's KCBS judging was another story all together with rules and regulations aplenty. For instance, judges weren't allowed to wear sunglasses, we couldn't talk - or lick our fingers - during tasting, and the list of disqualifying factors (for judges and significantly more so for contestants) was lengthy. I had only received my accreditation as a KCBS judge a few days before in anticipation of the vent and now reckon it will turn out to be the tastiest credential I'll ever add to my CV. Learning how to rate meat (categories were chicken, ribs, pork, brisket) to exacting standards of appearance, texture and taste and then apply those criteria to a range of entries from across the UK alongside a few from even farther afield was a treat - and something I very much hope to do again.
Two days of eating and critiquing low and slow cooked meat may sound like a dream come true - and believe me I'm not complaining - but I wouldn't describe plowing through dozens of samples of BBQ as easy. Keeping all those KCBS regulations in mind while attempting to discern subtle differences in flavour, feel and look took concentration and a level of objectivity not usually heeded when chomping through a mega amount of meat.
The winners? I'm not sure. As a judge, I was only given entry numbers for the items tasted. When the winners were being announced soon after the KCBS judging was completed, I was on my feet stretching my legs and trying to walk off some of those occupational hazard calories I'd put on. But, I'm certain the winners are up on the Grillstock website by now (or will be soon).
At home writing this crisp Monday morning wearing my hoodie infused with the smell of smoked meat (is that hickory?), my belly a little bigger than it was just a couple of mornings ago and today's lunch and dinner both undoubtedly will be leafy green salads, I'm still amusedly flabbergasted by my majorly American weekend of downhome flavour from back home (then) near my London home (now) feasting. Grillstock London was BBQ blast and a low and slow experience I look forward savouring again.
The original version of this review was published at tikichris.com.