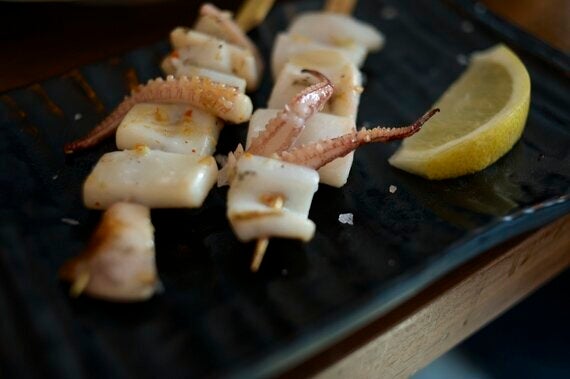 Having recently opened in Brighton, Bincho Yakitori brings a tasty to-do to your beach bucket list of seaside fun.
Yep, the same Bincho that used to grace London's foodie havens of Old Compton Street and Exmouth Market with its simple menu of mostly grilled meats made all the more moreish by a Japanese approach to flavour, style and service is now pleasing palates in cozy little Brighton nook only a few blocks up from the beach. Too bad so sad London, Brighton's got ya beat this time around.
I paid an early evening weekday visit a week or so ago, and had a delightful time sampling my way through the menu - at a fraction of the cost such a exploratory dabble of a meal would have set me back here in London (and that's if I could have found as satisfying yakitori as Bincho offers).
A flight of sake to start things off (the list of Japanese drinks was impressive), followed by a pint of Super Dry Asahi and I was ready for a parade of izakaya hits. Crispy on the outside, chewy on the inside cuttlefish and squid ... a variety of skewered chicken parts (wings, neck, hearts, skin) all grilled to perfection ... pork belly with a hint of char ... sweet potatoes doused with miso butter (which may have been the most scrumptious thing I've had in a long, long while) ... I loved the laidback delivery and umami-licious umph of each and every just-off-the-grill morsel of yum I sampled while sitting at the bar admiring the action in front of me on the grill.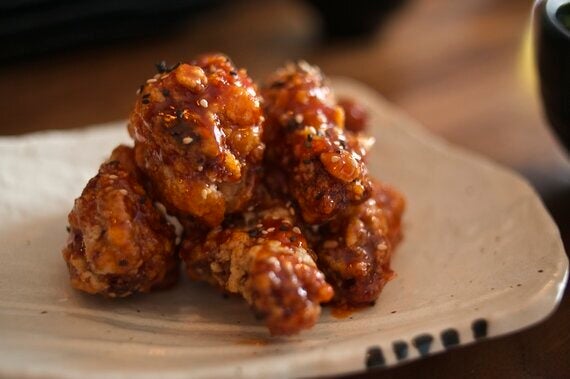 In addition to the yakitori, highlights during my dine included fried chicken wings prepared in a sort of masterful mash up of styles - spicy Korean x Thai fish sauce - resulting in a fiery flavour bomb I've been craving something awful since my last bite. A couple of scoops of green tea ice cream (no room for the white chocolate, yuzu and green tea "finger") rounded out my meal nicely. Service was personable, agreeable and prompt. Most of the menu items I tried were priced around £4 each (with a good many were well under that).
Bincho Yakitori is located at 63 Preston Street, Brighton BN1 2HE, just a short stroll from the rail station and an especially close walk from the beach. Find out more at binchoyakitori.com.
The original version of this review was published at tikchris.com.