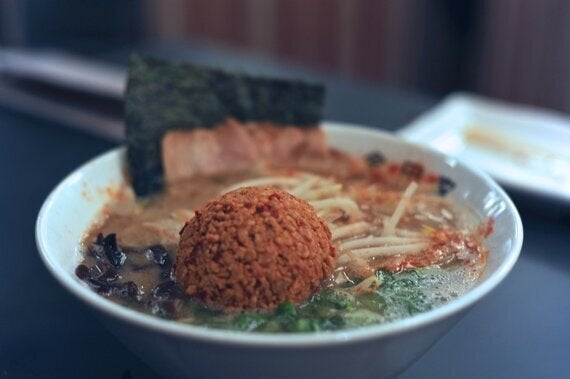 Photography by Chris Osburn © 2015
Same great soup minus the queue! Or at least that was the case during the evening I visited Kanada-Ya's second London outpost. Opened just before Christmas and building upon the success of its first London outpost, the new Kanada-Ya Panton Street brings authentic tonkatsu ramen to the west side of Theatreland with plenty more space than at its ultra popular - but super tiny - sister site just east in St Giles. Heck, they'll even let ya book a table (if your party's big enough) at this newly opened venture of the small but oh so slurp-tastic global group of famed ramen bars (with locations in Japan and Hong Kong).
As at other Kanada-Ya locations, all noodles at Panton Street are made on site with a special machine using a specific brand of flour, enriched with the right protein content and alkaline salts to produce a bouncy, firm noodle capable of standing up to the rich broth. Customers are also able to request how firm they like their noodles, which will then be cooked accordingly.
Having had (and adored) a bowl of the restaurant's original ramen when I visited Kanada-Ya's original London venue, this time round I opted for one with all the works - the gekikara, served with spicy "tan tan" style minced pork, pork belly chashu, wood ear fungus, nori and fresh spring onion (£13). Serving size was big, there were lots of noodles and the flavours of all the components blended gloriously well together. I order my noodles "hard" and, being the al dente pasta sort of fella that I am, was perfectly satisfied. Next time I might be inclined to go "extra hard" out of curiosity.
Starters/sides were good but didn't live up to the yum factor of the ramen. Karage (£6.50) was juicy and tender but no more delicious than I've had at any number of Japanese restaurants in town. Similarly, "Paolo's kale" with spicy dressing (£3) was very good but failed to impress. Quickly cooking up a bag o' curly kale at home with a squirt or two of sri racha could have pleased me just as much. During the same next time visit to which I've alluded, I might try one in Kanada-Ya's range or onigiri (premium Japanese rice balls wrapped in nori).
A dessert of matcha soft serve presented with a sprinkling of black sesame was however, a rich, creamy, and refreshing way to end the meal. I'd be tempted to go back just for the soft serve and will definitely save room for some when I head over on this next time feast I seem to be psyching myself up for.
Service was swift and friendly during my visit. Fans of Japanese design and minimalist décor should love the interiors, though adherents of the St Giles Kanada-Ya might not find Panton Street to be nearly as cosy-chic. There's a good selection of Japanese and local beers as well as whiskies, cocktails, and teas.
Kanada-Ya Panton Street is located at 3 Panton Street, SW1Y 4DL. Find out more at kanada-ya.com. To book one or both of the two bookable tables for groups of five to seven people refer to the restaurant's dedicated WhatsApp profile 07886666663.
The original version of this post was published at tikichris.com.