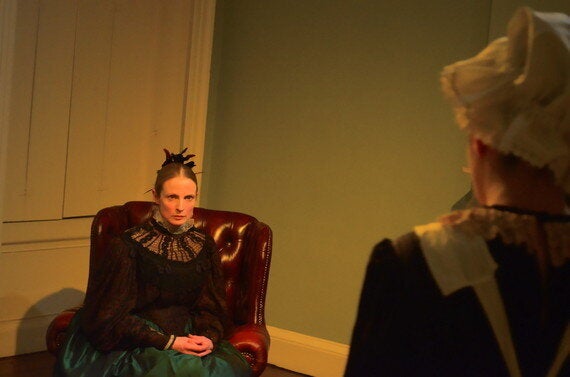 Roisin Rae plays Angela Burdett Coutts in Lady Unknown | Photo courtesy of Theatre Untold
Lady Unknown is the third production from ensemble group Theatre Untold. As with its two previous productions, the aim of Lady Unknown is to shine a light on a "forgotten historical figure." This time round that disremembered person is 19th century philanthropist and chum of Charles Dickens, Angela Burdett Coutts.
The play, written by Untold co-founder Lauren Johnson, tells the story of Coutts, who unexpectedly inherited Coutts Bank when she was a young woman and spent the rest of her life sharing her fortune with much of her charitable work done anonymously and attributed only to a "Lady Unknown". For two decades she worked closely with Charles Dickens, and that friendship is at the centre of the play - particularly their work with Urania Cottage, a home for "fallen women" (prostitutes).
The play, performed recently to sold out shows at the Charles Dickens Museum in Bloomsbury, gives audiences a chance to step into Dickens's home for the evening and meet him and Miss Coutts as well as two servants who are affected by the decisions the pair are making.
In attendance for one of those recent performances, I found the play to be engaging and fun as it presented Coutts (who to me was indeed unknown before hearing about the play) and looking at some less celebrated aspects of well down champion of justice, Charles Dickens. Afterward I was keen to find out more and got in touch with Johnson to request an interview about her work.
Historian, playwright, and author of two books, Johnson agreed to sit down with me to answer a few questions and talk about Lady Unknown and what inspired her to write the play.
Had you worked on any theatre in the same vein before (immersive, historical)?
This is the first play I've written, but since 2008 I've worked with a live interpretation company in heritage sites, and I've researched, written and directed events with them. I really wanted to bring some of my experience in heritage theatre into this piece - to immerse the audience in a historical world as well as telling a theatrical story.
How and when did you first learn about Angela Burdett Coutts?
In my life as a costumed interpreter, I did a "Charles Dickens Christmas" event a few years ago at the Tower of London. I played Angela for the event - I had never heard of her before and was astonished her story wasn't better known. In her own day she was one of the most celebrated and famous women in the country.
What inspired you to write the play?
The relationship between Angela and Dickens really stuck with me - the tragedy of the fact that once Dickens made the decision to separate from his wife and set his mistress up in a home with him, his friendship with Angela just fell apart ... There aren't many stories about completely platonic friendships between men and women, and I found their relationship fascinating. They each inspired the other to be braver and work harder at improving the lives of others, and they had an almost sibling-like closeness. At least until Dickens's personal life got in the way. Also, I really wanted Angela's involvement in their work to be better known - we all know Dickens the writer, and a lot of us have heard of his social work, but Angela's crucial part in it has been completely forgotten. She deserves to be better known.
What are the plans for the play now that it had its initial run at the Charles Dickens Museum?
We hope to bring the play back next year in a bigger, longer, even more immersive format. Almost all the feedback we've had from audiences was that they enjoyed the play and want more of it, so we're very happy to oblige.
Was Charles Dickens kinda sleazy?
Ha! That's certainly not his public image. I have mixed feelings about Dickens because he did a lot of good and raised awareness about social issues in his own time - issues that still matter today - but in some of his relations with women he was pretty awful. His treatment of his wife when they separated after 20 years was deeply unpleasant - I think he abused his public voice to humiliate her - and he lived a double standard by setting up Urania Cottage with Miss Coutts but secretly keeping a mistress. He didn't seem to realize he was putting his mistress in the exact same vulnerable position as many of the women of Urania had experienced.
What do you hope people takeaway from a performance of Lady Unknown?
I hope they might be inspired by Angela's work, and the parallels between the nineteenth century world we present and modern political issues, to take some 'philanthropic action' of their own and help other people out. Whether that's through joining in the campaigns against funding cuts for those who really need social support, or giving to charities like homeless shelters and women's refuges, that would be great. And most of all I hope they tell other people about this fascinating historical woman called Angela Burdett Coutts, because she deserves to be remembered and celebrated.
Related