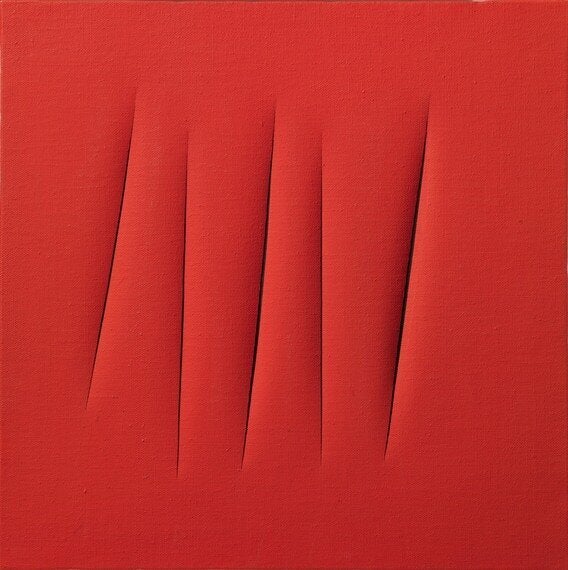 Lucio Fontana, Concetto spaziale, Attese, 1964 - image courtesy of Tornabuoni Art
More than 50 seminal works by Argentine-Italian artist and founder of the Spatialist Movement - Lucio Fontana - are on view now in the inaugural exhibition at newly opened Tornabuoni Art London in Mayfair.
Lucio who? Adherents of 20th century art should be well aware of Fontana's self described "spatial concepts" and most keen to scope this show ASAP. Those with more of a casual interest in art might not recognise his name immediately but are probably hip to his contributions nonetheless, whether they realise it or not or fully appreciate the significance of the contribution he made to art through his simple yet radical gestures.
Fontana was the artist who, in the words of Italian art critic and historian Enrico Crispolti, "sought the possibility of a limitless dimension" by punching holes in and - most famously - slashing lines through his monochromatic painted canvasses. There's a disregard to much his work that suggests a frustration with the limitations of visual representation on flat surfaces and a desire to go beyond traditional physical and conceptual boundaries of art.
Attending yesterday morning's press preview, I found the exhibition to be a captivating show and a fantastic opportunity to view Fontana's work up close. Focused on Fontana's work from the 1930s to his death in 1968, the show includes mostly canvas paintings alongside a rare sculpture and one of only four rhomboid shaped works that Fontana ever made. Accompanying the exhibition is a hardback catalogue with essays by Crispolti as well as Luca Massimo Barbero, Associate Curator at the Peggy Guggenheim Collection in Venice, and British author, curator and critic Edward Lucie-Smith.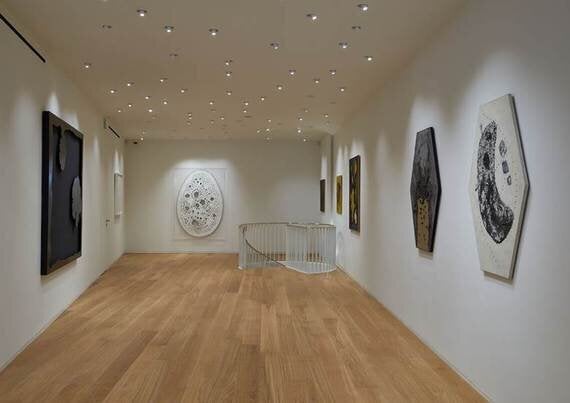 Image courtesy of Tornabuoni Art London
In addition to enjoying the chance to admire the art, I thought the gallery itself was a more than adequate space for viewing such pieces.
Opening just in time for October's Frieze Art Fair frenzy, the exhibition and its setting promise to delight the art world scenesters soon to descend upon London and to carry on impressing fans of contemporary art until the show closes in early December.
Tornabuoni Art London is the seventh in the Tornabuoni portfolio. Specialising in Post-War Italian art and International 20th century Avant-garde masters, Tornabuoni Art was founded in 1981 by Roberto Casamonti with a first gallery in Florence followed with galleries in Crans-Montana (1993), Milan (1995), Portofino (2001), Forte dei Marmi (2004), and Paris (2009).
Launched under the direction of Ursula Casamonti, who has worked closely alongside her father Roberto for two decades, the gallery features two floors of viewing space and is based on designs by Ursula's brother/Roberto's son, Marco Casamonti. Future exhibitions will include a group show of Italian Masters from the 50s and 60s, an exhibition of the works of Alighiero Boetti, and the first show in London of Luca Pignatelli's work, as well as solo exhibitions by Arnaldo Pomodoro and Francesca Pasquali.
Lucio Fontana at Tornabuoni Art London runs from 8 October to 5 December 2015. The gallery is located at 46 Albemarle Street, W1S 4JN. Find out more at tornabuoniarte.it.
The original version of this review was published at tikichris.com.
Popular in the Community