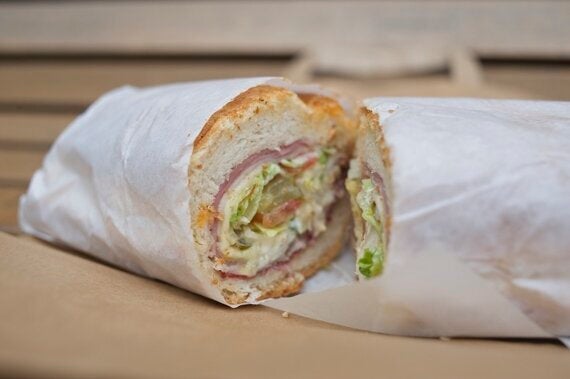 Photography by Chris Osburn © 2015
"Legendary" Chicago sandwich shop, Potbelly, has opened at Westfield Stratford City brings a toasted load of massive flavour to a very lucky London.
I swung by last week's launch of Potbelly. En route to where I was ultimately heading, I reckoned I'd get a decent sandwich out of it, but had no idea I'd have such a majorly satisfying one. I had "A Wreck." Priced around five quid, this toasted mega-sandwich was jam-packed with salami, Angus roast beef, turkey and melted Swiss cheese ... and then made to order with mayo, mustard, hot peppers, lettuce, onion tomato and pickle (from a slightly longer list of free toppings available). For me, quality always wins out over quantity. But when I get the two together, oh boy! Grinding through A Wreck was indeed an "oh boy" gourmand moment.
Not only did I enjoy the best sandwich had in recent memory, but (while queuing up for it) I had what I'm pretty sure was the best milkshake I ever have slurped in London. It was just a plain Jane vanilla shake - but super thick and very vanilla-y. More yum? I loved grabbing a bag of Snyder's pretzels with my sandwich. Potbelly does breakfast, soups, salads, freshly baked cookies, old timey sodas and more, but I reckon the sandwiches (I'm keen to return for a go at Potbelly's meatball sub) are the main act.
Truly impressed and way more excited about this opening than I expected to be, I'm dying to go back - on an empty stomach - to devour more.
Potbelly is located at The Street, Westfield Stratford City, E20 1EJ.
The original version of this review was published at tikichris.com.