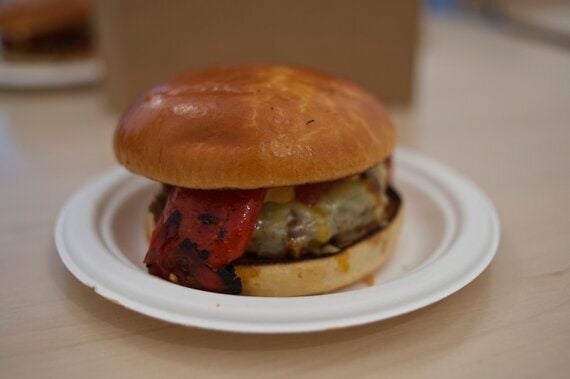 I had a blast and a lot of amazing street food (and drink!) during last week's inaugural Food Yard Friday at The Artworks Elephant (a studio and retail hub comprised of shipping containers situated near Elephant & Castle Station). And now that it's Friday again, now is your chance to partake in this delicious new series "of food, drink, art and music shebangs." Whether you're passing through or making Elephant & Castle your base for the evening, I highly recommend paying a visit. Just make sure to bring a hearty appetite!
I ate so well (and please note I was with a great and sampling a variety of dishes not having a full-on solo gorge fest - although some of what I tried was so scrumptious that I could have). I think the best way to approach this post is as a roundup with a blurb each about the South London entrepreneurs whose offerings impressed me most.
Bringing a taste of rustic Portuguese with a dash of London street smarts to the Food Yard is Black Acorn with a short and savoury menu built round acorn-fed Iberian Black Pig from the Alentjo region of southern Portugal. I loved their Iberico Burger. More at blackacorn.co.uk.
If the folks behind this "flatbread bakery and brew bar" ever decided to open another outlet north of the river (and as near my house as possible) I wouldn't complain. Hard pressed on what to order when you go? The lamb wrap is gorgeous - and even more so washed down with a glass of Douro red. Details: elephantshack.com.
Duck confit and blue cheese burger and a side of duck-skin scratchings? Oh yeah. These friendly Frenchmen were still setting up shop during my visit last week. But with the promise of "frog wings" and duck fat chips to come, I suspect I'll be craving another rendezvous soon! More on Facebook: facebook.com/TheFrenchie.
The Artworks Elephant's bar is a good one with laidback vibe and a great drinks list (whatever your preferred libation or espresso-based persuasion). I was very much impressed - and pleased to kick off the weekend - with my pint of Orbit Beers' Duke hefeweizen. More at longwavebar.co.uk.
Back to basics traditional Vietnamese with simple, natural "eco friendly" ingredients served by friendly appreciative folks? Yes please. Find 'em on Facebook: facebook.com/LoveFreshVietnamese.
Who wants Mauritian comfort food? I do (all the time) now that I've had a taste of what Randy, Marcel's Le Cordon Bleu trained chef does with it. I loved the bao and the extra eggy bol renverse and the nouik nian (steamed chayote dumplings). Visit online at marcelandsons.com.
Head here for refreshing "freshly-squeezed juices, smoothies, real fruit milkshakes" and more healthful and invigorating treats. I thought Spark's Zinger (carrot, orange, ginger) and Popeye (spinach, avocado, apple, lime) were especially yummy. Spark is online at findmyspark.co.uk.
I had some of the best jerk chicken I've had in London here and the most amazing rice and peas tasted outside the Caribbean. Go to The Tasty Jerk's Facebook page to find out more:
Keep in mind all these folks (and more) are at the Food Yard cooking up great food to eat throughout the week. There's no reason why you can't have your own Food Yard Monday Lunch, or Wednesday After Work Drinks or ...
The Artworks Elephant is located at Elephant Road, SE17 1AY. Find out more at theartworks-uk.com.
The original version of this review was published at tikchris.com.