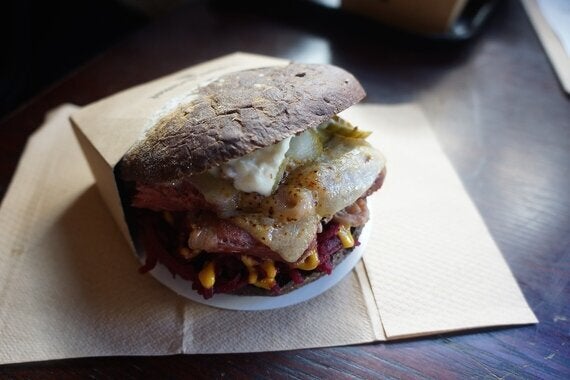 Photography by Chris Osburn © 2015
I've known Bel Shapiro - founding owner of The Bell & Brisket - for a number of years and all the while I've stayed a fan of her "seriously pimped up salt beef bagels" made with hand brined beef. I've also very much admired how she's resisted any trendy urges to "go burger" along with the hipster tide and rather has looked to more local gourmand traditions to come up with something delicious that's no less "street" and certainly just as zeitgeist-y as any other London grub you're apt to sink your teeth into.
Now Bel's brought her award-winning food to perennially preferred Curtain Street pub, The Barley Mow, for a long term kitchen takeover, and with the move has made eating out in Shoreditch a whole lot meatier ... while keeping true to its East End roots when so many of other nearby traders look abroad for edible inspiration.
In addition to the bagels, Bel is also offering black rye buns. They're tasty. But what's even more scrumptious than the bagels and buns is what she's jamming inside them. Consider if you will the following sarnies filled with your choice of salt beef or ale braised brisket (£7.50 each):
The Lord Rupert (with pickled cabbage, Dijon mayonnaise, blow torched Cheddar and Vadasz Deli dill pickles);
The Duke (with tomato chipotle sauce, pickled onions, blow torched Monterey Jack, jalapeno sour cream and Vadasz Deli Hot Roots); and
The Baron Beethoven (with pickled beets, fresh horseradish cream, blow torched Cheddar, English mustard and dill pickles).
That's not all though. Non-sandwiches dishes include pickle platters, like smoked mackerel with salt roasted beets, pickled samphire, dill pickles, fresh horseradish cream and toasted sourdough (£10 or £12 with a side of fries). There's grilled halloumi veggie sandwich or platter too and a variety of fries (from "naked" to "filthy") to ensure satisfaction for all.
During a recent preview lunch, I had the pleasure of working my way through samples of most of The Bell & Brisket menu. Although I can't recall an unappetising bite, but must admit I was at my most gluttonously gleeful while going at the Baron Beethoven (on rye). Savouring every bite of its symphonic ode to yum, I loved its range of textures and the broad but complementary flavour profile.
If you're keen for a taste of old school London nosh prepared with contemporary foodie knowhow and served in a proper pub (there seems to be fewer and fewer of them in London on an almost weekly basis), hit The Barley Mow and tuck in to The Bell & Brisket offerings. While you're there applaud the pub and admire the grub to retaining an ever so East End air and enquire if the rumours are true about Bel planning to start delivering her food soon.
The Barley Mow is located at 127 Curtain Road, EC2A 3BX. Find out more about The Bell & Brisket at thebrisket.co.uk.
The original version of this review was published at tikichris.com.