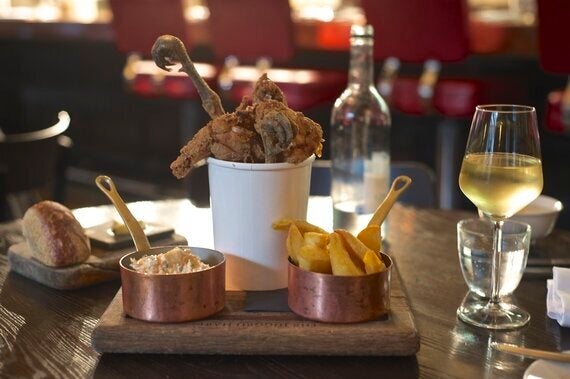 Popular Barbican Gastropub, The Jugged Hare, has launched a limited edition "Finger Lickin' Pheasant Bucket" in celebration of National Pheasant Week. Available from 16 to 22 November in, the bucket features eight pieces of deep fried pheasant. Feeling game? I was when I accepted an invitation to sample a bucket. Now I'm feeling fine (and full).
Yes, there's a National Pheasant Week. A quick Google search on the subject reveals The Jugged Hare to be among the chief proponents of it and keen to "champion Britain's most underrated game bird by encouraging interested parties to exchange their best pheasant cooking tips, menus, recipes and events." The pub itself is hosting its own Pheastival and offering tips via nationalpheasantweek.com on how to keep abreast on how to make the most of the week (and the bird) so you won't have to wing it.
And yes, the pub's short run eight-piece Pheasant Bucket is a delicious way to mark it - and at £15 it's not too dear an indulgence either, especially if your plan is to share it with some friends. Prepared with a secret (and rather cinnamon-y) spice mix and served with hand-cut chips and really yummy coleslaw, it can do as an epic bar snack, a substantial starter (for two or more diners) or a mega main for a couple of hungry foodies. As tasty as it is succulent, I enjoyed every bite of preview. The thigh was particularly flavoursome, while a glass of lemony and clean Roussane (The Foundry, Stellenbosch, South Africa, 2013) was a brilliantly suggested pairing.
As with past visits to the Hare, service was swift and pleasant when I stopped by, the wine list wowed and the setting was conducive to enjoying my meal.
For the uninitiated, The Jugged Hare is one of 11 in the ETM Group's portfolio of top quality and fairly upscale boozers. Other ETM pubs include nearby Chiswell Street Dining Room, The Hat and Tun, and The Botanist (both Sloane Square and Broadgate Circle outlets). The Jugged Hare is set apart by its taxidermy intense bar and dining room and an especially meaty menu.
As gimmicky as the "finger lickin' pheasant sounds, it's not out of line with the sort of dishes fans of the Hare might expect. Seasonal British game takes up a sizeable chunk of the menu here. Venision, wild boar, grouse, even squirrel would not be much of a surprise - nor would the fact that it had been shot by Head Chef Stephen Englefield or another member of his kitchen team.
On a diet? Ph'ucket. Have a bucket!
To round off Pheasant Week, The Jugged Hare will host a Pheastival on Saturday the 21st with a cooking and plucking competition seeing some of London's top chefs in on the action as well as foodie stalls and tastings, live music, laser clay pigeon shooting and more. Chefs slated to compete include John Larkins (Tom's Kitchen), matthew Hill (Down Hall), Alex Baker (Bird of Smithfield), Richard Bannister (The Botanist), and the Hare's own Stephen Englefield.
The Jugged Hare is located at 49 Chiswell Street, EC1Y 4SA. Find out more at thejuggedhare.com.
The original version of this review was published at tikichris.com.