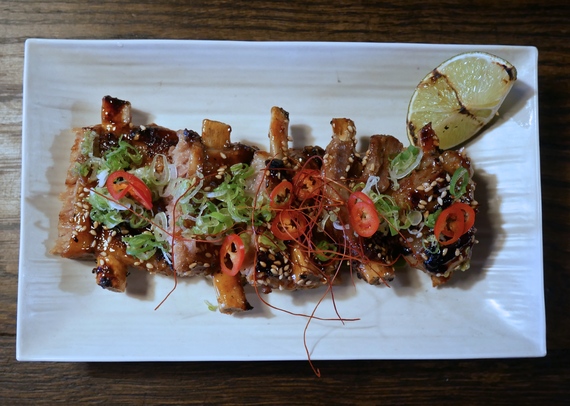 Photography by Chris Osburn © 2017
Head Chef Jon de Villa (ex-Nobu, ex-Flesh & Buns) blends fine dining flair with casual dining fun at Yuu Kitchen on Commercial Street - a (new-ish) Pacific Rim restaurant emphasising Southeast Asian flavours cooked mostly on two Big Green Egg BBQ grills.
De Villa's menu of sharing dishes and bao is one of the most irresistible I've yet to come across in London. Highlights from it include everything I tried - no duds. But if I had to single out one dish to rave about, it would have to be the unbelievably tender baby back ribs (with Asian BBQ sauce and chilli, £7.50). BBQed octopus (braised with sake, mirin and soy with a ginger and garlic sauce, £8.50) more than did the trick for me as well. Same goes for the deeply flavoursome sweet and sticky eggplant (wok fried with white miso glaze, crunchy shallots and sesame, £5.50). I loved the twice cooked 7Up braised pork belly bao (BBQ sauce, cucumber pickles and peanuts, £5.20) and the crispy soft shell crab bao (wasabi mayo, lettuce and red onion, £6.50) too.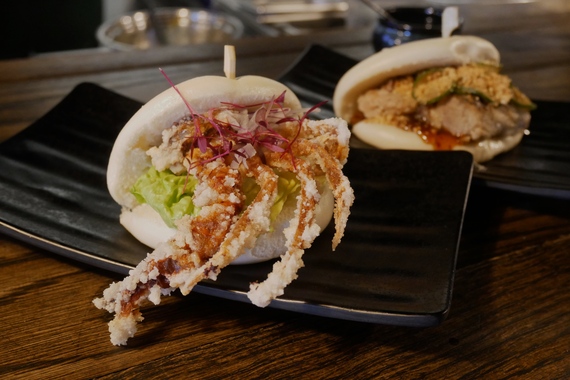 Photography by Chris Osburn © 2017
But really everything I tasted was awesome and everything else on the menu looked worth trying on future visits. Cocktails and wine look just as good as the food, but I was happy nursing a Beavertown Neck Oil beer with my meal.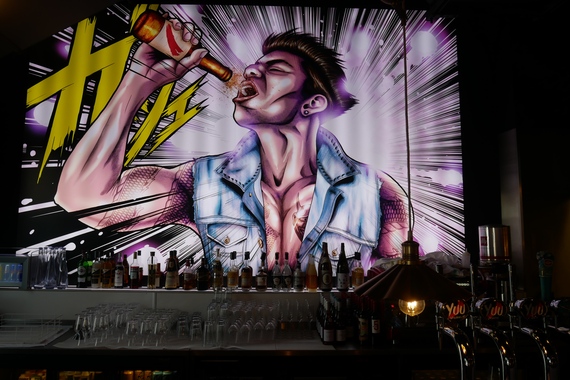 Photography by Chris Osburn © 2017
Service was helpful, friendly and quick. Anime-inspired artwork lines the walls, and the Big Green Eggs act as engaging behind-the-bar centerpiece attractions. I very much enjoyed eating at the bar watching Chef de Villa work his magic while catching up with a friend over such yummy food.
The original version of this post was published at tikichris.com.
This post has been published on HuffPost's blogging platform. The views and opinions expressed in this blog are those of the author and should not be taken as those of HuffPost. HuffPost does not allow bloggers to acquire products, access or accommodation for review in the site's name.