Hate is a strong word and one that was constantly in mind as I wandered through this curiously titled exhibition at L-13 Gallery in Clerkenwell. In fact that's already incorrect. L-13, or to use its full name THE L-13 LIGHT INDUSTRIAL WORKSHOP and PRIVATE LADIES AND GENTLEMENS CLUB for ART, LEISURE and THE DISRUPTIVE BETTERMENT OF CULTURE, will, for the duration of the show, cease to exist as a 'gallery' but will instead accommodate "pre-ordained and tightly controlled 'open days' where art may sometimes be viewed in and amongst the official ART HATE ARCHIVE." Intrigued? Splendid.
The title of the show refers to a famous incident at the ICA in 1961 when Guy Debord the Leftie theorist, writer and founding member of the Situationist International movement was asked exactly what Situationism was. He simply replied "We're not here to answer c*ntish questions!" and promptly left the building.
L-13 is an anarchic gallery-cum-studio-cum-revolutionary-hangout, but not the sort of place you just stumble across. Partly because visitors, although welcome, "must first apply via e-mail or telephone, or through the correct channels" and partly because they seem to reject any publicity whatsoever. I really had to twist their arm to let me write this. In fact they're very keen to remind even the people that do know of their existence that they're strictly a 'non-organisation' and are as unhelpful in every possible regard as is humanly possible.
But make no mistake, I love them for this. I actually found the experience of hacking my way through the dense intellectual undergrowth without a local guide deeply refreshing. An interesting antidote to the orgy of schmooze usually encountered wherever art is for sale. When I enquired as to the price of a painting which caught my eye, I was told "that one's £2.64 per square inch." "Great," I replied, "any chance you have a tape measure to hand?" The deliciously predictable response from Steve Lowe, the non-brains who is absolutely not behind this wonderful non-operation, was "Unfortunately not."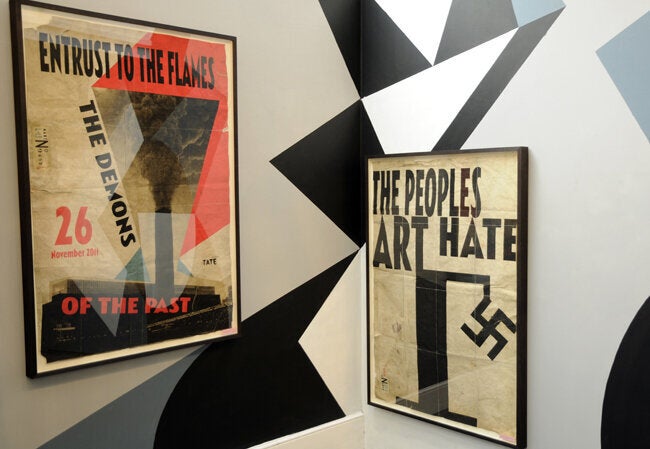 So, what exactly is the ART HATE ARCHIVE and who's responsible? From what I could glean, it's an installation of found objects, posters, propaganda, literature and photographs relating to the ART HATE movement which is rumoured to have been created and assembled by Billy Childish, Harry Adams (a fictional morphing of the artist Adam Wood and Steve Lowe) and Jimmy Cauty.
Childish, a painter, musician, poet, punk, hero of the British art resistance movement, founder of Stuckism and Tracey Emin's ex-lover, would seem to be the movement's non-leader. Adams assumes the role of poster-maker-in-chief, creating propaganda to remind us 'ART CAN ACHIEVE NOTHING!' and that we must 'ENTRUST TO THE FLAMES THE DEMONS OF THE PAST'. And somewhere down the ranks appears to be Cauty, formerly one half of the art-pop agitators the KLF, who in 1994 famously set fire to £1m in cash on a remote Scottish island with fellow band member Bill Drummond. A collective with more anti-establishment credentials than you could shake a beret at.
Interestingly, ART HATE seems to believe the Tate is evil. An institution producing manufactured 'art-entertainment', responsible for manipulating and brain-washing millions of innocent people, with countless references to the Nazis. One particularly dark and masterfully photoshopped artwork depicts Turbine Hall filled with millions of dead bodies fresh from the gas chambers, rather than sunflower seeds as we might expect, a truly nightmarish image which disturbs and intrigues in equal measure.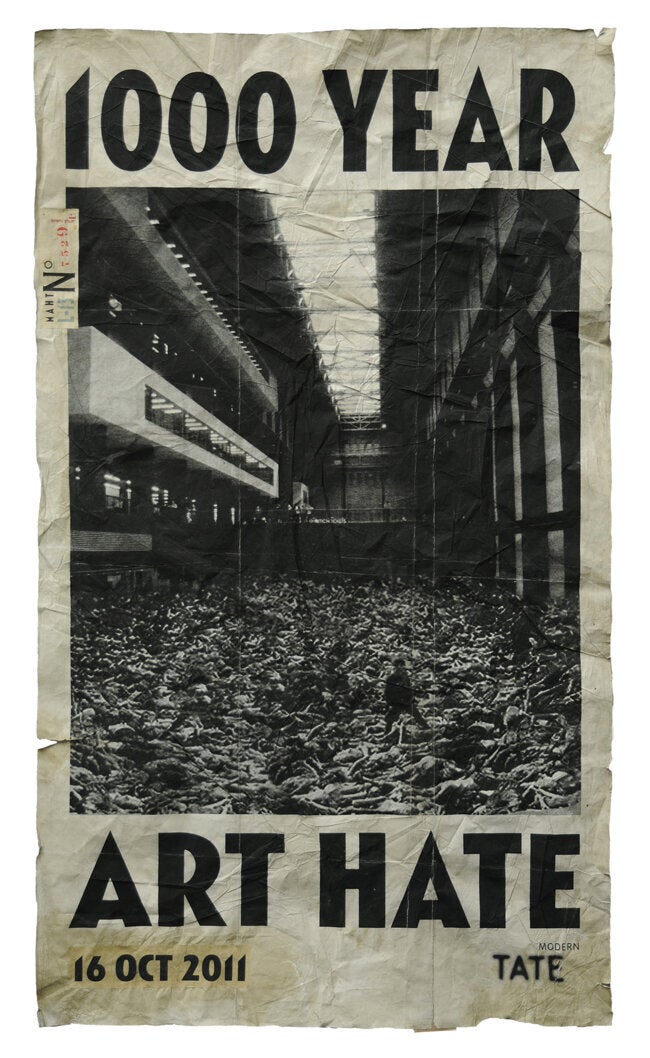 Among my favourite 'objets de hate' is the HATE TATE MEMBERSHIP CARD, the holder of which pledges loyal allegiance to Childish and his merry band of revolutionaries. Other intriguing artworks include The Patented Marcel Douchebag Finger of God Painting Machine, Reginald Dada's Automated Art Hate Horse and a collection of signs crafted from tubular metal carrying messages like TRUST YOUR DISSATISFACTION and KUNST MACHT FREI (Art Makes One Free), referencing the signs that hung above the entrances to Nazi concentration camps.
Painted camouflage patterns adorn the walls, Dada-inspired found objects litter the place, paintings (believed to be by Billy Childish) hang on the walls and balance on easels, cabinets contain endless fascinating curiosities, papers relating to ART HATE WEEK and detailed minutes of meetings which never took place lie scattered across tables, an old gramophone which looks too old to croak a tune sits quietly on a shelf, the bizarre Art Hate Trike is parked in the centre of the floor next to Marcel Douchebag's Painting Machine and a calendar bearing the words 'Will you die this year?', objects which all add to the strange experience.
I can highly recommend you book an appointment, through the correct channels of course, with L-13's non-director general Steve Lowe to see for yourself what ART HATE is all about. And he's perfectly willing to answer any c*ntish questions you may have. For me, I don't think I could love ART HATE, or their obsessive use of capital letters, any more than I do.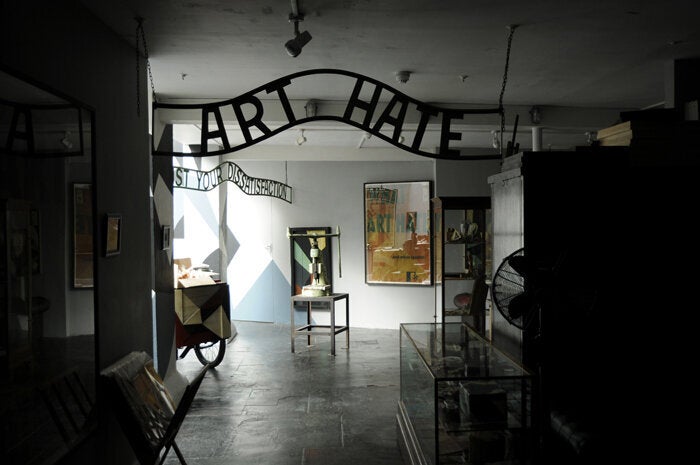 What is ART HATE and Other C*ntish Questions is on display at L-13 until further notice. 31 Eyre Street Hill, Clerkenwell, London EC1R 5EW.
Love Art London will be in conversation with Billy Childish and Steve Lowe on Wednesday 11 January 2012. To join in, become a member of Love Art London.