As job descriptions go, fossil hunter is right up there with chocolate taster, ninja, paradise island caretaker and senior armageddon avoidance engineer.
But no-one really does this for a living, right? Wrong. Dale Rogers is indeed a real life Indiana Jones who spends his life travelling the world in search of the rarest and most exquisite objects sculpted by the hands of mother nature. He carries a whip and everything.
Dale found his calling whilst puffing on a hookah pipe in Morocco in the early '80s - he noticed the coffee table he was sitting at was made from a slab of stone decorated with fragments of tiny shells. When he discovered this stone was 350 million years old and contained the fossilised remains of ammonites and squid, Dale Rogers the fossil hunter was born.
He spent the next few years travelling back and forth between the Atlas Mountains and London amassing an impressive stock which he sold from a humble stall in Portobello Market. A modest beginning for a man whose reputation for sourcing the finest geological wonders on earth is now set in stone. Seriously old stone.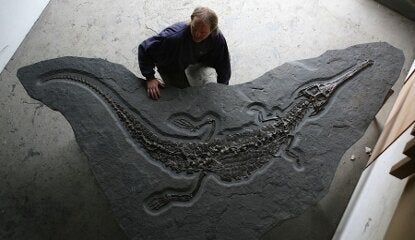 Dale Rogers with a fossilised crocodile
The objects that Dale sources for his bandwagon of top brass collectors are often hundreds of millions of years old, itself a mind-boggling fact, and incredibly beautiful on the eye. All very well, but you may be wondering what relevance this has to art. Certainly Dale's collectors display these magnificent objects just as they would a piece of sculpture. But for me the connection runs far deeper. These things appear to belong both to the past and to the future, a mysterious quality they share with the work of great sculptors like Constantin Brancusi, Henry Moore and Barbara Hepworth.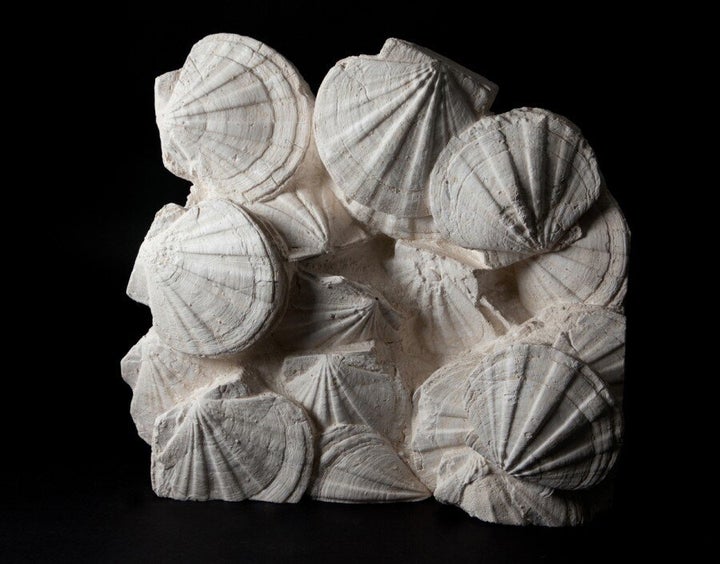 Gigantopectens Restitutenis (Fossilised Scallop Shells), 4-6 million years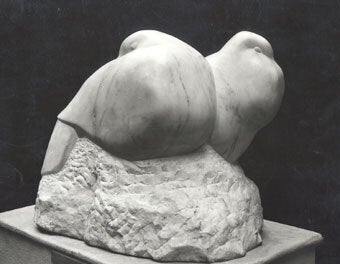 Barbara Hepworth, Doves (Group), marble, 1927
Hepworth in particular often carved her sculptures from stone that had a heavy white fossil content which, when polished, revealed delicate outlines of fossilised oysters and sea plants.
Touchstone (1969) is one such work, bequeathed to the Tate in 1975, in which the sculptor uses the organic properties of the black Irish marble to its full decorative potential. Still unsure of the link between fossils and art?
Dale operates mostly from his impressive gallery at 77 Pimlico Road in London (well worth a visit if you're at a loose end in the area) but I had the privilege of visiting his even more extraordinary warehouse in Harlesden, a place that's definitely not open to the public.
Every nook and cranny hides something truly fascinating from ammonites, crystals, fish fossils and dinosaur bones to stalactites, fossilised crocodiles and a meteorite which Dale just happens to have lying around. It's the sort of place you might expect to be shown a secret stash of Kryptonite.
And in each case Dale had a mind-boggling story to tell about how they were formed, where they were sourced and how they were excavated, not to mention some nightmarish conversations with Customs officers. Indiana Jones eat your heart out.
Love Art London members will be meeting Dale Rogers on Tuesday 6 March at his warehouse for an evening of story-telling and to bear witness to his incredible collection. For more information visit: http://www.loveartlondon.com
Dale Rogers Ammonite, 77 Pimlico Road, London SW1W 8PH