At last - my work is complete! After 20 years of working with movies and 13 years of cycling, its all come together and culminates in me being quoted on a movie poster - about cycling!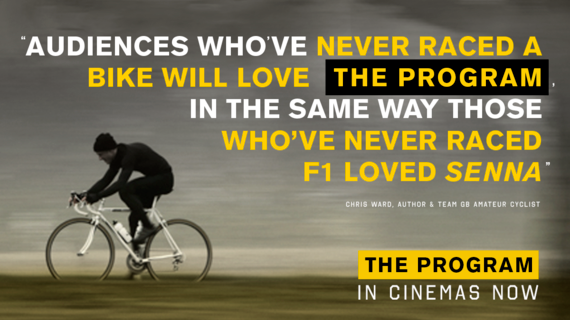 And its for the most fitting of movies. When I bought my first adult racing bike from Cyclefit UK (in the last days of them being called Bike Park) in late 2002 (I think) Lance Armstrong had already won Le Tour de France 4 times.
My dad had brought me up with cycling. He was a member of FCCC for my whole life I think. Him turning up in the lounge with the most horrendous club colours ever invented though - bright yellow and red wool - mixed with thin white legs - did almost put me off for life though.
But when I sold Beatwax and went straight to one of the few bike shops in town (Evans in The Cut, at Waterloo) to spend £200 on Lycra, before I'd even told Helen that 11 years of running the company was over and I was on the way home - potentially to make her life a nightmare! Lance was the new hero I followed to move on from office work to Out of Office life. He was the cyclist I daydreamed of being as I fell in love with the Surrey Hills.
Lance was like my dad. He sold me the dream that if you work hard enough you will win. If you worker harder than anyone else, you can't be beaten.
Lance had obviously overcome cancer (through the equally positive mentality?) but in cycling he also had one arch competitor which made the relationship with his supporters even deeper. Just watching him do what you wanted to do - work harder than anyone else and manage to beat the cycling machine that was Jan Ullrich, to win Tour after Tour was the inspiration to get out the door in the cold early winters when there weren't too many other cyclists on the road and certainly no good warm proper modern cycling gear.
My sister had breast cancer during this time and I remember the discussions around Lance's positive thinking that had appeared to make a significant contribution to his overcoming it.
I wore the yellow - the band, the glasses. He has been a major figure in those first years of my adult cycling but I do hope that this film finally ends this chapter. There is always one topic of love/hate conversation going on in the Sunday pelotons - heart rate monitors, Rapha!, London Dynamo cyclists, Strava Cycling, Team Sky, Bradley Wiggins, marginal gains etc, but throughout the last 13 years the conversation has always returned to the love/hate drugs/no drugs conversation around 'Lance'.
The Program is told as Lance's (now old) story of drug taking. It is not a current story of drug taking in cycling. That might help us now move on. There is now love/love conversation amongst riders on Sundays - of spring classics, great gear, clean riders - Peter Sagan and brilliant and finally well-known, female racers.
As I said, Lance led by the same example my dad did 'work hard - you will win.' So the problem I had accepting his cheating was not his lying to us, it was the lying to his own son - the son who'd had to defend his father in the playground. How could a father ever do that? How could winning ever be more important than having an honest relationship with those closest to you? I looked up to my dad. Is Lance's son still able to do the same?
It results in not just your whole career being a lie - but your whole life being a lie!
Thanks for the lesson Lance - I'd rather come second
Related