This weekend I rode in the UCWT Amateur World Championships. This is the full story told from two sides: what I forced them to do by the lungs & legs and what the last 10 years has been like to even consider trying, by the hearts & minds!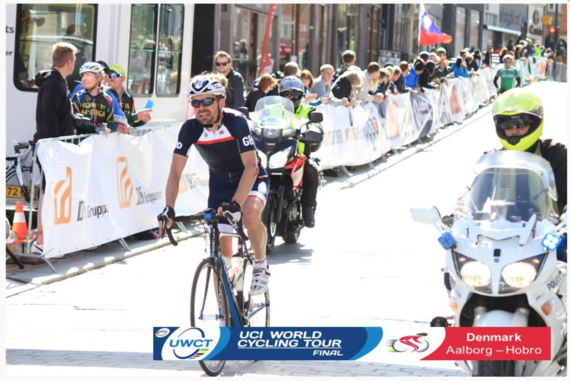 The lungs & legs version
Well, that was fun, until 200m from the end when I get wiped out in a bunch sprint for the line - for the 'almost' podium standing...50th place! That was worth a trip to hospital, a nice load of road rash and stiches in an elbow cut though to the bone then!?
Well yep, it almost was! Because...I'll enjoy exaggerating it for anyone who cares to listen to me, for years to come.
So I finished 70th out of the best 200+, 50-year old+ riders in the world - I'm happy with that. But I was the 3rd Brit to finish and I'm 'very' happy with that! In fact. the main thing that motivated me to drag myself off the road and back on the bike with 200m to go was the thought that my mates weren't too far behind - 3mins before the crash, 20 seconds after it!
Back to the start though. We lined up on a sunny Danish morning and followed the commissionaire out of the neutralised town before he moved over and the attempt to see if I could create my own heart attack started. For the next hour we averaged about 27mph, with a 100m sprint at about 35mph after every corner and a gail blowing a cross wind outside every town! I think the race was literally over for half the peloton inside this first hour - it was brutal.
There was a split a few places in front of me at one point that I unsuccessfully tried to bridge and while recovering, I nearly found myself straight out the back of the second group, just holding on as that group worked well together to actually catch the leaders back up.
That lasted another 30 minutes, before the organisers' added regular intervals of short hills to the wind and pace and the lead group again broke free.
Once you are in the middle of a race and in a group it's difficult to do anything but sit with them to the end. But as the pace slowed a bit I tried a few times to get off the front with a few others. We had a group of 20 but only about 5 were prepared to do any work. This was the Amateur World Championship but still there were too many riders just happy to sit in and wheel suck the entire 160km, until 200m from the end when they try and find a gap that doesn't exist and you end up face down in the cobbles - me, bitter ?! No! I loved it. I was racing against some of the best riders in the world; South Africans, Danish, New Zealanders, Canadians, fellow Brits and I was holding my own.
The real downer is some of my brilliant, well-admired Milltag GB kit went the same way as my skin - it's laying on a road in Denmark somewhere...
The hearts & minds version
It hurts, you have to train so hard, you have to train instead of having beers with mates, you have to worry about protein and carbohydrates - rather than just cake and coffee and you have to do it in the rain, cold and wind!?
So, why do it!?
Because it's a challenge! It's the glory through suffering, as Rapha have captured so well! It's not a coincidence that most of us are MAMIL's. A few years ago our challenge was achievement in the work place but now, once you hit 40+ the only career challenge is to try and keep 'it' and your level of pay - for as long as you can. The career ladder stops around 40!
Which is great because now you still have time to do all the things you wanted to do when you were a kid or when you were battling up another step on the career ladder - and who wouldn't have rather been walking up to Wembley's royal box, standing on an Olympic podium, in the long room at Lords or.... wearing yellow?
Initially, my challenge was just to qualify for this years' World Championships as an experiment. Could a working father of four train enough and train right to qualify? Yes you can!
There are sacrifices. I choose to earn less, as I would rather do things than buy things. I spend less time with my family than I'd like but I've been fortunate to marry one of the most understanding female sports fans anywhere!
This is my piece about how you can fit in the training anywhere at any time to qualify!
Again, again, again!?
Will I do it all over again? Will I see you on the start line in 2016? They've already published the course for next years Perth final - and it still doesn't suit me...
But, the winner was only 16 minutes ahead of me, only 7% faster overall! If I did train properly? rather than just train hard, if I did actually start using a watt bike? If I did actually invest in some deep rims? If I did go and stay with my Perth living brother-in-law for a month before the race? If, If, If.
I need to hear some 'buts!'
PS - for those that read the first part of this adventure about what motivated me to end up here in the first place (below) - My mum texted her pride. 'Hi Chris. Good luck tomorrow. Remember whatever your expectations are, it is the taking part that is more important. Your Dad and your Mum are very proud of you whatever happens tomorrow. Will be thinking of you. Come back safe. Love Mum xx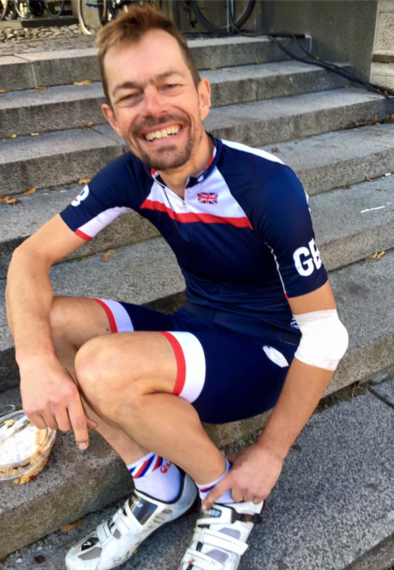 See you in 2016. Here's all your info for qualifying.
The UCI Amateur World Championships Part 1
The game I was playing just got serious
So, like many of us in Lycra on the roads, I'm a busy working parent to 4 kids, currently right in the middle of the launch of a global campaign for UN www.globalgoals.org. But for the last 12 years, I've also found time to ride my bike - as long, as far and as often, as time (and my incredibly supportive wife, Helen) will allow me.
My dad brought me up on one. He was a member of Farnborough & Camberley CC for about 50 years. He never raced - and FCCC kit was such a brightly yellow and red wool, that as a teenager he almost put me off for life, turning up in the lounge, knackered and dressed like a traffic light, with his long, thin and very very white legs dangling all over the place.... On reflection that's probably EXACTLY how I am sure my kids view me today...
But at aged 40 (in 2003) I had an opportunity for some extended riding time, I bought a Merckx aluminum bike and started having a love affair - which my wife actually supported and even encouraged...
It started with a training camp in Mallorca with London Dynamo in 2004 - where almost everyone on that camp has gone on to achieve something great for cycling - Sam with Look Mum No hands (who's colours I now ride in) and Guy with Rouler magazine, to name but two.
Over ten years I've enjoyed the ride, the company, the chat, the cake and mostly the coffee, with a bit of racing and long distance riding in-between. Riding the whole Le Tour route with Tour de Force was a highlight and a video of me climbing Ventoux 6 times in a day - while my wife took the fun out of me, garnered much more attention and views than I ever imagined...
But last year I heard about the UCWT - The UCI's Amateur World Championships and looked at the qualifying times required. Now, there's a challenge. I set off for the St Tropez qualifier in April with the target of having to finish in the top 25% for my 50-54 age group. If I can do anything on a bike I can climb OK, so with about 2,500m of it on a short-ish route, I managed to creep over the line in 13th place and qualify. My Mum said my Dad would have been proud!
I wrote a blog on the 7 golden rules I followed to enable me to do it
We all know it's a game we are playing of middle age men trying to claim they represent GB at the (entry fee) profit of the UCI and until I got here to the finals in Denmark, I have been happy to enjoy playing in that game.
Milltag bike clothing have even so kindly made me look like the most 'pro' rider here with a personalised GB kit - with replicas my kids will be forced to wear at any embarrassing opportunity.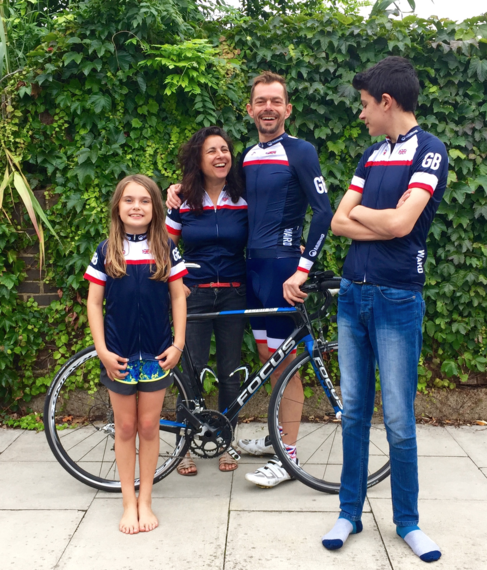 The problem now I've got here though and done the time-trial - is that everyone else here really is the best in the world!
There are ex-pro's, current elite riders, even ex F1 champ Alain Prost! This is really serious, competitive stuff. Riders aren't here to have fun, they are here to win - to be crowned the best in the world!
I'm here for Sundays 162km flat-ish road race - which is already a hard enough challenge for a 6'1", 69kg lightweight like me but I've also never done a TT before (ever!) but as qualifiers for the road race you are invited to enter. I thought it would be good warm up for the main event.
I wasn't mistaken. Along with a only a few others from the road race we competed against the best time trailers from around the world. I wont blame my lack of a podium place on the fact I didn't have a TT bike, TT skin suit, TT wheels, TT helmet and goggles or a German accent! But I will blame the lack of climbing as to why I am now (back in my own little game) the 60th best time-trialler over 50 in the whole world (of my dreams!?) ☺
That was tough but a good wake up call to what lies ahead on Sunday morning: about 180 great riders in every category. I'll be re-reading my seven golden rules and giving it my very best shot. As dad always said: "you can only do your best".
You can view the road race live My 50-54 age group starts at 8.40am (UK time) Sunday 6th September.
And I'll let you know if my dad would be proud of me on Monday!