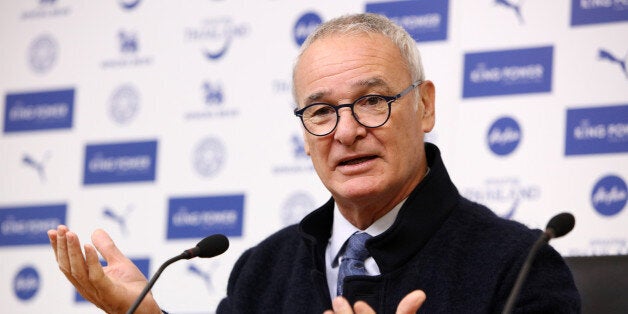 "Champions of England, you're having a laugh!", how many times have I had to hear that bellow out of one cacophonous corner of a football stadium in recent weeks? Leicester City may be uprooting the European establishment but are failing to replicate their domestic form from last term. The fans are quick to blame it on Vardy's goals drying up, or on the departure of N'Golo Kanté. But it's quite clear - the precedent is being set from the dugout.
After twelve games of the new Premier League season, the Foxes are sitting in 14th place, just two points ahead of the drop zone. The opening three months of the new domestic campaign have been a far-cry from last season's heroics. Of course, in Europe, Leicester have managed to continue sport's greatest ever fairytale but at home they're stuck in the mud.
There's no doubting that Leicester have faced plenty of problems this season. Jamie Vardy and Riyad Mahrez are not replicating their goal scoring or goal-creating form and that's causing issues, but to that end we have more goals from Shinji Okazaki and new signing Islam Slimani is leading the scoring charts this term.
Others have pinned Leicester's downturn in form on the loss of N'Golo Kanté. It's clear that failing to replace Kanté effectively has been a big problem for the Foxes. The diminutive Frenchman's ingenuity and ball-winning ability in midfield was the catalyst for Leicester's many counter-attack goals in 2015/16 - but quite simply, one player shouldn't reduce a team who ran away with the league to bottom half fodder.
Perhaps, Kanté's departure from Filbert Way has caused Claudio Ranieri to rethink Leicester's game plan - but this rethink has been to our detriment. Since the new campaign began, the Foxes have adopted a far slower manner of build-up play. City now dink the ball around at the back trying to build patiently down the wing to little end product. Failing that, Leicester have taken to hoofing the ball forward, in hope that Vardy can feed off the scraps. Unfortunately for us, the Premier League have grown wise to this tactic and have left no space behind the line, sitting deeper each week.
City have opted to sit deeper themselves, and be much more patient, they are less likely to get in the faces of the opposition than they were last season. The philosophy of winning the ball high-up the pitch and attacking with pace and desire, or wasp football, as I like to call it, has been abandoned. It's a style that bore so much fruit last season, and ever since it's relinquishment the points have evaporated too. On the instances that Leicester have switched back to the high-octane, forceful, direct football that gave them the league title they have looked nearly as sharp as last term.
At home to Swansea, they won 2-1, at home to Burnley, they ran out 3-0 winners. Leicester struggled in the first half-hour against Crystal Palace, but then switched up the tempo and blew them away. At Spurs, Leicester were under the cosh during the first half, so they came out fighting in the second half to claim their only away point so far this term.
It's clear that Ranieri has tried to diversify the Foxes on the back of a foray in to European football and the other teams' fierce desire to dethrone the champions - but at every turn in the Premier League this season, it has failed. How much more evidence does Claudio need? Don't get me wrong, Claudio Ranieri will forever be considered a god among men in the East Midland's de facto capital but he needs to realise that Leicester cannot play any other way than last season and expect success.
For me, this has been the catalyst for all of Leicester's shortcomings so far. Because of this switch to a more conservative, respectful brand of football, Leicester have accrued less points and players have begun to buy in to the nonsensical media claims that they're not good enough to compete in this league.
Leicester have defied the odds by qualifying for the last 16 of the Champions League, a simply breath-taking achievement. Now, we are able to park European dreams until next February, the players need to look at themselves, there is no excuse for professional footballers to find the bread and butter of a league campaign demotivating. It's time to quash ideas of a choice in focus between European and domestic football - Leicester can and should be competing in both.
Maybe Hull, Watford and Middlesbrough will never sing "Champions of England" but we cannot comfort ourselves from our domestic woes with that sort of attitude for the rest of our existence, or we run the risk of going the way of our has-been rivals Nottingham Forest. This season provided Leicester with the greatest ever opportunity to become a lasting force in English football - and we're blowing it. If Claudio doesn't revert back to Leicester's old style sooner rather than later, then nothing will save the champions from the indignity of a relegation battle.