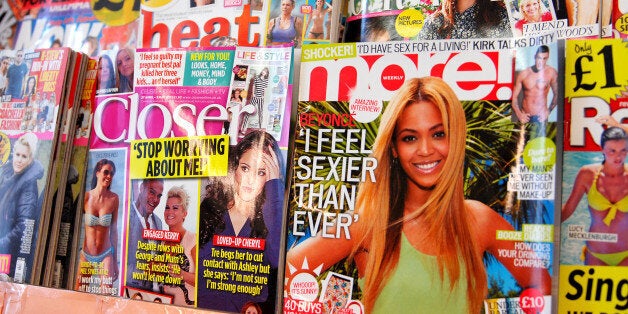 SUPER SKINNY CELEBRITY WEEKLIES DROP EVEN MORE WEIGHT!
EXCLUSIVE: 10 SALES GAIN TIPS REVEALED!
Fears are growing for celebrity weeklies as sale plunge further to an all time 'super skinny' low, a shock report has revealed.
At their peak, many of the once shapely showbiz mags could shift a weekly average of around half a million copies a piece. However, recent figures released by the Audit Circulation Bureau have revealed that they can barely shift half of that!
Now concerns have been raised for the future of the frail-looking mag market, with a well-placed source confiding, 'The internet - in particular the MailOnline - is to blame for this sad decline.'
However, an industry insider took time out from reading the MailOnline to hit back: 'The Sidebar of Shame is merely part of the problem - there are other factors that need addressing. Fast!'
Yes, folks, t'is true. Mag sales are on the decline, and our favourite weeklies are in danger of following in the doomed footsteps of Smash Hits, More and Company. But can they be saved? I think they can! But for that to happen, I - a one-time magazine editor and devoted connoisseur of celeb weeklies - believe there needs to be some dramatic changes first!
So everyone's saying mags are doomed, but that doesn't mean give up the fight. Stay positive! Keep the love burning! Every industry has its ups and downs and while it's unlikely that sales will ever achieve the record levels of yesteryear, be heartened by the fact that this last period saw Woman and Woman's Own's sales rise. It's all about giving your audience what they want! Not what you think they want! Just remember, if you make magazines as good and as EXCITING as they used to be, people will buy them!
If an alien were to arrive on earth and cast their beady eye across newsagent shelves, they'd think that all Earth women wanted to read about was gutter-List girls like Jordan, Danielle Lloyd and the cast of TOWIE banging on about weight loss, babies and blah! Of course, they don't, as women are actually intelligent beings and have no interest in what the likes of Sam Faeirs have to say! But what choice do the mags actually give their readers? Not much from the looks of it! If they're not interested in reading about trashy z-listers or dubiously sourced tittle-tattle, then they're screwed. The messy busy covers all look the same and once you get inside, it's the same tired faces selling their tawdry lives or being scrutinised. Bottom line? Readers are more sophisticated these days and want more from their magazines than mindless, predictable guff! They want to be entertained and challenged with features that are fresh and kooky and indepth about stars who aren't just famous for ad-libbing badly on brain-free reality shows! No-one really cares about the cast of TOWIE and the Kardashians in real-life! The public's interest doesn't really extend past watching an episode. It's programmes like GoggleBox, Downton Abbey, Great British Bake Off, Broadchurch and the soaps which appear to appeal to them more.
Conventions are BORING. Why stick to a formula? If your rivals are obsessed with Jordan, Amy Childs or Sam Faiers, then give your readers something DIFFERENT so they actually have a reason to pick up YOUR magazine instead
4) CLEAN UP THOSE AWFUL COVERS
Isn't it about time magazines had a spring clean and tidied up those messy covers. They're so jam-packed with crap, it looks like Katie Price, Lauren Goodger and Kim K have puked all over them.
5) STOP LIVING IN THE PAST
Mags still look like they did ten years ago and are filled with stars that used to sell. But they don't now, so move with the times and understand that readers are cleverer and fussier than you think and then you might actually see a rise in sales.
6) STOP SHAMELESSLY RIPPING OFF THE MAILONLINE...
Why on earth would anyone expect a reader to pay up to £2 on a magazine to read stories or see pictures that they've already seen online a week ago for FREE? It's OLD NEWS!
With the internet giving celebrity junkies their daily fix of goss, mags have to come up with clever ways of winning back their readers! Therefore, there should be a focus on producing fresh features;
PRODUCE amazing photo shoots that can't be seen anywhere else
DREAM UP inventive ways of interviewing stars - especially those fronting some dodgy PR campaign which get farmed out to all the mags at once!
8) DON'T DUMB DOWN YOUR CONTENT
This senseless fascination with tailoring magazines to younger readers is just totally bizarre. When a woman turns 40 she doesn't shrivel up and suddenly stop enjoying celebrity culture! In fact, she is the one with the disposable income who is more likely to continue to lap up print mags. Similarly, just because a reader is 21 years old, doesn't mean that she's not sophisticated enough to appreciate features on older and more off-beat stars.
Mags might be cash strapped, but ideas cost NOTHING. Interviews don't have to be mundane. Give women cheeky, anarchic features and interviews instead of bland blah about babies and diets - then watch sales fly.
Nurture and create new stars! How else can you keep the industry alive? Don't wait for someone else to break someone! Be brave and do it first!
11) DON'T TREAT WOMEN LIKE THEY'RE STUPID
Celeb weeklies were once delicious escapist guilty pleasures that gave readers an insight into people whose lives were far removed from theirs. These days, most of them are sour, negative, women-hating yawn fests obsessed with asking low rent stars about having babies and losing weight. Surely that alienates hundreds of thousands of women who aren't mums or obsessed with being thin. Why can't celebrity weeklies be more like women's monthlies and give readers a mix of inspirational life-changing features, celebrity fluff and entertainment? Then you'd probably find them once again picking up