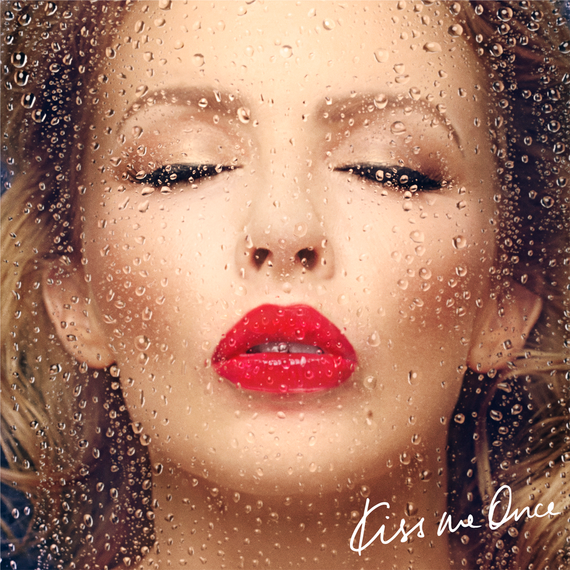 It says something when the fiercest most loyal fans start to question their icon's actions. But sadly, that's exactly what pop superstar Kylie Minogue - my all time favourite icon - is currently experiencing, as her 27 year pop career lurches toward disaster following the poor performance of her latest album Kiss Me Once.
So what's gone so sensationally wrong? Why can't Kylie produce hits like she used to anymore? Why has the nation fallen out of love with her? Has her new management team Roc Nation royally messed up her career? Should Kylie merely kick off her disco stillies and put her feet up once and for all?
Here are my ten reasons why I think Kylie's career is in trouble!
1) The music has lost its way.
While there have been numerous classic corkers like All the Lovers, Spinning Around, In Your Eyes, Slow and of course Can't Get You Out Of My Head, most of her recent albums have had more dodgy fillers than Katie Price and Chloe Sims put together.
2) Kylie is producing records that are too young for her.
That's not to say that Kylie can't belt out a corking disco stomper, but realistically, the kids who hang off the every word of Ellie Goulding, Rita Ora or the ghastly Jessie J aren't going to buy into a 40something singing about love and sex. Meanwhile, her devoted fans of 27 years are non-plussed by the generic bland pop numbers.
3) Can't Get You Out Of My Head was the BEST and WORST thing to happen to Kylie's career.
CGYOOMH was without a doubt one of those sensational global smash dance tracks that every artist dreams of. But this was also the beginning of the end. Believing Kylie was now a dancefloor diva, her record company decided that dancefloor stompers were the way to go, not understanding that that one classic track was a one off. And while In Your Eyes and Love At First Sight were ace, the dreary Come In To My World and the rest of the Fever album and subsequent albums were wishy washy time wasters.
4) Disastrous release strategy
When Into The Blue was played on the radio for the first time back in January, fans practically combusted with joy. But instead of an instant release, fans had to wait three torturous months, which meant that by the time it was available on iTunes, most of the fans had already downloaded the track illegally. The outcome? A dodgy number 12. Same story with her non-album track Crystallise, which was released two weeks after it was premiered online, peaking at a deadly dull 60.
5) Releasing an album sampler ahead of release.
If the album had been sensational, this would have been one of the greatest ideas in the world. But as we all heard for ourselves, Kiss Me Once should've been renamed Played It Once.
6) Poorly chosen album tracks.
Normally the best tunes make the final tracklist, so why was stand out track Sleeping With The Enemy only on the deluxe version when it should have actually been a single, while her brilliant charity track Crystallise didn't even make the cut. Utter madness!
7) The Sexercise Debacle.
Loathed universally by the fans, the label insanely decided that this turgid track was the perfect vehicle to promote the album. Yikes! Worst still, the video featuring Kylie writhing embarrassingly on a gym ball surrounded by a bunch of sweaty girls half her age, look liked soft core porn. Unsurprisingly, it neither appealed to teenage boys who don't fancy their mum's mates or gays who'd have preferred to see buff studs.
A so-so album track, this was unleashed as a single after co-writer Pharrell Williams' Happy and Sing, collab with Ed Sheeran topped the charts! Sadly, his Midas touch was missing and the song bombed at 59. Don't even get us started on the dreadful promo clip.
9) Management just don't know what to do with her.
Kylie signed to Jay Z's Roc Nation after almost 30 years with Terry Blamey. The first fruit of their labour was a tuneless dance teaser called Skirt, which featured dirty lyrics about her skirt, er, coming down. Not the kind of track we want to hear from out Disney Princess of Pop Kylie. Oh no, it was far better suited to crotch flashing shock-popper Madonna or grubby Rihanna! Bottom line. Kylie will always be loved by the gays and yet her record label still try to alienate her core fanbase. And fans will NEVER forgive Parlophone for not releasing Your Disco Needs You because it was 'too gay'! Er, hello?
10) Kylie has too many fingers in pies.
Since Kylie joined Parlophone, she has been redeveloped as a brand with a home furnishings range, a kids book (er, who's her audience again?) and coffee table books about her fashions! Kylie, spend more time finding good songs and leave the money-making spin offs to The Saturdays!
Related