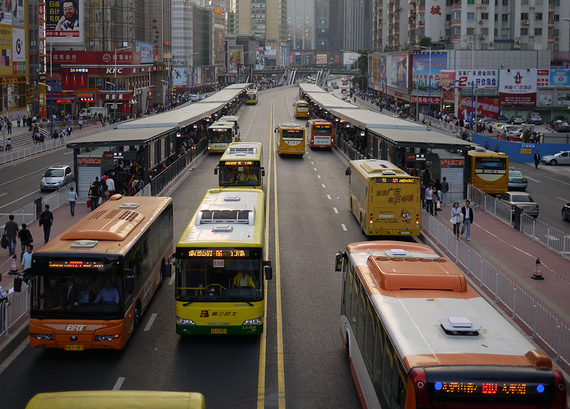 The Guangzhou bus rapid transit system in China,
one of the largest integrated bus rapid transit systems in the world
One of the questions I struggle with on a daily basis as Executive Secretary of the UNFCCC is this: how can we scale up and speed up the transformational change needed to tackle climate change?
By "we" I mean all of us. And by "transformational" I mean radical. This is not hyperbole. The world's top scientists tell us that we need to transform the way we use the planet's natural resources - from forests to soil to oil - to avoid the worst impacts of climate change.
It may sound like a Herculean task but here's a little-known fact - it's not. Transformational change is already underway. It may not be happening at the scale or speed we need but it is happening.
There are thousands of examples of communities, cities, businesses and governments around the world already making the shift to a low-carbon future. The problem is that these good news stories are often eclipsed by negative news about the state of the planet. This makes climate change a communications challenge as much as it is a social, political and economic challenge.
It's critically important to share positive stories about climate action because it inspires others to take similar steps, which, in turn, can provide deeper support for political leaders to legislate change and for business leaders to go green. It's like a snowball building upon itself as it rolls down a hill, growing larger and picking up momentum as it goes.
This snowball effect is what was going through my head when I decided to establish the Momentum for Change initiative back in 2011. I wanted to find a way to shine a light on all the good work underway across the globe to address climate change, in the hopes of inspiring others to do the same.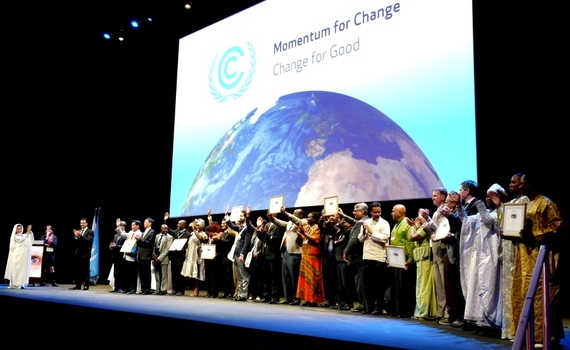 The winners of Momentum for Change's first Lighthouse Activities in 2012.
Today is a special day for me. It's the day the Momentum for Change initiative opens the annual call for applications for Lighthouse Activities. Lighthouse Activities shine a light on practical, scalable and replicable activities that address climate change. Showcasing these activities provides a positive context for international climate negotiations, showing that action on climate change is not only possible but that it is already happening.
Starting today, communities, cities, businesses and governments that are taking the lead on climate action can apply to have their game-changing projects recognized as a 2014 Lighthouse Activity.
This year, we're looking to do things a little differently. We will still shine a light on small, entrepreneurial solutions that are changing communities, as well as large initiatives that are transforming cities, businesses and governments. But we are also looking for activities with a larger impact. We want to highlight transformational climate action needed to tackle climate change.
Winning activities will be announced in November and officially recognized and celebrated during a series of special events in December at the UN Climate Change Conference in Lima, Peru.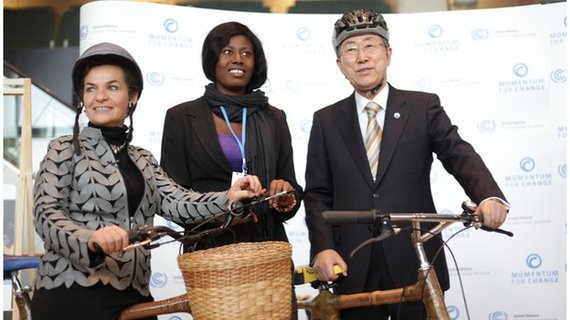 Taking bamboo bicycles for a spin around the Warsaw Climate Change Conference with UN Secretary-General Ban Ki-moon and Evelyn Ohenewaa Gyasi of the Ghana Bamboo Bikes Initiative
The high visibility of the UN climate change conferences creates a prominent platform on which the Lighthouse Activities are showcased and publicized, resulting in spin-off benefits that help the activities expand even further. For example, 2013 Lighthouse Activity winner Bernice Dapaah, whose organization builds bamboo bicycles in Ghana, was recently named a 2014 Young Global Leader by the World Economic Forum. Demand for her bamboo bicycles has spiked so dramatically she can barely keep up with orders pouring in from across the globe.
Seeing these activities grow and replicate is the really exciting part. It's what takes me, and hopefully all of us, one step closer to answering the question: how can we scale up and speed up the transformational change needed to tackle climate change?
Applications for the 2014 Lighthouse Activities are being accepted from 31 March to 23 May at www.momentum4change.org
Follow Momentum for Change:
Twitter: @Momentum_UNFCCC
Facebook: unfcccmomentum