Imagine every summer sailing around the Mediterranean. On your own yacht. With your own crew. You wear flowing Roberto Cavalli maxi dresses over Triangl bikinis and Tom Ford sunglasses to protect your eyes from the glaring sun, the heat of which beats down on your golden body from high in the clear blue sky. You sail across sparkling blue waters eating the freshest of fruit and drinking the best wine, served by staff in starched white uniforms. Every day, you laugh and gossip with the sea breeze whipping your hair into a salty "mess", the child-like freckles across your nose complementing your smiling eyes. Each evening, you dock at various hot spots, where you enjoy fine food in top restaurants before sleeping in a bed made up of the finest Egyptian cotton sheets and fat, feather-filled pillows only to wake up the next morning to do it all over again. All. Summer. Long.
Okay, you can wake up now. For most of us, instead of spending week after week on a multimillion pound yacht, we take low key, self-catering package holidays for one or two weeks a year (if we're lucky). For us, this life, the life of the über-wealthy, is but a dream, a fantasy that we will never experience because it's completely and utterly beyond reach, almost beyond imagining....
But there is a place, a tiny little sliver of planet Earth that lets us experience the lives of the rich and famous without feeling completely out of place. It's a spot where the jet set goes to see and be seen, but which is also a viewing platform for tourists, who watch the globetrotting peacocks in their natural habitat without fear of being snubbed. That place is Monaco.
I visited Monaco at the end of this summer for two nights, living the life of the rich and famous for 48 short but sweet hours. I arrived at Nice airport from Edinburgh (by Easyjet, ironically) and was transferred to Monaco by helicopter courtesy of Heli Air Monaco. This experience alone was enough to demonstrate the vast difference in worlds; to take a chauffeur driven car to the helipad before climbing into the tiny aircraft (with just four other ladies and our very own, very cool pilot) was nothing short of fabulous and sure beats an hour long drive in a hired Fiat Punto with no air-con.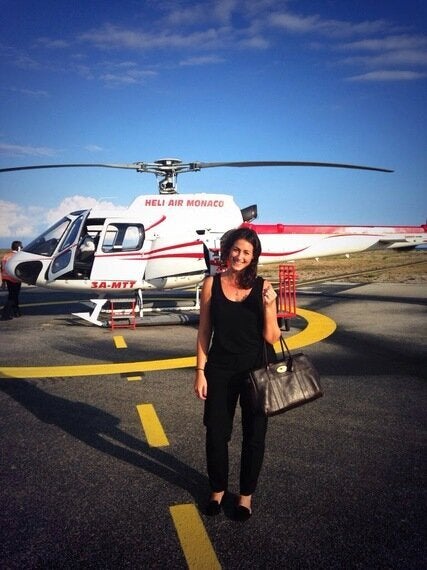 On arrival in Monaco, I stepped out of the chopper and into another chauffeur-driven car, which took me to the famous Hotel Metropole Monte Carlo (a discreet five star luxury hotel favoured by celebrities including Beyoncé). Tucked away behind high stone walls and green hedges, the driveway was lined with cars worth hundreds of thousands of pounds - cars which are regularly parked (by their attention seeking owners) outside the famous casino for tourists to take photos - and into a reception area which I can only describe as out-of-this-world. The fragrance that greeted me - no, enveloped me - instantly seduced me: if the air smelled so good, I could only imagine how good the rest would be. Imagine going through life breathing "Ambre du Nepal" scented oxygen.
The lounge at the hotel made it clear why the über rich like to be seen; the surroundings were stunning, the decor straight out of a glossy interiors magazine, and thus an excellent backdrop to their perfectly pressed chinos and Tod's loafers. A huge tapestry hung from the back wall, the low seating neutral yet luxurious in shades of cream and gold, a giant golden frame holding only fresh flowers the statement centrepiece of the room. Super stylish staff in chic black uniforms delivered cappuccinos in white china cups (and saucers) to men in made-to-measure suits, and flutes of champagne to the ladies, all of whom had Bvlgari sunglasses atop glossy blow dries, their manicured nails tracing the stitching on their Hermes handbags as they sipped Veuve Clicquot, glancing around the room. It's not only the lounge at Hotel Metropole that is favoured as a personal exhibition centre for the rich "peacocks"; the hotel's restaurants are local hotspots, while the pool and bar, Odyssey (designed by King-of-Fashion Karl Lagerfeld), is equally as favourable an enclosure thanks to the chic monochrome decor and supermodel-esque staff.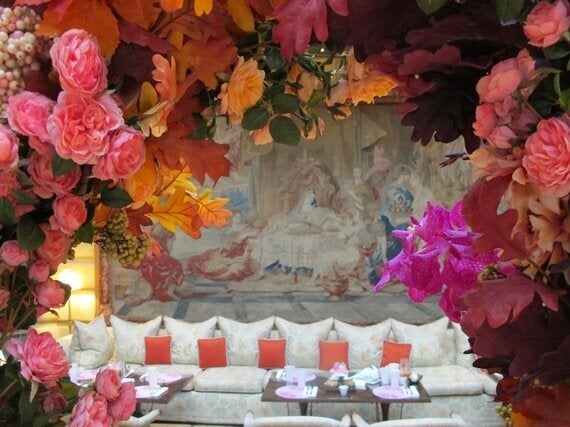 The rest of Monaco is a money-fuelled playground. The marina, full of luxury yachts, glistens in the sunlight; the windows of Prada and Chanel and DvF mirror what the peacocks wear (current season, naturally); the casino stands proudly, a must-see for tourists but a regular haunt for the wealthy, and, of course, then there is the yacht club. At over sixty years old but housed in a brand new building which opened in June this year, the Yacht Club de Monaco houses spaces such as a ballroom, a swimming pool and terrace, a library, a fitness room and five spacious 'cabins' for guests on stopovers. Just in case their super yacht is at full capacity. The club is designed to reflect the structure and inside of a yacht, with white framework and hardwood flooring. The interior is beautiful, with cream leather seating, polished wooden flooring, and bold details such as the circular bar and a grand piano, while the yachting memorabilia reminds members of the club's history. Non-members aren't permitted access, but a trip to Monaco's old town and palace are equally as impressive, albeit in a slightly less exclusive manner.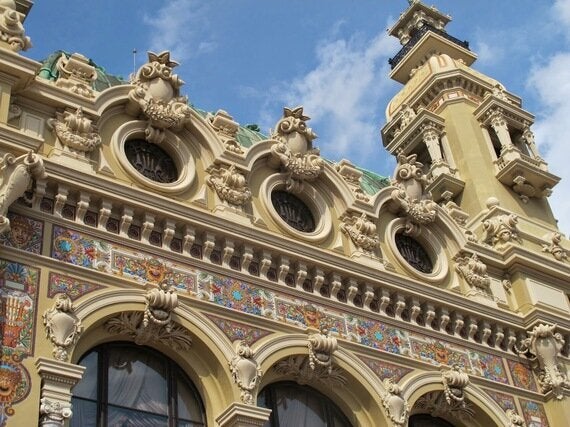 As a tourist playing the game of the rich and famous, my view of Monaco remains as that of a tourist: it's a gorgeous gem off the coast of the Mediterranean with a split personality. One half is peaceful and pretty with its old town, marina and history, while the other half is money, money, money. The rich bring the glamour, while the tourists bring real life - a good balance - and yet one encourages the other; without the rich, would Monaco have such good tourism? Likewise, without visitors to see them, would the rich still go? Who knows...? Despite being a small bubble all on its own, Monaco reflects the world we do live in, with its wealth and poverty and everything in between - it's just that, in Monaco, there is no in between - if there is, you simply fly over it in a helicopter.