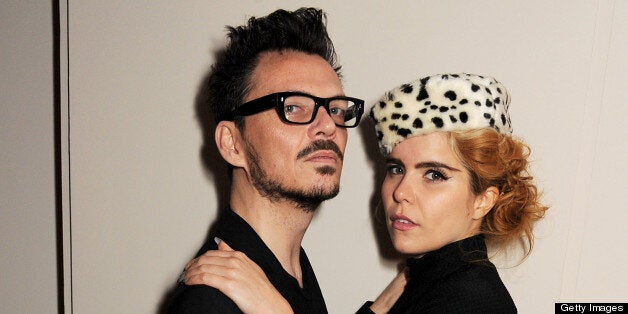 Finally, the sun has shown his pretty face and I can excited for spring, not only to be able to pack away my winter coat, but so that I can embrace the trend for printed trousers this season. Print trousers were seen at many of the SS13 collections and this is one trend I am completely sucked in by. Usually a trend will tempt me, but I'll work it in to my own wardrobe and style, hopefully without screaming "Fashion Victim". That said, the print trouser trend has me hook, line and sinker.
I was tempted to buy into this trend last summer but I refrained. I tried on lots of different versions; a purple floral print on a straight leg, a gold brocade print on a black peg leg, an army camouflage on skinny jeans. None worked for me. I put it down to the print, and ended up buying nice, but somewhat predictable, navy capri pants with a tiny white polka dot - more of a safe classic, rather than a hot trend. They are a great staple (which I am looking forward to wearing should we have some spring weather), but not particularly exciting. They don't make my eyes light up or inspire me to lay in a lush jungle, surrounded by exotic flowers.
It was actually only a week ago that, after finding the perfect black trouser that fit both my waist and bottom, I discovered the trouble with printed trouser: the fit. Duh, you might think, but I was so preoccupied with finding the perfect print that I forgot about the perfect fit!
Let me explain. Print can enhance a troublesome area (for example, hips and derrière) and this can give the illusion of said troublesome area being even more troublesome. No-one needs any additional trouble, especially not in the wardrobe department. Unless the fit of the printed trousers is spot-on, the printed trouser will simply look untidy. If your lower half is your problem area, then the key to the print trouser is to focus on the cut and silhouette as opposed to the print; an outsize floral print across an expanse of ill-fitting fabric will simply look awful, whereas the same print on a well-cut trouser will instantly look neater, hugging your shape rather than adding bulk. (If you are lucky enough to have legs akin to Miranda Kerr, then you really should have stopped reading this around the second paragraph and logged on to ASOS by now, with these babies already on their way to you via speedy delivery. Less reading, more strutting).
However, with a well-designed trouser comes a price tag. When buying trend-focussed pieces, one tends to look to the more bargainous shops and, as a woman with an above average sized rear end, that was my first mistake - for me, this is a trend which requires a bit of investment and, in turn, this means that a considerable amount of time and thought should go into such a purchase.
So, after finding my perfect black trousers (no print distractions, and yet I still struggled to find good black trews, the most basic of trouser types) I realised that I needed to use the same process for buying a print trouser. I need to stop ogling and drooling over beautiful prints and look at the basic shape and type of fabric first. Only if the trousers fit properly should I pay attention to the print. It was hard enough finding the perfect black trousers, so I understand that this will be a difficult challenge - but, in the name of fashion, I am willing to take it on.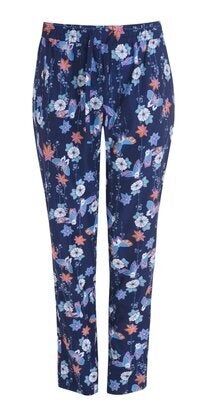 Above: Butterfly by Matthew Williamson £49 at Debenhams