With 'ScotFashInvasion' as the official hashtag, it was clear before the event began that the Scottish Fashion Awards would be a night to remember.
Now in its 9th year, the Scottish Fashion Awards attracts every corner of the fashion industry, from celebrities to press and educational institutions - particularly since, last year, the founders (Hartmann Media) moved the venue from Scotland to London. Hence the hashtag.
This year's guests included celebs and industry insiders, including the world's most recognised male supermodel David Gandy, TV personality Laura Whitmore and pop songstress Pixie Lott (who wore Dior on the red carpet and a pink dress by Hayley Scanlan for her surprise acoustic performance for the VIP audience). The awards also attract major players in the industry, such as Glasgow-born fashion designer Christopher Kane, Glasgow Caledonian University's Professor Pamela Gillies CBE (from the London campus), and press from international publications such as Harper's Bazaar, Vogue and Grazia. To say that Hartmann Media had the awards covered from all angles would be an understatement.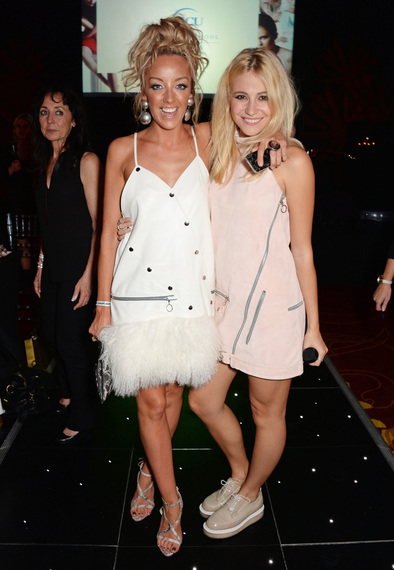 Hayley Scanlan with Pixie Lott
Winners included Christopher Kane, Amy MacDonald and Simone Rocha, but the real star of the evening was Dame Vivienne Westwood, who was inducted into the Hall of Fame 2014 in recognition of her unparalleled support of Scottish fashion, primarily with regard to her continuous use of tartan throughout her collections.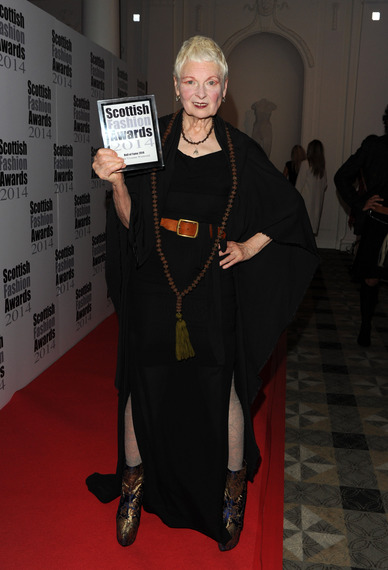 Dame Vivienne Westwood
In her acceptance speech, Westwood spoke of her husband Andreas Kronthaler's contribution to the label, fracking and - ever the activist - that we are destroying our planet. This inevitably led her on to the failures of the government before giving her thoughts on the Scottish independence debate. It would seem that Dame Vivienne Westwood is all for Scottish independence; she believes Scotland has the opportunity to be a people's economy and her advice was to get out while we can. However, it's worth considering that she was at the Scottish Fashion Awards - in London, where there was more than one Swarovski encrusted Union Jack clutch bag on show. Perhaps a display of fashion unity? Who knows what the future holds for Scotland, only time will tell. One thing is clear; when it comes to fashion, Scotland needs London's support.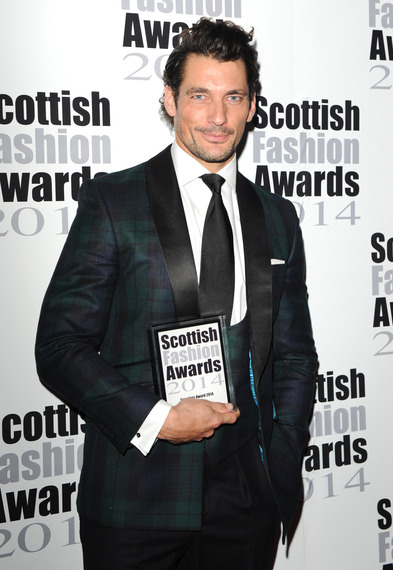 David Gandy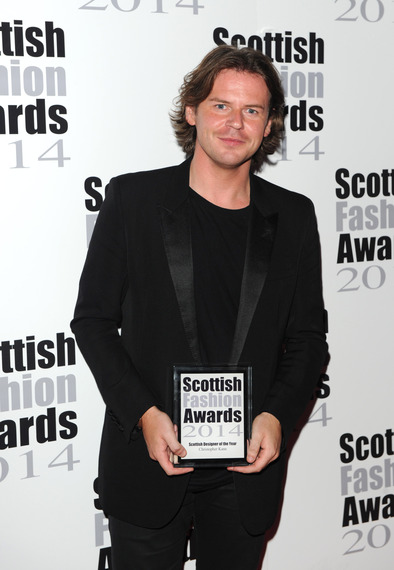 Christopher Kane
The Scottish Fashion Awards 2014 winners:
Scottish Designer of the Year - Christopher Kane
Scottish Young Designer of the Year - Hayley Scanlan
Scottish Textile Brand of the Year - Dhu
Scottish Communicator of the Year - Avril Mair, Harper's Bazaar
Scottish Retailer of the Year - Abandon Ship Apparel
Scottish Accessory Designer of the Year - William Chambers Millinery
Scottish Fashion Graduate of the Year - Colleen Leitch
International Designer of the Year - Simone Rocha
Scottish Model of the Year - Jean Campbell
Scottish Exporter of the Year - Mackintosh
Luxury Retailer - Harvey Nichols, Edinburgh
Fashion Icon 2014 - Amy MacDonald
Hall of Fame 2014 - Dame Vivienne Westwood
Fashion Ambassador 2014 - Professor Christopher Moore on behalf of Professor Pamela Gillies, British School of Fashion; Belinda Earle on behalf of Marc Bolland, Marks and Spencer
Founders Awards 2014 - David Gandy
Image credits: Getty/Hartmann Media
If you fancy, you can read more about my visit to the Scottish Fashion Awards on my own blog, The Daydreamer.
PS. Are you a Scot planning a visit to London? I stayed at the St James' Court (a Taj Hotel), which made for a convenient and comfortable stay in a particularly pretty part of central London. They also do a mean afternoon tea. Actually, the best I've ever had (and I do love tea and cake).