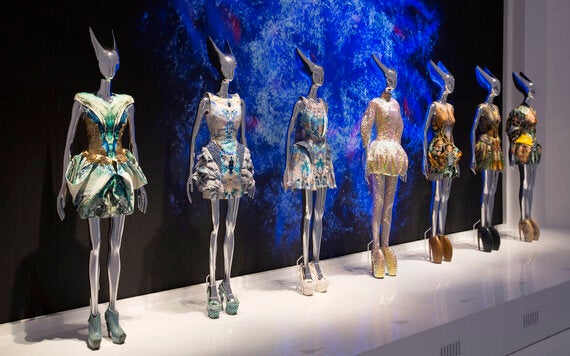 The recently opened exhibition at the V&A museum, Alexander McQueen: Savage Beauty is a must-see not just for fashion fans and art buffs but for, well, everyone. It's a moving tribute to a man whose vision and creativity was light years beyond his peers, and whose work was (and which remains) unparalleled in an industry permeated with "creative geniuses". Whether you like fashion or not, you'll be spellbound by Savage Beauty.
The team at the V&A has done a spectacular job of curating such a vast collection of clothing and accessories by one of the world's most successful and respected fashion designers; the flow of the exhibition takes the audience on an emotional journey of McQueen's work, a journey which evokes an incredible sense of sadness made even stronger by poignant McQueen quotes printed on the walls. One reads, "I oscillate between life and death, happiness and sadness, good and evil."
In one room, a particularly eerie choice of music amplifies this feeling of depression, while the next is infused with light and colour, lifting the mood as quickly as it was darkened. McQueen's work often verged on gothic either by use of colour and texture, or through exaggerated silhouettes and strange styling (think pale faces with red, bulbous lips, or hair combed over models' faces). So, while the pieces that feature in the exhibition begin the Savage Beauty story, it's the expertise of those at the V&A that completes the story thanks to the carefully selected (and perfectly executed) choice of music, lighting and composition.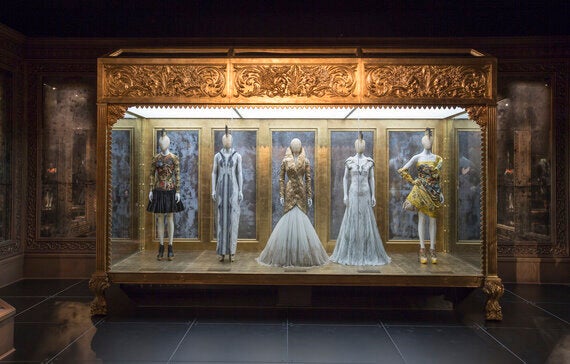 In the Cabinet of Curiosities, walls are stacked floor-to-ceiling with box shaped shelves containing the weird and the wonderful, from leather masks and curved shoes to TV screens showing McQueen's dramatic catwalk shows. In the centre of the room is the famous spray-painted dress circling slowly on a pedestal, capturing the eye briefly before it darts away greedily - left, right, up and down - ravenous in its desire to see more. The centre seating area is a godsend because it's easy to lose yourself in this time capsule of McQueen's work.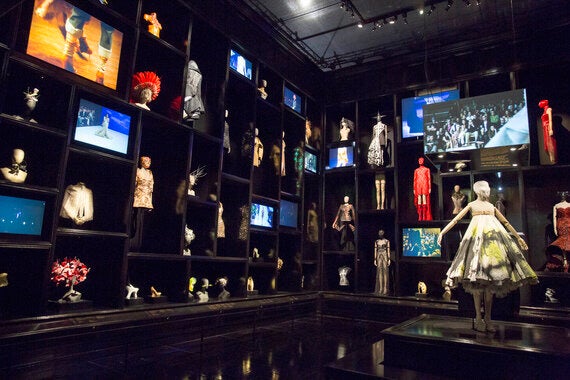 Once you do tear yourself away, you will be equally as captivated by the ethereal hologram of Kate Moss, which pierces the soul in a mesmerising display of light and dark, once again reflecting McQueen's own struggle with depression. Having digested Savage Beauty, it's easy to see why McQueen described himself as a "romantic schizophrenic". Throughout the exhibition, the heart breaking combination of good and evil, light and dark, and happiness and sadness infects the audience with a somewhat filtered understanding of what the human mind is capable of - and for that reason alone, you must go.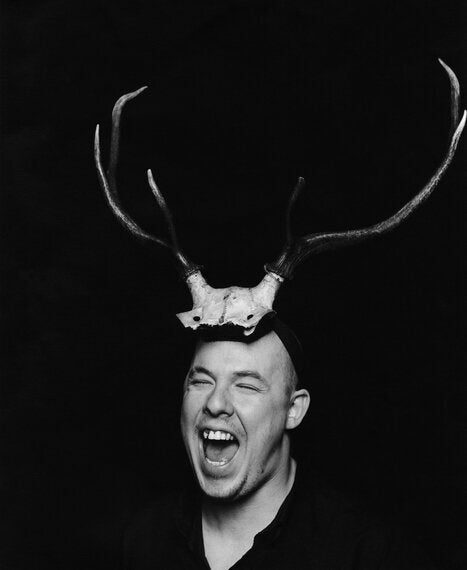 Related