I've always been, and always will be, a dog person. Growing up, I was desperate for a dog, perhaps because I was an only child, or maybe because I had only a handful of friends. I remember reading a book about a child with a dog that never left his side, aptly named Shadow. I dragged my school bag behind me by the strap for weeks after reading it, pretending I had my very own Shadow. Sad, yes, but that's how badly I wanted a dog.
It wasn't until I was nineteen that my Mum and Granny finally agreed. Possibly the worst timing, due to the fact that I was now at university and enjoying the social life that comes hand-in-hand with the experience. However, despite the social calendar, we rescued a cross-collie (Mya Dog) and she became my best friend for the next 11 years. She died two years ago, aged 14. It was a tough time, but three months later my husband came home with a Border Collie pup, Jake. He was a welcome distraction and for the past two years I've treated him like a baby, while my husband has lost over a stone in weight because he chose an energetic and far-too-brainy collie.
Mya was and Jake is as big a part of our lives as any family member. You'll find that with dog people - we tend to treat them like little human relations. We hug them and feed them and take them out to play. We organise every social occasion around them. Our dog even goes to work with us (well, with the husband), even tagging along on holiday.
This summer, we decided to do a road trip around the UK. Jake hopped in the back of the car, all of us prepared to rough it in a tent; we had no idea that so many hotels were dog friendly - our "working" dog ended up living the high life at some of the UK's finest hotels! It got me thinking: given the choice, where would dogs go on holiday?
The UK is a great canine holiday destination thanks to its not-too-hot, not-too-cold summer climate, perfect for exploring picturesque towns and stunning countryside. When holidaying with your pooch, you must consider the weather - you can't leave them in a car or without water if it's blisteringly hot, and you can't have snowballs gathering in their hind quarters, which can result in painful, matted fur. So, basically, hot destinations (Dubai, Arizona, Western Australia) are out, as are skiing trips.... for doggy hols, it's best to stick to staycations.
We started out in Belfast, where the Hilton was super dog-friendly. Jake was given a warm welcome (almost warmer than ours...) and we discovered another canine was in residence - a Labradoodle named Tina, who arrived with three kids, their mother who was desperately trying to keep track of her sprogs and dog, and their father, who somehow managed to spin through the revolving door while balancing a mound of baggage over each shoulder. Jake's experience of Belfast in a nutshell: bemusement at the statue of a shepherd and his sheep, but satisfaction at discovering a giant mosaic fish at the waterfront.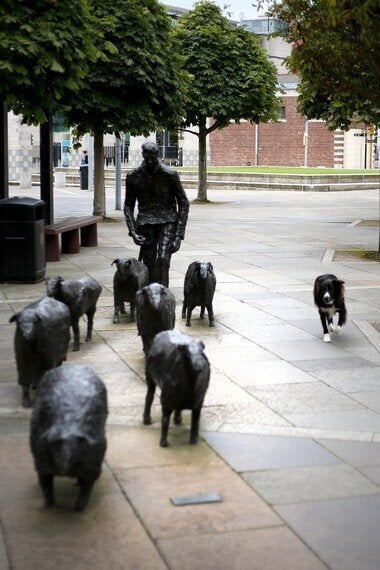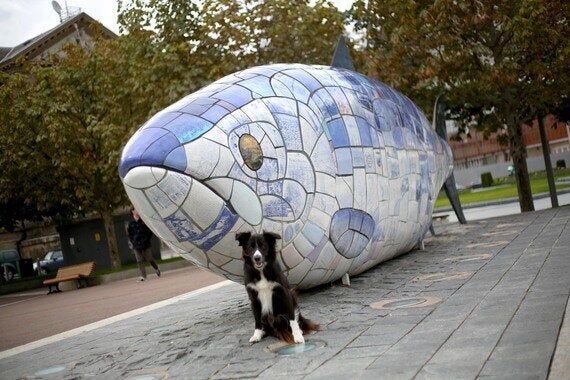 Our next stop was Dublin, where Jake had a completely new experience while at The Four Seasons; not only were his surroundings more regal than he's ever been used to before, but, for the first time ever, he took the lift. Waiting for the lift was like any other sitting experience he'd had. He sat, he waited. Usually, waiting involves the crossing of a road, or the delivery of a doggy treat, but this waiting game appeared to be for nothing very much... until the lift doors opened with a 'PING!' and Jake was suitably taken aback; his usually obedient rear end lifted, his ears folded back, a ninja-dog stance embraced. A small tug on his lead encouraged him to join us in the lift, albeit very slowly. Lift-off was rather humorous, with all fours spread rigidly until, with a second 'PING!', the doors opened again and Jake darted out, me dragging along behind, still attached to the other end of the lead.
In our suite, Jake was pleased to find a bed to rest on and a Jumbone to concentrate on while we got stuck into DIY Irish coffees. Dublin involved a run through the leafy urban village of Ballsbridge, where Jake marked his territory at almost every Door of Dublin he could find... to say it took longer than usual was an understatement. He became quite the dog-about-town in Dublin, with passers-by cooing at him and waiters desperate to feed him treats while he waited for us to finish our al fresco lattes. If we hadn't moved on to The Powerscourt Hotel Resort Spa, Jake might have forgotten his farm dog roots and asked for a Louis Vuitton Speedy to carry him around in.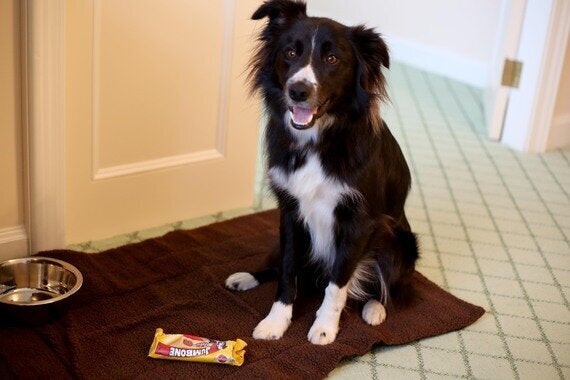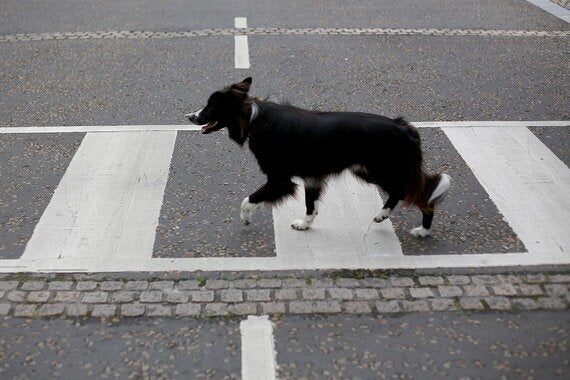 Located in the beautiful countryside of County Wicklow, Powerscourt was much more Jake's scene; posh enough to prance around, wagging his crimped, curly tail without judgement, but with enough open space to allow good runs and games of catch with his favourite frisbee. He was truly in his element until, in his excitement, he ran onto the golf course much to the frustration of the golfers. We decided it was time to make a sharp exit - we caught the next ferry over to Wales, where we drove a few hours until we reached Cheshire (less than an hour from the border) and The Pheasant Inn.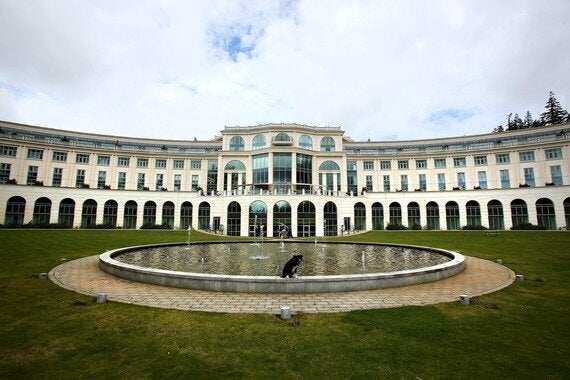 The name alone gives an indication of how absolutely border-collie-fabulous this hotel is. The Pheasant Inn. Dog heaven. Jake and I spent a day and a night at this small, cosy hotel and already we are planning a return trip. After a coffee in the bar (Jake had a water and then lay by the open fire), we got our walking shoes on and embarked on a 10k trek through the Cheshire countryside. Why no-one talks about the Cheshire countryside, I don't know. It's absolutely beautiful and we had the most amazing views on our walk, which took us through woods, across fields of horses, down muddy tracks and almost untraceable country lanes, over stiles and through kissing gates, past squirrels and, yes, pheasants, and cows and horses and ducks and all sorts of wildlife until finally we returned to The Pheasant Inn.
We were exhausted - after a bowl of soup (me) and a pig's ear (him), he was happy to sleep solidly for the next four hours (usually, he's ready for another walk an hour after getting home). We lazed around the hotel, snoozing, until dinner time when we went for another long summer walk before dinner in the dog-friendly restaurant. We met a huge black Labrador who had also had a remarkably good day, although she was lucky enough to be staying a few nights longer.
The next day, we departed for Oxfordshire, where Jake played with his seven-year old human cousin for five days straight. When we finally got back home to Scotland after two weeks of beautiful hotels and the amazing sights that Britain has to offer, our beloved Border Collie couldn't have been happier. It really is a dog's life. Even when everyone else has gone back to work.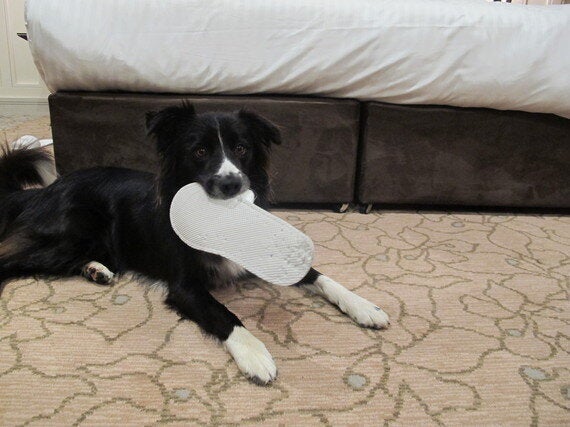 While I'm here, I might as well say it: remember, a dog is for life, not just for Christmas. A cliché, but true nonetheless - don't underestimate the commitment and dedicated required for giving a dog a home. And a holiday, now and then.