Last month I invested in a little self-indulgence. By self-indulgence I mean three days of doing absolutely nothing, apart from the odd spa treatment and Fanta Lemon (why does it taste so much better on holiday?).
There's a lot to be said for taking time out and yet few of us realise the value in it. By going away to a luxury resort in Spain for a short stay of three nights, my husband and I felt the benefits of totally chilling out without any of the guilt that comes with being downright lazy - three nights was enough time to feel completely relaxed but not quite long enough to totally abandon all self-discipline.
Elba Hotels is a select collection of luxury hotels throughout Spain and Fuerteventura, where Champagne breakfasts are the norm and lazing by the pool is expected. We stayed at the five star beach hotel in Estepona, which was located right on the beach: guests literally step out of the hotel garden and onto the promenade which leads on to the sandy shore. Inside, the hotel is equally as gorgeous, with a grand lobby containing an enormous floral display the size of a small shed. The interior and décor are luxurious without being intimidating; marble flooring and high glass ceilings are softened by inviting, plump sofas. In addition, our top floor suite was the size of an amply sized apartment (minus kitchen, but then, who needs a cooker in a hotel with its own restaurants and all inclusive buffet?) with a balcony of equal proportions, overlooking the plush pool area and sparkling ocean. The suite was breath taking - as was the view.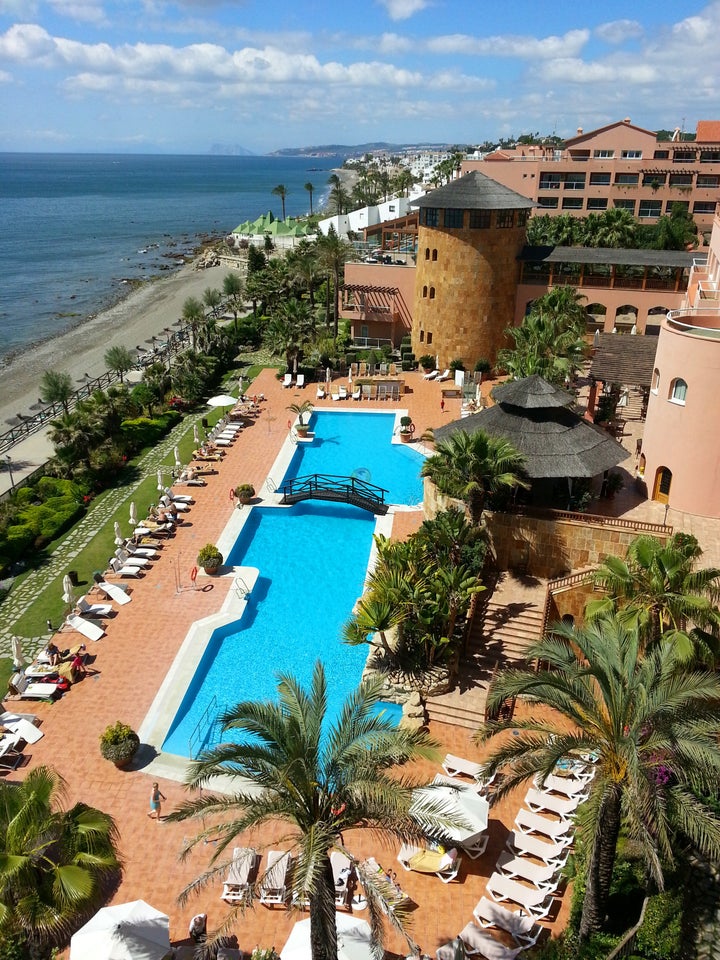 Our three days at the Elba Hotel in Estepona were blissful. Relaxing came as easily as the smiles on the friendly faces of the hotel staff. Day one was spent exploring the hotel, from the turquoise pool and lush gardens to the pretty outdoor terraces and hotel bar, with its plush sofas and incredibly delicious Mojitos. Later, we had a tour of the Thalasso Spa before indulging in the hotel's exclusive treatment, Cavaterapia by Perlage (you bathe in cava, magnolia oil, azahar and grape while sipping on a glass of cava), along with a facial using Natural Bisse. Even my husband enjoyed himself, and the closest he's come to a beauty treatment is having me massage his hands after a paddle boarding session. (Perhaps it helped that his facial was tailored for men). All of the water used in the Thalasso spa is pumped in from the sea - yes, the actual sea outside the hotel - and filtered before being used throughout the spa. The minerals are good for the body and really does feel amazing. It's like swimming in the ocean, but it's warm and clean. Bliss. After a couple of hours of beautifying, we had exhausted ourselves so we freshened up before going for dinner in the traditional Spanish restaurant, where we dined on various authentic dishes.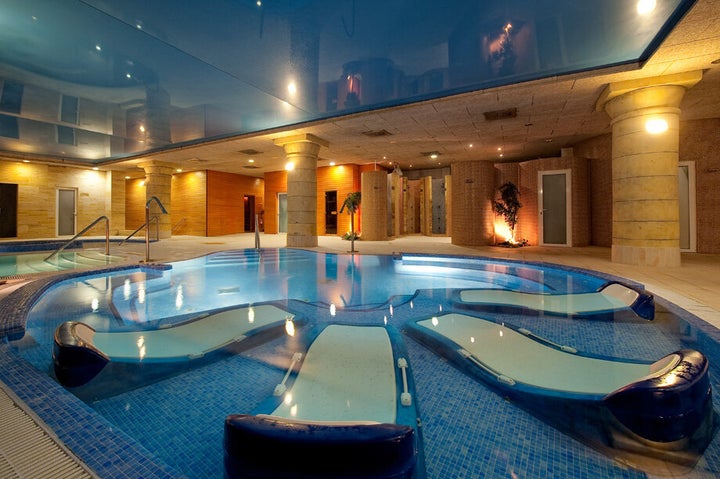 Day two saw us exert ourselves beyond belief - we took a day trip to Gibraltar. A half hour drive from Estepona, we simply had to visit the famous rock. After finally passing through passport control, we strolled through pretty streets and people watched in the town square. We took a walk back through the high street before taking a cable car to the top of the rock, where we said hello to a family of Barbary Macaques and read about the tunnels inside the rock. When we returned to the Elba Hotel, we lounged on our enormous balcony and drank the Champagne which the hotel had left chilling for us on arrival. Later, we dined in the buffet restaurant (the best all inclusive buffet I've experienced), tasting the different cuisines, from Spanish to Japanese, and finished our meal with tiny desserts - again, not big enough to make you feel guilty for over indulging, but just as delicious as a full size dessert.
Our last day was spent poolside. We ate ice creams for lunch and occasionally rotated for tanning purposes, but we remained by the pool throughout the day. We did go for a short stroll along the beach, admiring the private villas and apartments framed by bougainvillea, but after that we returned to our loungers and I took up Fitzgerald's The Great Gatsby for another sunbathing session. A late checkout meant one final indulgence: a Jacuzzi bath in the comfort of our suite. Don't you love a plush bathroom? As well at Jacuzzi bath, there was an amazing overhead shower, his 'n' hers sinks and an adjoining cloakroom - all encouraged some serious preening! My favourite part though? The professional hairdryer in the bathroom - excellent touch!

The Elba Hotel in Estepona is just the ticket for getting away from the daily grind, regardless of how long you stay - you will return home completely relaxed, totally refreshed and with a positive, happy spirit and wellbeing - but don't worry; if you want to chill out but can't bring yourself to completely abandon all self-discipline, the hotel has a full gym and free wifi. I'm already planning another visit, but there is one thing made difficult by Elba Hotels - which resort to choose!
All photos taken by Christina Lindsay