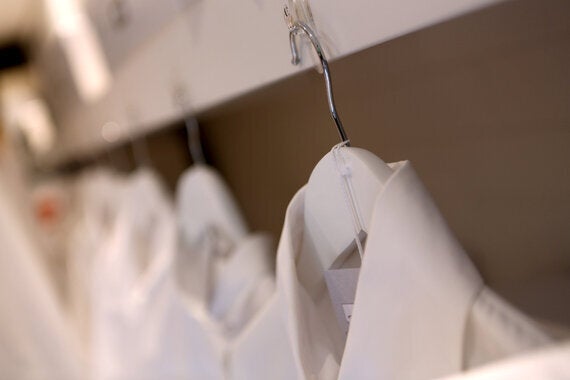 The white shirt has always been an area of sartorial difficulty for me. An ample bust, small waist and large hips means finding the right fit is rather tricky; there's nothing worse than a stretched or gaping shirt, particularly when the whole idea is to create a streamlined silhouette that flatters. Even relaxed cuts don't work; instead of looking effortlessly chic, they look boxy or - worse - lazy.
Over the years, I've found that small, puff shoulders work quite well, the feminine, softness complementing my womanly shape. However, such a girly detail doesn't sit well with my maturing sense of style (now that I'm well and truly past 30). Now, I like a sharper finish but - given the hourglass figure - sharp often looks less cutting edge, and more boardroom.
Of course, there are many ways one can wear the white shirt, and it seems I've tried them all: juxtaposed against denim; tucked in, worn loose; monochromatic and colourful. You name it, I've tried it. Yet still it's not quite right. Indeed, there are hundreds of celebrities photographed wearing the white shirt, so inspiration isn't lacking - in fact, my failure with the white shirt is made all the more disappointing by the women everywhere who are wearing it well - evidence that it can be done.
On Naomi, Christy, Linda, et al, the white shirt looks incredible worn with distressed jeans (or, indeed, no jeans); on me, it's frumpy. Carolina Herrera and Laura Bailey are elegant and composed in white shirts tucked into full, mid-length skirts; on me, the look is bulky, my waist lost under the layers of fabric. Devil Wears Prada star, Anne Hathaway, obviously picked up some styling secrets on set - she is effortlessly chic and carefree in an oversize white shirt and bare legs. On me? Baggy and drab and lifeless, even at the beach. I've come to the conclusion that it is my generous cup size that causes my white shirt problems, swiftly followed by a waist-to-hip ratio to rival that of Nicki Minaj.
Admittedly, I haven't researched the white shirt market meticulously. A few bad high street purchases and a 'these are not for me' experience at a specialist clothing brand for larger cup sizes and I suppose that's been it - perhaps enough to put me off the white shirt for life (or a few years, at least). However, I'm feeling hopeful again - last week, I was introduced to White Story at Melbourne Fashion Festival (VAMFF).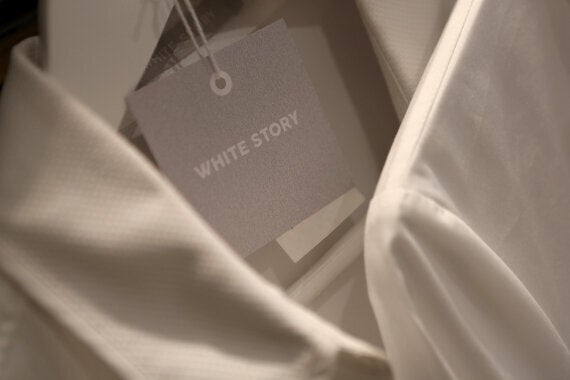 White Story was established by Fiona Myer, part of the hugely celebrated (and wealthy) Myer family, who own one of Australia's most successful department stores, Myer. The idea behind the collection (which was born less than six months ago) was to go back to basics. My own issues aside, what piece of clothing is one of the most important staples in every woman's (and man's) wardrobe? The white shirt. And so this is where the story begins.
The White Story concept is modernity, purity and elegance. Fiona said: "Life isn't so much about what we're wearing, it's about spending time with our family, where we're having our next coffee - you want to look smart and feel yourself and, for me, that was about going back to basics. For me, that's the white shirt.
"I like to mix textures, so shiny with flat, though they are all 100% cotton. White Story is seasonless, timeless and transcends cultures. The first collection was named after women in my family, the next will be after my friends and their different senses of style. They are my inspiration."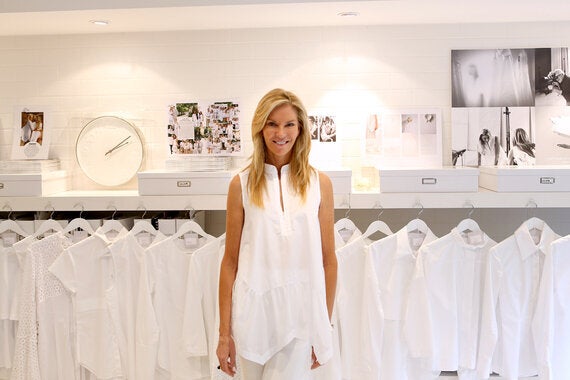 For her first White Story collection, Fiona has taken the white shirt and produced it in varying forms, basing her designs on the women in her life; the White Story will feature four capsules a year with twelve shirts each, and aside from the fabrics (sourced in Milan and Japan), everything about the brand is Australian, from the quality control to the models and photographers. As you can imagine with 48 new pieces annually, there's a style to suit everyone - I think, perhaps, even me. The finished product is around $500 per item. Sounds expensive, but given the craftsmanship (all made in Melbourne) and my difficulty in finding white shirts, it seems a small price to pay.
I was immediately drawn to the white shirts with pretty lace detail (harking back to the aforementioned feminine shirt of my youth) and bell sleeves (a great way to balance out the bust), which will look beautiful with flares. In addition, Fiona's shirt dresses look to be a quick and easy way to wear the white shirt without worrying about what to wear it with - an endless battle that I've faced, and which has been paramount in putting me off my search for the classic wardrobe staple. I've learned over the years that an hourglass silhouette always looks better in good tailoring, and Fiona's shirt dresses are beautifully cut, with clever details such as drawstring waists so that the wearer can determine just how nipped-in her middle should be (without the unsightly puckering that often comes with cinching a belt). Layered beneath her white trench coat, the look is simple, effortless and - most importantly - comfortable.
So far in life, I've found that wearing a white shirt makes me feel incredibly self conscious, not helped by the fact that, the last time I wore one with black wide leg trousers, my husband ordered a flat white from me. Joking aside, to feel confident, streamlined and neat in a white shirt or shirt dress would be a dream come true and I do believe that some of Fiona's pieces would fulfill this everlasting pipe dream. Sadly, there was no time to try on her collection - the VAMFF schedule was packed with an incredible variety of seminars, runway shows and parties featuring both emerging and established designers from the state of Victoria - but I will keep a beady eye out for a UK launch, as there are plans for the brand to go international. This is one story I hope has a happy ending for both Fiona, and for me.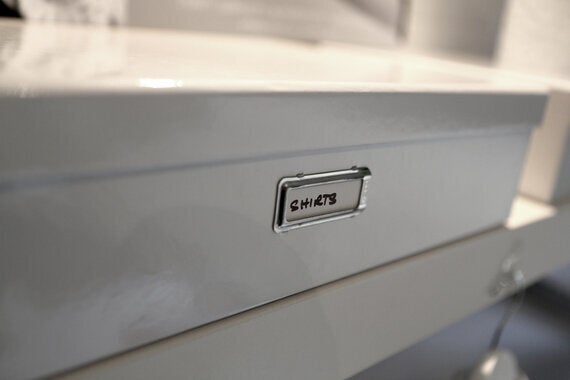 Related