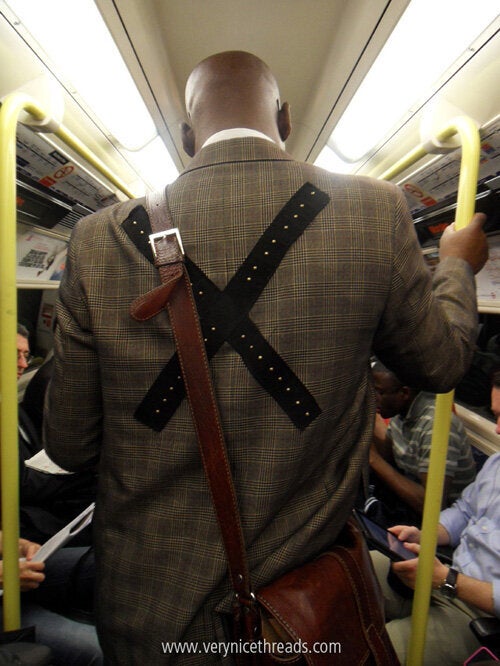 The 'X' on the back of this jacket sent chills up my spine and from the far end of the carriage, I weaved through the morning commuters to get to this man so I could snap his photo. Such determination to take a picture of someone's back might seem a bit odd, but I was seeing a new take on a very popular t-shirt design of my youth.
The 'X' inspired an instantaneous flashback to the early 1990s, when rap group Public Enemy were breaking new ground for American music and filmmaker Spike Lee released Malcolm X, an epic biographical account of the controversial human rights activist Malcolm X.
It was a golden era in postmodern black consciousness and 'X' was a symbol of empowerment emblazoned across the chests of so many young black men. However, within three or four years of such a potent resurgence of black radical thought, the 'X' tees seemed to disappear into the bottom drawer. So to see this symbol re-emerge on a suit jacket in 2011 was positively sublime.
The jacket is by the Italian menswear label Adamus, who don't seem to have any ethical or sustainable credentials, but I still give them a thumb's up for their urban design savviness. To create your own 'X' jacket, Sarah Klymkiw an upcycling guru who runs workshops across London gave us the low-down on how to customise the garment using found materials:
"I'd suggest recreating this effect with a webbed belt, or even a pair of braces picked up from a local charity shop to achieve a neat sharp edge. Alternatively, cut two strips from an old pair of trousers or jeans and zig zag stitch the edges when attaching to the jacket to avoid fraying. The stud detail would require a visit to your local haberdashery but require no technical skills and, I'm sure to the relief of some, no sewing!"
The satchel is Hermés and is what I would call a future heirloom or investment piece. The bag is of excellent quality and has a classic look, the kind of accessory that you take care of, love and pass on to someone who will love it as much as you.
The man sporting the 'X' jacket and future vintage satchel is Colin and he works for St. Giles Trust, a London charity that offers help and support to ex-offenders by giving them opportunities to develop their skills and experience so that they can readjust to mainstream society and lessen the risk of re-offending.
Completely by coincidence, a few hours after taking Colin's photograph, I was introduced to the new Heavy Eco t-shirt line at Potassium, the label's only London stockist.
The new designs are a series of Russian prison tattoos that decode and symbolise one's reason for incarceration. For instance, in the picture below: women and gambling. In another, a Russian cathedral with a few turrets, each one representing the number of times one has been to prison.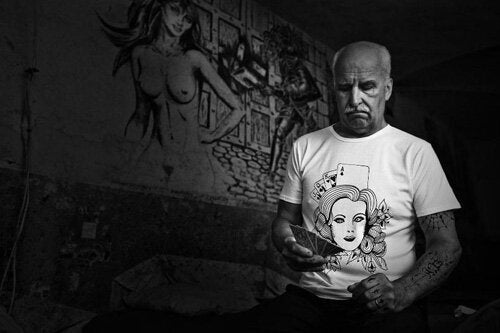 (Photo courtesy of Heavy Eco)
At Heavy Eco, the inmates are paid to produce the t-shirts (which are 100% organic cotton), pick out the water-based silkscreen artwork and 50% of the profits go toward supporting young homeless people who are at risk of offending.