There is a way of traveling the world that costs nothing but a little appreciation. A way of traveling that pulls you right into the cultural and social environment of strangers. Follow me on my trip into the world of couch surfing with all its facets, from opulent estates in Vienna to a dump in the heart of St Petersburg.
My first encounter with couch surfing was in October 2009 while I was traveling in Spain. The main idea is to interact with people by having conversations, sharing meals and, of course, offering a traveler a place to stay or even show him around the city from a local's perspective. My three-week trip through eleven European countries was completely based on this form of traveling and shows the different levels of comfort you might end up with.
I had an entire flat on my own in Vienna, because my host could stay in her grandma's flat next door. This kind of luxury is unusual as I have also slept on kitchen floors in front of a fridge before. However, you will always know what to expect as setting up a profile is an essential part within the community. Every member should provide important information such as age, interests and a picture. Chances that you will find a couch are low if your profile lacks vital information. Hosts also add a description of their sleeping environment, including a picture and a maximum amount of days to stay and number of people to host. Some even offer space in their caravan on the road!
Continuing to Bratislava, my Greek host picked me up and we spent the hot day at a lake with other surfers and seven of us shared the same room this night. Everyone helped prepare a huge meal and we kept on talking late into the night - couch surfing is all about cultural exchange. No payment is expected, but you should always make an effort to engage and as a surfer, bring a small gift from your country or treat your host for a drink or dinner.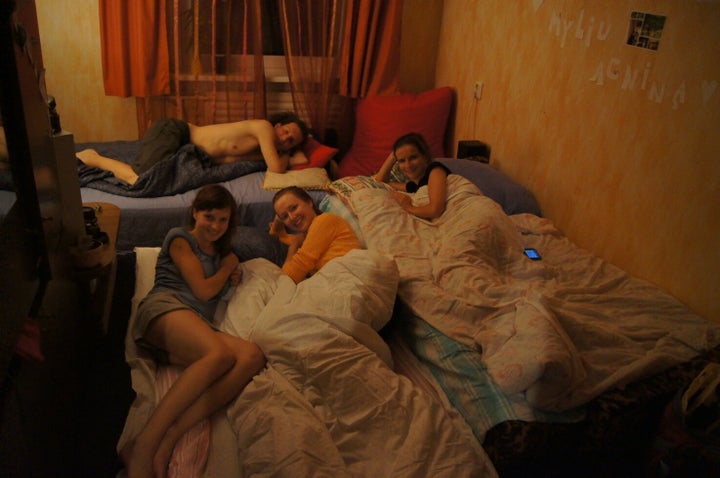 Moving on, my host in Budapest took me to a concert and was friends with the band. Having local people around is another great aspect of couch surfing. Most of the time, they are able to show you parts of the city or even drive you around and I have seen places that are not mentioned in any guide books thanks to couch surfing. Once, I was staying with a police officer on the island of Majorca and he could get me into restricted military areas. The journey continued through Krakow, Warsaw and Riga before we ended up in Vilnius in a group of three surfers. The complete floor has been covered with mattresses! Couch surfing may not be a good fit for people that require privacy as you have to share a room most of the time.
Sometimes you will also literally be dragged to parties. This was the case in our next three stops from staying with a local DJ after dancing along to his music in Riga, to a private house party from our host in Tallinn and ending up in a yet another, even bigger house party from friends of our Finnish hosts near Helsinki.
Many people outside the community think that couch surfing might be dangerous, but it offers some safety features. Use them and your common sense and you will be fine. First and foremost, every member has a profile that contains references from people they interacted with - hosting, surfing or just meeting. You can easily spot "bad guys" and just avoid them. Members can be vouched for by other members and also verify themselves to prove name and address.
Staying with our host in St.Petersburg demonstrated that a host's place can be pretty dirty and messy; in this case the flat was nothing unusual though, as we were located in the centre of the city and the buildings are just very dirty here in general. Just tell yourself that you are not renting the place and try to avoid the rats in your short stay.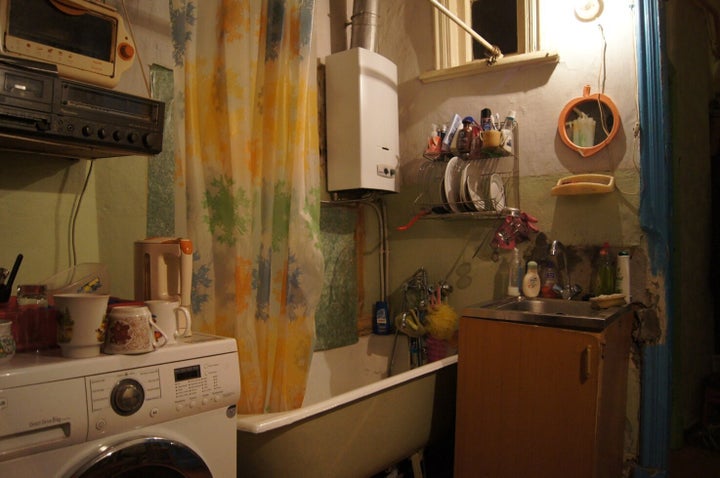 Moscow marked the end of the trip and luckily, our host had a car. He drove us around to show the city and even after some drinks, with his car left at home, he organized another one to get us back home - did you know that Russians try to stop random cars and use them as a low-fare taxi? It works pretty well.
Some people might think that couch surfing is mostly used by backpackers on a budget, but you will find a huge variety of individuals, from elderly people to families. It is also not only about staying at someone's couch, but can be used as a great source of first-hand information by using the sites' groups for your destination city.
Maybe I could spark your interest and you will check it out on your own - do not be afraid and make the best out of it. You will not be disappointed.
Related