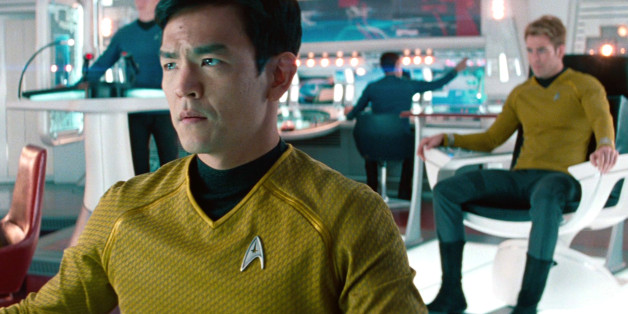 CBS Photo Archive via Getty Images
Star Trek: Beyond came out in UK cinemas on Friday July 22 and continued very much in the same vein as the previous episodes in the latest reboot. It's a flashy, highly silly, yet thoroughly enjoyable sci-fi adventure, and a loving homage to the original TV series.
That, in itself, is not a bad thing. It's had largely positive reviews, and deservedly so. It's a lot of fun, and, being a big old nerd, I love the fact that the set design adheres so closely to the original, knobs and switches and flashing lights and all.
I also love the fact that there are so many plot references to the original, and a concerted effort not to deviate too much from the established universe. But here's the problem: it hasn't actually made all that much progress.
The whole thing is still pretty much one big boys' club - Kirk, Spock, Scotty and Bones swooping in and saving the day, while their female counterparts are basically demoted to sidekicks. In a fictional world supposedly based on equality and progressive social attitudes, that feels anachronistic.
The female characters, while better developed and much more integral to the storyline, are still very much in the background. Even Jaylah, the lone warrior in the new movie, who has survived in a hostile environment against all the odds, effectively seems to have been waiting around for a man to come and save her.
What's more, most of the female members of the Enterprise crew are back to running around in itty bitty mini dresses - not especially practical when trying to help save the galaxy.
The first and last female captain in the Star Trek canon was Captain Kathryn Janeway, played by the ever-wonderful Kate Mulgrew, whom most people probably now know as Red in Orange is the New Black. At the helm of Voyager, Janeway was a tough, commanding character, who also understood the needs of her crew and was willing to make major sacrifices for them - and it was never implied that she was any less of a captain than Kirk or Picard for being female.
She led fearlessly and selflessly, and, one might argue, had the hardest lot of any of her Star Trek forebears. The plot of Voyager centred on the fact that the ship was marooned 70,000 light years from Earth. The crew were totally alone out there, facing unknown threats from all directions, and unlike the Enterprise, if the ship was destroyed (which, notably, the Enterprise has been - a lot) they couldn't just go home and start again with a new one.
In the face of all that, Captain Janeway never wavered and, at the show's conclusion, she did get her crew home at last - and she never once wore a mini dress.
Voyager ended 15 years ago, and since then, before the major movie reboot starting in 2009, we've also had Star Trek: Enterprise, the prequel series that, once again, was fronted by a white, straight man. The show wasn't as popular as its predecessors and only lasted four seasons, which, I would contend, was at least partly because of its terrible theme music, but the formula was still the same.
There's hope on the horizon, though: a new TV iteration, to be called Star Trek: Discovery, is on its way.
I'm optimistic about Discovery, which is due out in 2017, and likely to be broadcast in the UK on Netflix. According to various reports, it's been licensed to the online streaming service in 188 countries, excluding the US and Canada, so one can only imagine the UK is one of the 188.
It's being helmed by Bryan Fuller, who wrote episodes of Deep Space Nine and Voyager, both of which ran for seven seasons. Importantly, he's stated he'll look at casting "through a colour blind prism and a gender-blind prism", according to the nascent show's Wikipedia page, which is extremely promising.
If the boys' club isn't quite over for the movie franchise, it might at least be over for the TV version. Maybe we'll get a new Captain Janeway yet.