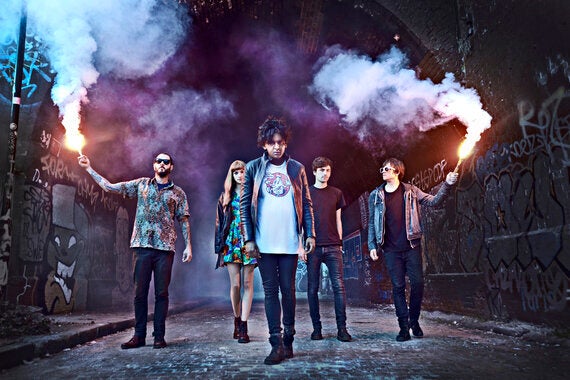 Photo credit:Harleymoon Kemp
The forthcoming release of Bleach Blood's debut album All The Sides Of A Circle very nearly didn't happen. It's the bookend of 2014 and the festive period is coming to an end. That feeling of a 'new year new start' clings to the crowded corners of London's streets. I'm sat in a rather wonderful café just off Shoreditch high street with lead singer Jamie Jazz. The fact that we're discussing Bleach Blood and the album itself is a small miracle.
All The Sides Of A Circle has had a difficult beginning but the result is a layered and complex record that's engaging, unnerving and slightly puzzling in equal parts. It is as far removed from the sound of Jamie's former band The King Blues as one could imagine. With its heavy electronic influences All The Sides Of A Circle is a different beast indeed. Hang up your anarchist flags, put away your Chomsky and get your dancing shoes on. All The Sides Of A Circles confidently heralds a new direction for Jamie Jazz and dancing is emphatically encouraged.
"It feels like a lifetime for me" Jamie tells me as we tuck into some lunch. The album has actually been kicking around for nearly a year, ready to go, but other factors have gotten in its way. Rewind though a couple years back and things were looking pretty bleak for Jazz. "A lot of things broke at the same time after The King Blues" he says. "I drove off the deep end. I was in a very bad mental state and I sort of had to disappear." It was at this point that Jamie started to question whether, after 10 years of being in bands, this was what he wanted to give his life over to. The tedium of back stage dressing rooms, the parade of press days and the constant uncertainty that comes with being in a band had taken their toll.
"I was ready to quite happily turn my back on it all" he tells me nodding. "I've seen what being in a band, particularly if you're successful, does to human beings and it's not necessarily the nicest thing in the world. So I disappeared, I went AWOL." It was during this wilderness period that the musician Chris McCormack reached out to Jamie and offered up his studio. With a place to work through ideas and the space to refocus Jamie began to write again. These songs would eventually make up the debut Bleach Blood album.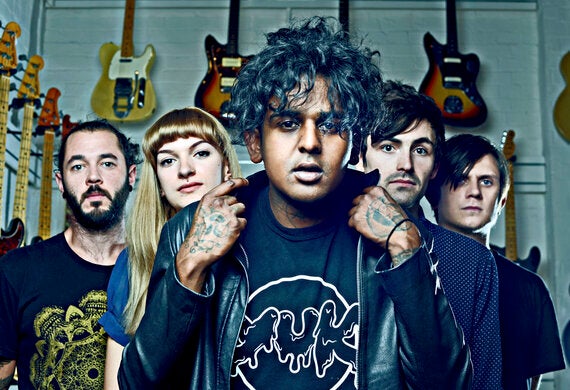 Photo credit: Harleymoon Kemp
One of the very first songs to be released was Let Your Heart Sing, a ridiculously catchy break up song. "I think it's probably the stupidest song I've ever written in my life, it's so dumb! I don't think breakups are these smart eloquent things that you sometimes hear in songs. They are usually quite clumsy and deliberate and horrible and stupid and you do dumb things, so I wrote a dumb song about a break up" he says laughing. Even with these protestations the song really kick-started things for Bleach Blood. It got picked up by mainstream radio and was received warmly by a new group of fans. The success of Let Your Heart Sing hastened the decision Jamie had to make about whether Bleach Blood would be a permanent entity. Having written an album's worth of material but still unsure as to his future, Jamie's manager asked the obvious question 'why would you make a record and not put it out?' The sentiment rang true; it was an opportunity that could not be overlooked. Up against the ropes and still with everything to lose Bleach Blood started swinging punches.
The record is likely to come as a surprise to many. Touching on a different side of Jazz's influences, more LCD Soundsystem than The Clash, All The Sides Of A Circle is certainly not The King Blues 2.0 and is much better for it. "I've always been interested in electronic music and I've been interested in music with a history. Dance music and rave culture have a massive history that isn't that far removed from punk rock at all," he tells me.
Moving to Manor Park with its warehouse scene also had a huge influence on the sound of the record. He tells me frankly, "it's quite a pretentious scene around there, it's very art kids and cool kids and trust fund weirdos and with that comes a vibrancy that didn't exist in the punk rock scene as I knew it. It made me not fear my influences and not fear what I wanted to do."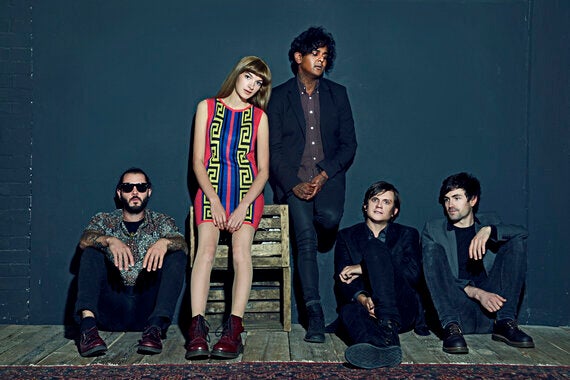 Photo credit:Harleymoon Kemp
All The Sides Of A Circle allowed Jamie to take full artistic control something that he openly admits was petrifying. "I think being in a band is a kind of terrifying thing. It's a lot to ask of another human being to say 'hey come and watch me be a jerk on stage for 45 minutes' you know. But equally it's also quite liberating as well, to be kind of in charge and being able to write whatever the hell I want to write." The process of writing the album was an important and necessary one for Jamie. Elaborating on this he tells me with an alarming degree of honesty, "if I didn't do it I probably would have killed myself. I was in a very dark space, a very dark place and I had tried a couple of times." Things had become so bad that Jamie was on medical watch, "I had to go to the local hospital every day, and I had to check in." Songs became his focus, something that was familiar and something he was good at, "I had to kind of do things that made me feel good and the only thing that did that was making records" he tells me.
Music, identity and race have always interlocked and is a subject that Jamie talks about passionately. As the course of this interview has proven, he is not one to run from heavy topics. It was while watching Knuckledust as a teenager that he was first exposed to a punk band that wasn't made up of all white members. "It was really this moment of like 'what?! Wow that's crazy' and then they played, it also helped that they were pretty much the best hardcore band in the UK". In a parallel of this, as The King Blues became more popular, Jamie found himself becoming this symbol for a lot of young Asians. He explains, "it got quite funny touring around the country and around the world and having Asian kids come up to me and say thank you for making it ok for us to be into this". It's a poignant moment in the interview and for a second I'm at a loss for words.
Yet Jamie's relationship with his own history and culture hasn't always been comfortable. "I used to run from my culture, I use to run from being Asian and I really hated it. It just was not who I wanted to be." It's a feeling that continued into his twenties and in many ways permeated his permanent character. It was through exposure to the Asian Dub Foundation that Jamie first became interested in electronica music. "I thought it was brilliant, I feel like a jerk for pretending not to be Asian for some reason!"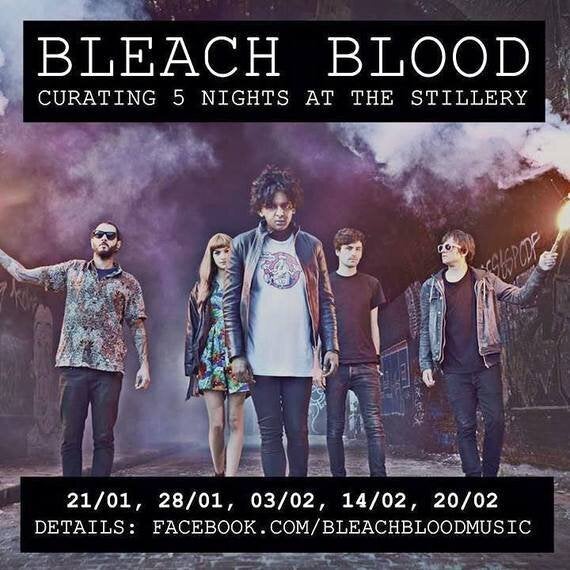 Photo credit: Harleymoon Kemp
What Bleach Blood is exactly is difficult to define. Dance punk? Electro-rock? Forget genres, they often make things unnecessarily confined, and Bleach Blood were never going to fit neatly into a box anyway. Yet, for all the supposed open mindedness of the alternative music scene some people find Bleach Blood, and Jamie in particular, very difficult to understand. "It's something I've never really addressed" he tells me. "It's like you get weird slight comments and stuff. It happens at Bleach Blood shows where people, probably quite innocently with no malice intended, will turn around to me and say 'oh its weird to see an Indian guy fronting a rock 'n' roll band', I always turn around when people say that and say 'well what did you expect? Should I be making Bhangra hip-hop instead?' He laughs but it remains a sad truth, preconceptions and stereotyping can often limit music's reach. It would be a grave shame for that to happen to a band as good as Bleach Blood.
I look back down at my dictaphone; we've been talking for over an hour, it has felt like ten minutes. As the interview closes up we move back to the record and what the new-year will bring. A tour is being chartered, music video pitches are being considered and the routine of being in a full time band is starting up again. The past few years have been mercurial for Jamie Jazz. For a long time Bleach Blood could have very much ended up as a few scattered demos of a talent gone too soon. Fortunately though, things took a different course and with All The Sides Of A Circle Bleach Blood are choosing to stagger on heads held high.
All The Sides Of A Circle is released the 2nd of March via Transmission Recordings.
Bleach Blood are playing a five night residency at The Stillery in Camden. They kick things off this Wednesday. For more information click here.