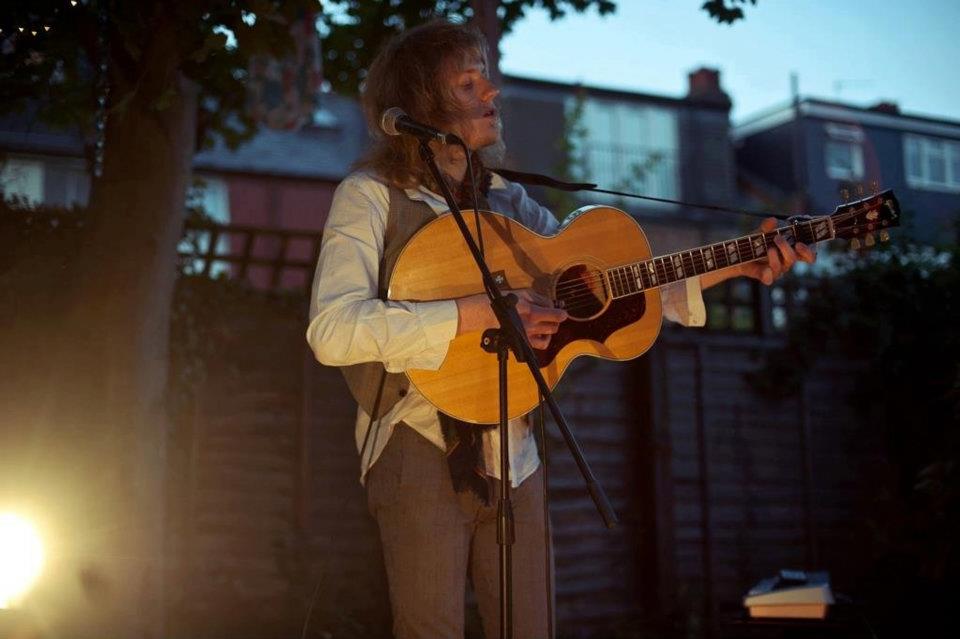 Credit: Victor Duchene
It's a Wednesday night in early January and as George Frakes takes to the stage of this cosy north London boozer, clad in a mishmash of tweed and velvet, there's an air of the English Gent to him. While the crowd at The Wheelbarrow may be rather thin on the ground, those who have turned out are reverent in their hushed appreciation. Comparisons have been made with the likes of John Martyn, Tim Buckley and Nick Drake, big figures with weighty shadows, but Frakes' mournful sprawling songs easily channel some of the musical idiosyncracy of those much admired figures. His set, while short, comprising of six or so songs, captures the thoughtful intensity of the performer. Although the crowd he played to was less than he deserved, for everyone here, this gig will be remembered as a seminal moment.
We meet again a few days later at The Vintage Emporium, a quirky tea shop that doubles up as a rather splendid second hand clothes shop. Warm and friendly it has a distinctively bohemian feel. While it remains for now, one of East London's best kept secrets, its regular singer songwriter showcases are becoming much heralded. It is therefore quite fitting that it has also become one of Frakes regular haunts. He even celebrated the centenary of folk giant Woody Guthrie by playing a set of Guthrie songs here. Frakes, who started his musical journey primarily as a guitar player, went on to study songwriting at music college. It was while studying at the Institute of Contemporary Music Performance that he wrote the songs for his debut EP 'Ghost Of The Girl'. The EP he tells me was "recorded in a little studio in my mates back garden". 'Ghost Of The Girl' perfectly showcases his unique style of songwriting, often mixing dark lyricism with beautiful melody and complex guitar phrasing. "I write a lot of poetry as well, so I quite often write music to the words", that poetic lyricism runs throughout the EP.
During his Monday night residency at The Wheelbarrow, Frakes has covered a range of traditional folk and americana songs by artists such as Lead Belly and Justin Townes Earle. His obsession with the songs of traditional folk and blues artists, becomes clear when we get on the topic of American folk musicians. "I've always been fascinated with folk music whether it's the celtic side or the americana side" he says. "Lead Belly fascinates me in particular as he was sort of a folk collector. Alan Lomax went around the deep south and recorded a load of guys playing in the jails, or sitting on their front porches for the American Library of Congress, just after the first world war and up until about 1940. He found Lead Belly in prison".
While it's obvious that folk heavily influences the songwriting on 'Ghost Of The Girl', Frakes' musical inspirations are many. Before his love of folk took hold, his first passion was psychedelic rock "I was about 13 and I was really into a lot of Hendrix and Psychedelic stuff". However that was all to change when he stumbled upon Nick Drake's 'Pink Moon', as he recalls "my dad played me Pink Moon. That album sort of introduced me to the idea that it could just be a voice and a guitar". It was a pivotal moment for the young songwriter and elements of Drake can be heard in Frakes' songs.
The idea of a solitary figure with a guitar is one that Frakes has clung to as much as possible. Later this year, he plans to release his debut full length album "there's this great studio in Essex that i've worked in with bands". It is here that he plans to lay down the tracks that'll make up his first record, assuring me that his emotionally wrenching song 'Letting Go' will feature. For those already chomping at the bit for this release, you won't have to wait too long as Frakes, who is hashing out plans for a UK tour, wants to have the record out "before I tour, though it might be split into two EPs". There is also the tantalising possibility of an album of traditional songs, he says "I'm tempted to do an album of tradtional songs, rare traditional ones which were collected. I'm not sure when i'll do that but hopefully by the end of the year".
So until then, he's keeping himself busy with a blitz of London shows. He can for the most part, be found gigging in the pubs of north London on any given night. As this interview draws to a close and we ready to leave, myself to a warm bed and Frakes to yet another late night gig, his friends warmly praise his talents, something over which he's extremely bashful. As he laughs off these compliments with an embarrassed chuckle it becomes clear that there is a close circle of people who are already acutely aware of what a remarkable talent he is, and more are surely soon to find out.
Credit: Louiza Rabouhi Kilcawley