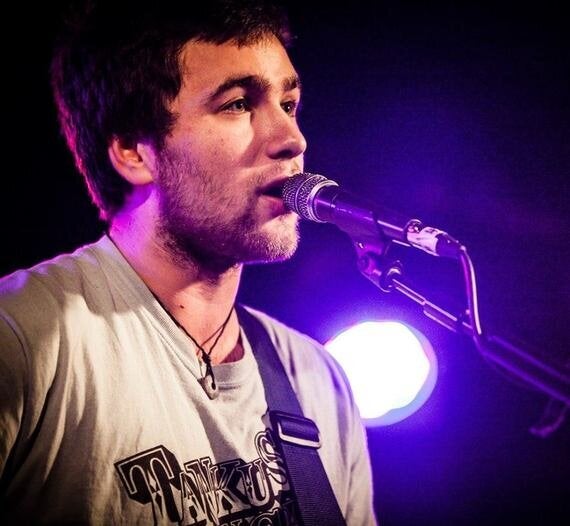 I'd been travelling back from Oxford when I received a text from songwriter Tim O-T. The text asked if I was coming to The Cricketers that night. A Sunday night ritual, The Cricketers in Kingston is the scene of a weekly open mic night that has witnessed an unlikely community of friends and musicians spring up around it. I wanted to see why this place had become a confluence point for musicians in and around Kingston.
As Tim stood up to play his set the answer soon became apparent, The Cricketers was a microcosm of the best of community. Friendly, welcoming and engaging, a feel-good atmosphere permeated the air. Everyone seemed to know each other, but far from creating a feeling of exclusion for those unfamiliar with the setup, it was a warm and welcoming evening showcasing a number of talented musicians. From troubadours like Tim to acoustic hip-hop beatniks Sanchez Vs Fighter Pilot, the Kingston music scene has never been more vibrant.
I'd met Tim properly a few weeks earlier; his song writing and live shows had come highly recommended by peers Ruby Day and Sean McGowan. Knowing him as a part of this budding music community I set out to find out a bit more about the young performer.
"I kinda rushed them a little bit and was just a bit naïve about how I did them which I know isn't a good thing to do". It's not many people who would open a conversation by critiquing their own work, but then Tim is nothing if not honest. For a lad only pushing 23 he's released 3 albums that are, by his own admission, of varying quality. It was for this reason he released his most recent EP Poke Funk. Whittling the 3 albums down to the best 6 tracks Poke Funk is a collection of his strongest moments.
Yet, Poke Funk's track list presented Tim with a new set of challenges. Choosing which tracks to include proved a trickier task than expected. "It was so hard. I tried to do it in a really simple way, just to figure out which songs people sing along to at gigs, which songs I preferred the most. I asked a couple of my friends- a guy called Rob The Liar. He was so helpful, one of the best critics I know" Tim tells me.
A highlight of the EP is a track called The Girl With Dirty Fingernails, with twists and turns and a sharp focus on detail; it is a classic country song of stealing another man's girl. It is however, complete fiction, an arsehole Tim is not. "I think I wrote that about two years ago, it was kinda this fantasy that I came up with in my head. It's not a real story, I would never do that, take a girl that has a boyfriend!" he says earnestly.
Infidelity is topic that Tim has long been fascinated by as he explains, "I've always liked writing about infidelity, I don't know why I like exploring it. I'm doing a new album at the moment, there's a song on that which is a little bit about that."
We've Got Time (live) - Tim O-T
With that the talk shifts to the new album O-T is recording. This time however, he's happy to pace himself noting "we recorded like 8 or 9 songs and then I kinda had a little bit of a break from doing it, trying to figure out what the best next step to take. I just don't want to rush it really. I really just want to take my time with it. I don't wanna get something out there for the sake of getting it out there which I will openly admit is what I did with my albums". Recorded in Ipswich with producer Charlie Law the aim is to release the album before the year's end.
What is noticeable at Tim's gigs is that he's not scared to mix music and politics. Talking about the relationship between music and politics he tells me "music can always communicate everything with anyone if it's done in the right way. I think a lot of artists and writers, not that it's a bad thing, are scared of approaching politics or don't want to approach politics or don't care about politics". He continues, "I've always been interested in change and politics. What I've been trying to do which I failed to do, I think Will [Varley] is very good at it, is mixing comedy and politics. That is kind of the best way to spark an interest I think, if you can approach it in a light hearted manner."
It's a topic that he's clearly passionate about noting with complete sincerity "I think the thing is a lot of people say the system works and as Russell Brand said what they mean is the system works for me. I can't look at something and say the system works for me when children are dying in Palestine and the little man is being stood on. I know it sounds really cliché but it's something that has always bothered me and music is a way that I can speak about it".
Having spent most of last year on the road Tim was eventually forced to return to a more normal pattern of existence, once again working a 9-5 job. "I needed money, I didn't have any stability in my life" he says honestly. Spending the year touring was a formative experience for the songwriter but it was also often a struggle. "I wasn't really happy with where I was. I was for a while very happy but I kind of hit a brick wall with my mental state. I was starting to get really down about it when I wasn't doing as well as I thought I would be doing. It was a really bad way to look at music which is always something you're meant to enjoy and it was getting to the point where I wasn't enjoying touring anymore."
For Tim the way forward was in finding a better balance of touring, song writing and recording, which is what he has spent most of this year testing. Refocused and recharged he's ready to push on ahead with the new album. At The Cricketers that night Tim plays some of the new songs he's been working on. Immediately it's obvious that they are huge step up from his earlier work. With a great group of friends, musicians and supporters Tim has momentum on his side. With a new album on the way and an autumn tour in the works his upward march looks set to continue.
Popular in the Community