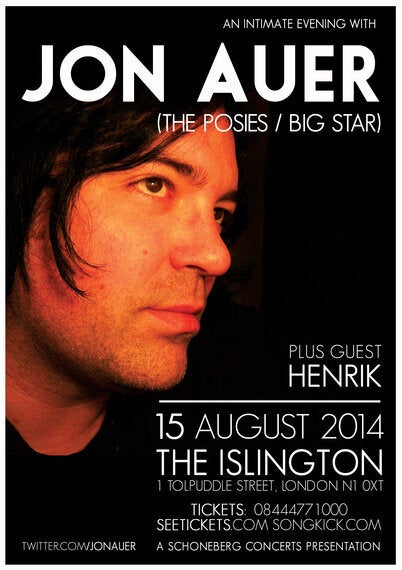 Jon Auer is co-founder of the seminal power-pop group The Posies. The Posies are about to re-issue their debut album Failure. The album which was originally released in 1988 has become a classic in power-pop. Failure will be re-issued through Omnivore Recordings and released on 19th August.
Aside from playing in The Posies, Jon's solo work has also received high praise and a strong cult following. If all that wasn't impressive enough, Auer was also a member of the reformed Big Star. A life well spent indeed.
I caught up with Jon to talk about his life, The Posies and his new duo Dynamo Royale. Jon is playing a solo show at The Islington this friday (15/08/2014).
1) Were there any important and formative moments in your early life that made you decide you wanted to play music or was it a happy accident?
My father was into music so I was pretty much always around it. He played the guitar, wrote songs, etc. When I was three my parents took me to some really huge toy store near Seattle, WA that I can't remember the name of and told me I could have anything I wanted. I'm told I pretty much instantly pointed to a toy drum set, and, that they said no to my choice, but only because they wanted to buy a real drum set for me, not the cheap toy version. And, incredibly, they did (a stripped down Rogers kit) and then actually put up with me pounding on it incessantly for what I can only imagine were a few extremely loud and nerve-wracking months.
Violin came next, from age 4 to 8, utilizing something called the Suzuki Method. Eventually I got kinda tired of the violin and wanted to move on or get away from it ( I can't remember) but still, by the time I did I was playing Bach minuets and things of that sort...Hmm...maybe I should have stuck with it? Nah... Guitar came next, followed by singing at school, in choir.
Later, my father put a small recording studio in the house we lived in during my teenage years and I guess that must be the most formative experience of them all, because, corny as it might sound, I kinda fell in love with the making and recording of music and spent hours and hours in this home situation, learning how to make things happen and even working with other bands as well, recording them and learning by trial and error. And, ultimately, this is the same place we made Failure, the first Posies record, the record that led to everything since. I think it's fair to say my career would have been extremely different without this formative laboratory to experiment in.
2) Recently you've been all around Europe playing a few shows with The Posies. How were the shows for you and do you enjoy the touring life?
The shows have all been quite fantastic and varied. We did two in San Sebastian as a duo, one of them at an incredible, world-renowned restaurant called Mugaritz, then back to Spain the following weekend with Darius Minwalla on drums and Joe Skyward on bass for the full-on rock thing. We ended this short run in Holland last Sunday. As far as the "touring life", playing the European shows sure is a lot easier on my jet lag now that I live in the EU. It's inspiring to be so close to all these beautiful, varied places, most of which I've been enjoying since we first tour here in 1993.
3) The Posies have been touring behind the re-issue of Failure. In retrospect how does Failure stack up for you?
I've kind of been the liaison with the record label for the re-issue as far as overseeing the remastering and finding extra tracks and artwork and such, so I've actually spent quite a lot of time with the record recently and I was surprised to find that I enjoyed that time more than I suspected I might. There's a certain charm to Failure, a youthful rough edge to its' pop, and I think the enthusiasm we had for making that music is palpable in the tracks.
By the way, this is the first of four Poises re-issues, all to be on Omnivore Recordings who are a fantastic, diverse, and extremely professional label. They are also all passionate music fans and really make it their priority to do things right with high quality and standards for their releases. Dear 23, Frosting On The Beater, and Amazing Disgrace will all get the deluxe re-issue treatment as well.
4) Earlier in the month the demo version of Paint Me was released. What's it like listening back to those very early recordings made when you were a teenager? Can you still place yourself in those songs or do you feel you've grown apart from them?
You know, I might not be in the same place emotionally or developmentally I was way back then, but most of the songs still have some kind resonance to me. That said, one of my songs from that record makes me cringe a little when I hear it...but I'm not going to tell you which one, haha! Mostly it can be funny to hear my teenage voice that hadn't quite matured yet on a couple of the tracks. Yes folks - Jon Auer, starring in "The Year BEFORE My Voice Broke" circa 1987.
5) You and Ken have been making music together on and off since you were teenagers. What's the song writing dynamic like between you two?
Well, the actual composing, it's usually very separate. We never really sit in a room together and trade ideas back and forth like one might imagine. We have done that, like on The Posies' 2005 release Every Kind Of Light, but mostly what we do is on our own and we bring it to each other. But it's more than fair to say we have a lot of common influences and shared quite a few formative experiences together as musicians and I think that has created a naturally complimentary situation, even when we are at our most different from each other.
6) You also have another project on the go, Dynamo Royale. Can you tell me a little bit about it? How did you and Tiz Aramini come together?
I've know Tiz for many, many years and even produced a solo record of hers back at the tail end of the 90s. She comes from a pretty serious classical piano background having trained at European conservatory for quite a long time, but at a certain point she discovered alternative music like the Pixies and Julianna Hatfield and started writing her own songs. I was always very impressed with her writing ability as she used chords and melodies that were both unusual and sophisticated but still retained some pop sensibility as well. Most of Dynamo Royales' music starts with her. She comes up with a complete chord progression for a song, the basic arrangement, and then more often than not, with a few exceptions, I'm the one adding vocal melodies and writing most of the words. We both sing pretty much 50/50 and there is a lot of harmony and counterpoint involved. Dynamo Royale started as an idea to write a song together that was different from anything we'd both done before and it evolved quite quickly and naturally into a full albums' worth of very unique and nuanced songs.
7) This week you're playing a solo show in London. When playing shows is there any huge difference between playing solo shows and playing in a band context?
It's a major difference in many ways. Obviously the band shows are a lot louder and there are more people onstage and, with The Posies at least, there is a lot of motion and athleticism. It's a different kind of energy when I collaborate with other people. That said, playing solo is amazing because, really, I can do anything I like, go where I want to at anytime musically. It's very liberating to be able to do that, to have only yourself to rely on. Plus I can talk a lot more when I play solo, tell stories about the songs and my life, share in a more personal way.
8) You also spend a fair bit of your time as a producer and mixer. How has that side of the industry changed and what's been the most challenging thing you've had to adapt to?
Well, technology and the internet has changed everything so much but at the end of the day, as far as the creation part of the music industry, I think it's probably working in my favor. The ability to share music files digitally has made it possible for me to now work on records anywhere I am in the world as long as I have my laptop with me. I have to say, I think that's pretty dang cool. For instance, I was stuck at the airport in Nice a couple of weeks ago and I still was able to get some mixing work done. I also recently finished a record called Moderate Aspects for J. Robert Youngtown, a chap from Tasmania, whom I've never met in person and who until recently I'd never even had a phone conversation with. We had all of our interaction via the internet and email, he and I, and it was the second record we'd made together in this fashion and honestly, it worked out incredibly well. We both enjoyed the experience, in fact enough to do it twice.
9) What records are you currently listening to on repeat?
Honestly, the ones I'm working on! There's the Dynamo Royale project I mentioned and also a yet-to-be-named record/project I'm finishing with a talented fella named Stephen Becker who sometimes operates under the moniker Le Concorde that heavily features drummer Brian Young (from Fountain of Wayne, The Posies, and Jesus and Mary Chain) and myself. I'm also very fond of the material forthcoming from a French songwriter I work with name Remi Vaissiere and his band Cheap Star. I think it's the best stuff he's ever written, the best stuff we've recorded together.
10) Outside of The Posies and Dynamo Royale do you have any plans to record another solo record?
Plans might be too strong of a word (he said with a smile)...but I will put something out at some point. Certainly I have a lot of material for it, I just need to make the time. If anyone knows a good place to find more time to do these kinds of things, please send me a link in a message on Facebook. Right now, with all the other projects, there never seems to be enough these days! But it will happen eventually.
Failure (Re-issue Trailer)- Omnivore Recordings
Popular in the Community