If you enjoy watching, making or participating in art of pretty much any description, then get yourself up/down/sideways to Leeds. Yes, you heard right: Leeds. Not London, not Paris or Berlin or NYC, but Leeds - home of Leeds United FC, Leeds Uni, ASDA, the 'donut' hair-do and, now, cutting edge multi-platform arts festivals.
From 12th to 14th September, the city will be taken over by artists of all kinds under the umbrella of NEXUS - a brand new arts festival set up by the West Yorkshire Theatre Network, with the aim of breaking down the boundaries between artists and the city, between their work and their audiences.
Events will be held in bars and venues around the city including the stunning Grade II listed Corn Exchange. There'll be a first-look performance from Opera North, a whole night of comedy from groundbreaking comedy club Laughing Cows - the longest running all-female comedy line-up in the UK, as well as music from Hope and Social.
Headlining the festival will be Nexus Lab: a pioneering project funded by Arts Council England which brings together a team of interdisciplinary artists as they work towards creating an original piece of art. What will they do? Come along to the Corn Exchange to find out.
A few weeks later, on Friday October 3rd, the city will once again be overtaken by artists for Light Night Leeds. There will be over 50 events taking place all over the city, ranging from jaw-stretching illuminations on City Hall to a zombie-takeover of the Trinity shopping centre, to an immersive, interactive storytelling installation called How the Light Gets In by, erm, me.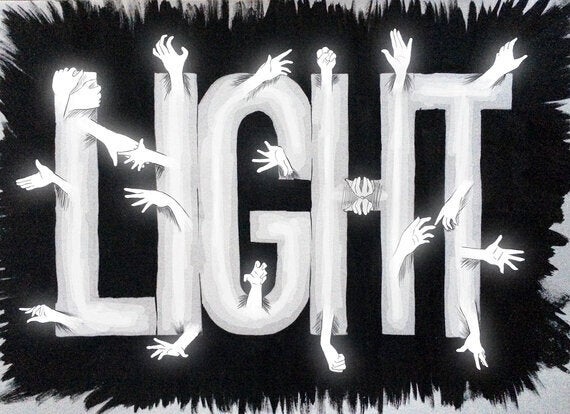 The installation was commissioned as part of the SHINE Emerging Artist programme - which I feel incredibly privileged to be involved in. My installation will feature micro-stories on the theme of light and dark, and whether words can carry us from one to the other, or help us find a balance between them. I'll also be incorporating ideas and words from the creative writing workshops I've been running as part of the commission - an experience which has put me in touch with lots of interesting, interested creative people.
When I moved up from London about a year ago, I never dreamed there would be so much arts and culture to choose from or that I would be involved in it. Since then, however, I've discovered four things:
1. It is possible to not only survive by live up here without earning in the top tax bracket.
2. There are more people quietly getting on with making art, rather than shouting about how much they wish they were making art, when in reality their day is eaten up by long tube journeys and longer hours.
3. There are a lot of warehouses in places other than east London and often the stuff happening in them is more interesting than those reachable by the hipster train; the difference isn't in the quality of the work, but in the quantity of cash behind it, and the quantity of national journos who live a (not-so-long) tube ride away from it.
4. The 'national' press act as if life is only really happening if it's happening in London. They would do well to get outside of it and see how wrong they are - and this coming from a woman whose earliest memories are firmly stuck to the streets of Tooting way before they started to get cool.
Art is all about taking risks - about reaching into the dark without knowing what you're going to find. So if the North, the Arts, or the positive combination thereof are abstract clouds on your mind's horizon, I dare you to make them real. Go on. Who knows, you might be pleasantly, shockingly surprised.