Philip 'the kid' Köster, the Boris Becker of windsurfing, confirmed himself as the 2012 PWA Wave World Cup champion by winning the semi-final of the KIA Cold Hawaii PWA World Cup as the sun set on Klitmöller on Wednesday evening. He then avenged his earlier defeat by Thomas Traversa, the French rider, who had ambushed earlier in the day in the single elimination, by beating him easily in the second elimination. With darkness curtailing the competition it set up the super final with Traversa, which with the forecast weather, is likely to be on Saturday. That will decide who will become the Cold Hawaii champion.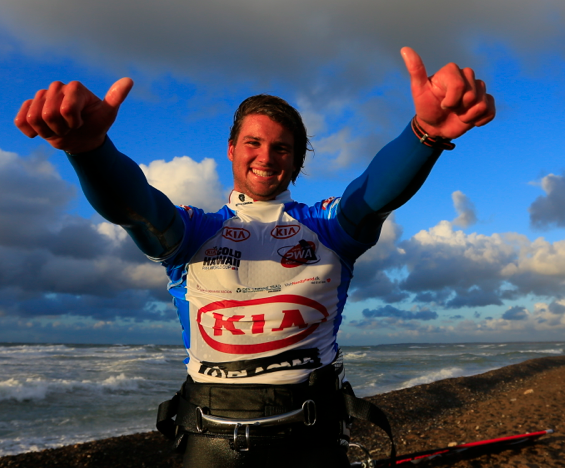 Victor Fernandez Lopez, the 2010 world cup champion, could not stop the charge of Köster, who beat him 24.76 to 23. Fernandez Lopez was well behind until he produced a beautiful wave ride that brought him 8.25, the highest wave ride of the heat, but he could find another high-scoring wave.
Köster, who became the youngest ever PWA Wave world champion last year at the age of 17, already has one hand on the world title after winning the first two of the four event world cup, in Pozo, Gran Canaria and Tenerife, found himself in the unusual situation of lying fourth after losing twice in earlier in the day in the single elimination.
Showing his remarkable maturity and skill, the 18-year-old raised in Gran Canaria, showed who had learned from his earlier defeats in tough onshore conditions, which Köster called "the toughest conditions he had ever sailed in."
Earlier Köster halted the charge of Kauli Seadi, the Brazilian 2010 champion and then avenged his defeat by Ricardo Campello in the loser's final of the single elimination earlier in the morning.
With two waves and one jump being counted by the judges, Köster, the best jumper on the tour, concentrated on finding waves to great effect before logging his jump.
Watch it now: KIA Cold Hawaii World Cup LIVE
Follow #coldhawaii
Twitter: @coldhawaii
Facebook: Cold Hawaii Penguin
You Tube: Cold Hawaii World Cup
Flickr: Cold Hawaii World Cup Image Collections
Follow my blog at A Modern Military Mother